The Organization of Information, Second Edition - Arlene G. Taylor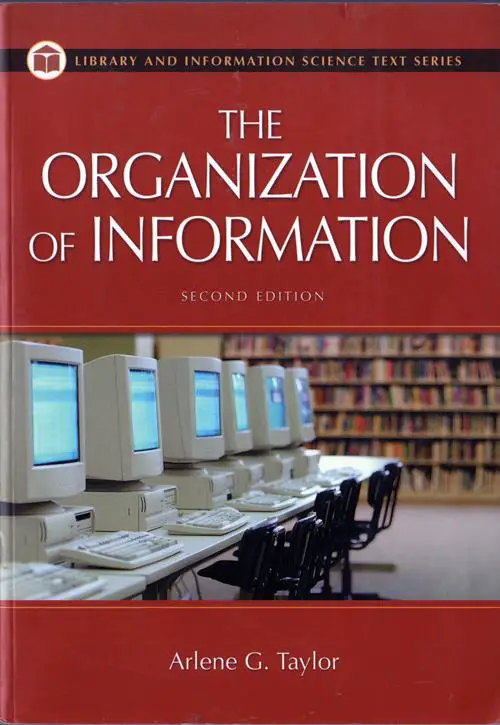 More schools of library and information science now include organizing information as a core course. Encoding standards, metadata standards, and systems continue to evolve, and new ones have been developed. New information organizing concepts have become useful additions to the discussion of organization ofinformation-concepts such as information architecture, knowledge management, portals, and taxonomies.
The goal of this edition remains to enable students, practicing librarians, and others interested in organizing information to understand the theory, principles, standards, and tools behind the organization of information in all types of environments.
Table of Contents
List of Figures
Preface
Acknowledgments
1 Organization of Recorded Information
The Need to Organize
The Nature of Information
The Nature of the Organization of Recorded Information
Organization of Information in Different Environments

Libraries
Archives
Museums and Art Galleries
The Internet

Digital Libraries
Information Architecture

Data Administration
Knowledge Management

Conclusion
Notes
Suggested Readings

General
Organization of Information in Libraries
Organization of Information in Archives/Manuscripts
Organization of Information in Museums/Art Galleries
Organization of Information in the Internet

Organization of Information in Digital Libraries
Organization of Information in Information Architecture

Organization of Information in Data Administration
Organization of Information in Knowledge Management
2 Retrieval Tools
The Need for Retrieval Tools
The Basic Retrieval Tools, Their Formats, and Their Functions

Bibliographies
Pathfinders
Catalogs

Purposes of Catalogs
Forms of Catalogs
Arrangements Within Catalogs

Indexes
Finding Aids
Registers
Search Engines and Directories

Conclusion
Notes
Suggested Readings
3 Development of the Organization of Recorded Information in Western Civilization
Inventories, Bibliographies, Catalogs, and Codification

Antiquity
Middle Ages
European Renaissance
From Inventories to Finding Lists to Collocating Devices
Period of Codification

Twentieth Century

Description
Subject Access

Verbal Subject Access
Classification

Special Materials

Archives
Museums and Art Galleries
Subject Access to Special Materials

Mechanization of Bibliography

The Documentation Movement
Library Automation

Conclusion
Notes
Suggested Readings
4 Encoding Standards
Encoding of Characters
Encoding of Records (Syntax)
Currently Used Examples of Standards for Encoding Records

MARC (MAchine-Readable Cataloging)
SGML (Standard Generalized Markup Language)

XML (eXtensible Markup Language)
DTDs (Document Type Definitions) and XML Schemas

Frameworks

Warwick Framework
RDF (Resource Description Framework)
METS (Metadata Encoding & Transmission Standard)
Semantic Web

Conclusion
Notes
Suggested Readings
5 Systems and System Design
Systems

Databases

Bibliographic Networks
Integrated Library Systems (ILSs)
Development of Online Public Access Catalogs (OPACs)

System Design

Organization of Information and System Design
Searching Methods
Retrieval Models
Standardization and Systems

Display
Basic Search Queries
Initial Articles
Truncation, Boolean Operators, and Proximity
Punctuation

Meta-Searching and Z39.50
User-Centered System Design

Universal Design
Multiple Languages/Scripts
Other Aids for Users

Authority Control Integration

Conclusion
Notes
Suggested Readings
6 Metadata
The Basics of Metadata
Metadata Schemas
Metadata Characteristics
Metadata and Cataloging
Objectives of an Information System
Types of Metadata

Administrative Metadata

Preservation Metadata
Rights and Access Metadata
Meta-Metadata

Structural Metadata

Implementations of Structural Metadata

Descriptive Metadata

Management Tools

Application Profiles
Metadata Registries
Crosswalks
Harvesting Tools and Templates

Conclusion
Notes
Suggested Readings
7 Metadata: Description
Units to Be Described

Finite vs. Continuing Resources
PRERs Entities

Creation of Surrogate Records

Bibliographic and General Metadata Schemas

ISBD (International Standard Bibliographic Description)
Anglo-American Cataloguing Rules, Second Edition, 2002 Revision (AACR2R)
The Dublin Core (DC)
MODS (Metadata Object Description Schema)

Domain-Specific Metadata Schemas

ISAD(G) (General International Standard Archival Description)
Archival APPM (Archives, Personal Papers, and Manuscripts) Records
EAD (Encoded Archival Description)
TEl (Text Encoding Initiative) Headers
GILS (Government [or Global] Information Locator Service) Records
FGDC (Federal Geographic Data Committee) "Jontent Standard for Digital GeosjJatial Metadata
VRA (Visual Resources A'isociation) Core Categories for Visual Resources
CIMI XML Schema for SPECTRUM
ONIX International

Other Surrogate Record Types

Index Records
On-the-Fly Records

Environmental Influences in Descriptive Metadata Creation
Conclusion
Notes
Suggested Readings

8 Metadata: Access and Authority Control
Need for Attention to Access
Need for Attention to Bibliographic Relationships
Choice of Access Points

Primary Access Point

Main Entry Controversy
Justification for Main Entry
AACR2 Principles for Choosing Main Entry

Additional Access Points

Authority Control

Headings for Access Points

Principles for Choice of Personal Name
Principles for Form of Personal Name
Principles for Entry Word and Remaining
Structure of Personal Name
Principles for Choice of Corporate Name
Principles for Entry Word and Form of Heading for Corporate Names
Principles for Choice of Uniform Title
Principles for Arrangement of Uniform Titles

International Authority Control

Conclusion
Notes
Suggested Readings
9 Subject Analysis
Purpose of Subject Analysis
Challenges in Conceptual Analysis

Cultural Differences
Differences in Methods Used
Consistency
Nontextual Information

Subject Analysis Process

Exhaustivity
Identification of Concepts

Topics Used as Subject Concepts
Names Used as Subject Concepts
Chronological Elements as Subject Concepts
The Concept of Form as Subject

Translating Concepts into Index Terms
Translating Concepts into Classification Notations
Conclusion
Notes
Suggested Readings
10 Systems for Vocabulary Control
Controlled Vocabulary Challenges

Specific vs. General Terms
Synonymous Concepts
Word Form for One-Word Terms
Sequence and Form for Multiword Terms and Phrases
Homographs and Homophones
Qualification of Terms
Abbreviations and Acronyms
Popular vs. Technical Terms
Subdivision of Terms

Precoordination vs. Postcoordination
General Principles for Creating Controlled Vocabularies

Specificity
Literary Warrant
Direct Entry

General Principles for Applying Controlled Vocabulary Terms

Specific Entry
Number of Terms Assigned
Concept Not in Controlled Vocabulary

Index Terms for Names
Controlled Vocabularies

Mechanics of Controlled Vocabularies
Subject Heading Lists

Library of Congress Subject Headings (LCSH)
Sears List of Subject Headings (Sears)
Medical Subject Headings (MeSH)

Thesauri

Art & Architecture Thesaurus (AAT)
Thesaurus of ERIC Descriptors
INSPEC Thesaurus

Ontologies

Natural Language Processing (NLP)
Conclusion
Notes
Suggested Readings

LCSH
Sears
MeSH
AAT
ERIC
Ontologies
NLP
11 Systems for Categorization
Theory of Categorization

Classical Theory of Categories
Prototype Theory

Bibliographic Classification

Hierarchical, Enumerative, and Faceted Classifications
Major Bibliographic Classification Schemes

Classification Concepts

Broad vs. Close Classification
Classification of Knowledge vs. Classification of a Particular Collection
Integrity of Numbers vs. Keeping Pace With Knowledge
Fixed vs. Relative Location
Closed vs. Open Stacks
Location Device vs. Collocation Device
Classification of Serials vs. Alphabetic Order of Serials
Classification of Monographic Series (Classified Separately vs. Classified as a Set)

Taxonomies
Classification on the Internet
Artificial Neural Networks (ANNs)
Conclusion
Notes
Suggested Readings

Classification in General
Specific Classification Schemes

Dewey Decimal Classification
Universal Decimal Classification
LC Classification
Colon Classification
Other Classification Schemes

Taxonomies
Classification and the Internet
Artificial Neural Networks (ANNs)
12 Arrangement and Display
Arrangement of Physical Information Packages
Arrangement of Intangible Information Packages
Arrangement of Surrogates (Metadata)

Filing History
General Rules for Arrangement
Filing/Display Dilemmas

Conclusion
Notes
Suggested Readings

Arrangement of Information Packages

Libraries
Archives
Internet

Arrangement of Bibliographic/Surrogate Records
Appendix: Subject-Analysis Application
Glossary
Selected Bibliography
Index
LIST OF FIGURES
Figure
2.1 Sample entry from the printed version of the index Library Uterature & Information Science: 2002
2.2 Short view of Gilliland-Swetland entry from Figure 2.1, as it appears in the online index for Library Literature & Information Science
2.3 Long view of Gilliland-Swetland entry from Figure 2.1, as it appears in the online index for Library Literature & Information Science
2.4 Introductory page for a finding aid found on the Web
4.1 Record in the MARC communications format
4.2 Formatted display of the record in Figure 4.1, as displayed in the Library of Congress Online Catalog
4.3 Formatted display of the record in Figure 4.1, as displayed by OCIJC
4.4 Formatted display of the record in Figure 4.1, as displayed in the technical services version of the Voyager (Endeavor) cataloging subsystem at the University of Pittsburgh
4.5 TEl Lite-encoded record
4.6 HTML-encoded document
4.7 EAD-encoded finding aid
4.8 XML-encoded MARC 21 record
4.9 Part of an ONIX "message"
4.10 Data model for an RDF description
4.11 Example RDF description using Dublin Core and XML
5.1 Schematic representation of Authority File/Bibliographic File linkage
7.1 AACR2 first-level description
7.2 AACR2 second-level description
7.3 AACR2 third-level description
7.4 Dublin Core record
7.5 MODS record
7.6 Typical on-the-fly records
8.1 Example of a main entry card and an abbreviated version of the main entry card
8.2 Metadata record for a work based on another work
8.3 Metadata record for a work that is about another work
8.4 Metadata record for a work that is part of a larger work
8.5 Metadata record for a work that contains a smaller work
8.6 Two metadata records showing two derivations of a work
8.7 Catalog card showing the title placed at the top
8.8 Screen from PITTCat
8.9 An authority record showing the "authoritative" heading for Princess Diana (in bold) and three variant forms of her name
8.10 References necessary in order to connect three names of an organization
8.11 Two metadata records for two works that pull together different groupings of George Eliot's novels
8.12 Authority record for a name that has variants in each of several languages
9.1 Web page table of contents for the proceedings of a conference in which the papers are about many different subtopics of the main theme
9.2 Illustration of the concept that summarization leads to document retrieval and depth indexing leads to information retrieval
10.1 Sample entries from Library of Congress Subject Headings
10.2 Sample authority records for headings shown in Figure 10.1
10.3 Sample entry from Sears List of Subject Headings
10.4 Sample entries from National LibraIY of Medicine, Medical Subject Headings
10.5 Sample entries from Art & Architecture Thesaurus On Line
10.6 Sample entry from Thesaurus of ERIC Descriptors
10.7 Sample entry from the INSPEC Thesaurus
10.8 Screen from WordNef19 showing all the "senses" of the term romance
11.1 lllustration of hierarchical arrangement in the Dewey Decimal Classification
11.2 lllustration of the hierarchical and enumerative arrangement of the Library of Congress Classification
11.3 Example of use of Artificial Neural Network principles to provide visual representation of the subject matter in a collection of document")
A.1 View of first screen of Robert Cheetham's JGarden: The Japanese Garden Database
A.2 First page of the "about" page of the JGarden Web site
Library of Congress Catalog Listing
LC control no.:
2003058904
Type of material:
Book (Print, Microform, Electronic, etc.)
Personal name:
Taylor, Arlene G., 1941-
Main title:
The organization of information / Arlene G. Taylor.
Edition:
2nd ed.
Published/Created:
Westport, Conn. : Libraries Unlimited, 2004.
Description:
xxvii, 417 p. : ill.; 27 cm.
ISBN-10:
1563089769 (alk. paper)
ISBN-10:
1563089696 (pbk. : alk. paper)
Subjects:
Information organization.
Metadata.
Notes:
Includes bibliographical references (p. 385-405) and index.
Series:
Library and information science text series
LC classification:
Z666.5 .T39 2004
Dewey class no.:
025