Organizing Archival Records, Third Edition 978-0759121690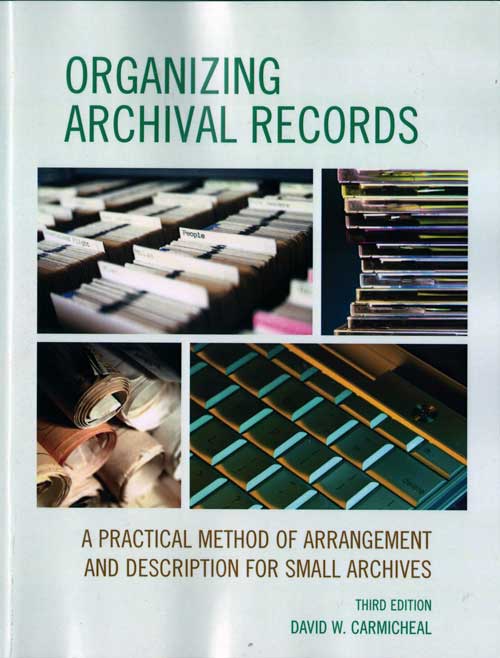 Front Cover, Organizing Archival Records: A Practical Method of Arrangement and Description for Small Archives, Third Edition, 2012. GGA Image ID # 17227778a9
David W. Carmicheal's latest edition of Organizing Archival Records: A Practical Method of Arrangement and Description for Small Archives, Third Edition, offers practical processes and information that a smaller archives or historical society could readily adapt to their own organization. Well illustrated with sample forms and diagrams, Carmicheal's insight into the management of small archives makes this book a "must have" addition to your library.
Archives • Public History
"Organizing Archival Records is an eminently practical and elegantly written guide for providing access to historical records. It leads practitioners painlessly from core principles through challenging issues like electronic records. With clarity and a welcome touch of wit, David W. Carmicheal offers museums, historical societies, and other organizations the opportunity to effectively connect historical records in their collections with the many users who will benefit
from their availability."
Kathleen Roe, director of Archives and Records Management
Operations, New York State Archives
"Our prayers have been answered! Carmicheal has demystified the archiving process in this clear, concise, and very readable book. This book is a must for public history, museum studies, and historical administration students, as well as professionals who deal with complex
collections that contain archives."
Brian Hackett, Northern Kentucky University
Many of our nation's historical records reside in small historical societies, libraries, cultural organizations, houses of worship, and museums. The hard work of nonprofessional archivists is to thank for preserving much of our documentary heritage. Organizing Archival Records equips nonprofessional archivists with the skills to tackle one of the most challenging tasks of archiving: arranging and describing archival materials. David W. Carmichael brings this third edition into the twenty-first century with extended discussions about computerizing the process, making descriptions available on the web, and organizing electronic records.
Contents
Preface
Acknowledgments
Introduction
CHAPTER 1 Purpose of Organization
CHAPTER 2 Levels of Organization
CHAPTER 3 Steps of Organization
CHAPTER 4 Arrangement and Description in an Electronic World
CHAPTER 5 Beyond Arrangement and Description
Conclusion
Examples
Exercises and Answers
Bibliography
Index
About the Author
DAVID W. CARMICHEAL is director of the Georgia Division of Archives and History. Prior to joining the Georgia Archives, he established the Westchester County (New York State) Archives and was director of the Records and Archives Center.
About the Series
The American Association for State and Local History Book Series publishes technical and professional information for those who practice and support history, and addresses issues critical to the field of state and local history.
About the Organization
The American Association for State and Local History (AASLH), a national history organization headquartered in Nashville, TN, provides leadership, service, and support for its members, who preserve and interpret state and local history in order to make the past more meaningful in American society. AASLH is a membership association representing history organizations and the professionals who work in them.
AASLH members are leaders in preserving, researching, and interpreting traces of the American past to connect the people, thoughts, and events of yesterday with the creative memories and abiding concerns of people, communities, and our nation today.
In addition to sponsorship of this book series, the Association publishes the periodical History News, a newsletter, technical leaflets and reports, and other materials; confers prizes and awards in recognition of outstanding achievement in the field; and supports a broad education program and other activities designed to help members work more effectively.
AMERICAN ASSOCIATION FOR STATE AND LOCAL HISTORY BOOK SERIES
SERIES EDITOR
Russell Lewis, Chicago History Museum
EDITORIAL ADVISORY BOARD
Norman 0. Burns, II, Maymont Foundation
Jessica Dorman, The Historic New Orleans Collection
Garet D. Livermore, The Farmers' Museum
Brenden Martin, Middle Tennessee State University
Thomas A. Mason, Indiana University-Purdue University Indianapolis
Eloise Scroggins, Indiana Historical Society
Ellen Spear, Heritage Museums & Gardens
Ann Toplovich, Tennessee Historical Society
Barbara B. Walden, Community of Christ Historic Sites Foundation
STAFF
Bob Beatty, AASLH
Marissa M. Parks, AltaMira Press

AASLH AltaMira Press
ISBN 978-0-7591-2169-0
A division of Rowman & Littlefield Publishers, Inc. 
Lanham • New York • Toronto • Plymouth, UK
Library of Congress Catalog Listing
Personal name: Carmicheal, David W.
Main title: Organizing archival records : a practical method of arrangement and description for small archives / David W. Carmicheal.
Edition: 3rd ed.
Published/Created: Lanham, Md. : AltaMira Press, c2012.
Description: ix, 123 p. : ill. ; 28 cm.
ISBN: 9780759121690 (pbk. : alk. paper); 9780759121706 (ebook)
LC classification: CD950 .C37 2012
Contents: Purpose of organization -- Levels of organization -- Steps of organization -- Arrangement and description in an electronic world -- Beyond arrangement and description.
LC Subjects: Archives--Handbooks, manuals, etc.; Cataloging of archival materials--Handbooks, manuals, etc.
Notes: Includes bibliographical references (p. 115-118) and index.
Series: American Association for State and Local History book series
LCCN: 2012026622
Dewey class no.: 025.17/14
Type of material: Book