Preserving Archives & Manuscripts - 2010 - ISBN 1931666326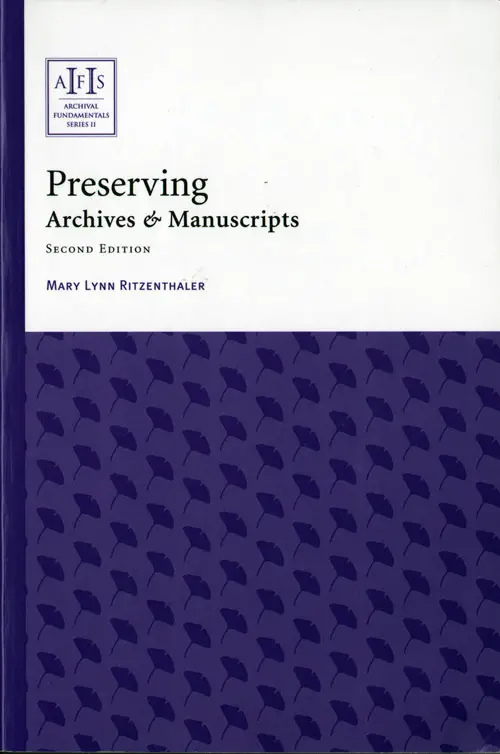 Front Cover, Preserving Archives & Manuscripts, Second Edition, by Mary Lynn Ritzenthaler 2010. GGA Image ID # 17232caf19
From the Back Cover
A][F][S ARCHIVAL FUNDAMENTALS SERIES II
Preserving Archives & Manuscripts
MARY LYNN RITZENTHALER

Preservation is a core management function—and a primary ethical responsibility—of archivists, manuscript curators, and other custodians of historical records. But how does the professional deal effectively with the challenge of weaving diverse activities into a cohesive program? Preserving Archives and Manuscripts defines key elements in an archives preservation program, discusses the factors that affect the long-term care of archival materials, and proposes practical solutions that can be implemented incrementally to ensure the care of collections from a sound preservation perspective.
Author Mary Lynn Ritzenthaler describes basic preservation techniques; addresses a breadth of issues, including environmental concerns, storage systems, reformatting, and conservation treatment; and provides guidance on the wide range of preservation functions that can and should be implemented by archives staff, as well as on those tasks that are best left to specialists in various technical fields. Content-rich appendices include a glossary, bibliography, list of supply sources, and instructions for several basic preservation procedures.
Preserving Archives and Manuscripts is a must-read for anyone interested in the care and protection of archival and manuscript holdings.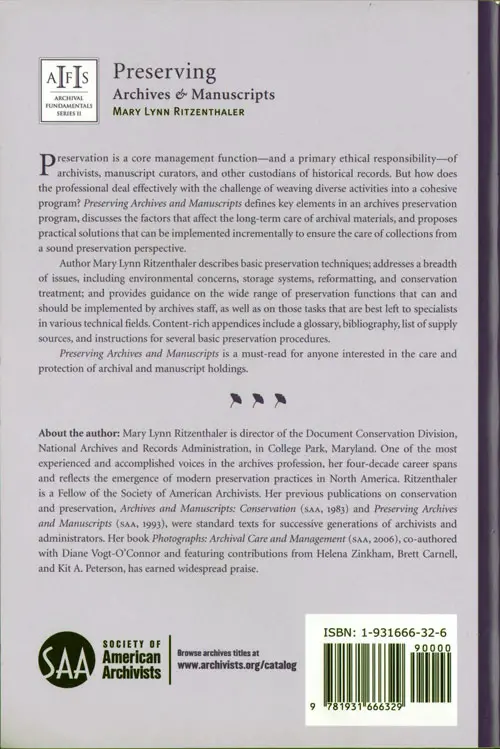 Back Cover, Preserving Archives & Manuscripts, Second Edition, 2010. GGA Image ID # 172393d19f
About the Author
Mary Lynn Ritzenthaler is director of the Document Conservation Division, National Archives and Records Administration, in College Park, Maryland. One of the most experienced and accomplished voices in the archives profession, her four-decade career spans and reflects the emergence of modern preservation practices in North America. Ritzenthaler is a Fellow of the Society of American Archivists.
Her previous publications on conservation and preservation, Archives and Manuscripts: Conservation (SAA, 1983) and Preserving Archives and Manuscripts (sAA, 1993), were standard texts for successive generations of archivists and administrators. Her book Photographs: Archival Care and Management (SAA, 2006), co-authored with Diane Vogt-O'Connor and featuring contributions from Helena Zinkham, Brett Carnell, and Kit A. Peterson, has earned widespread praise.
Library of Congress Catalog Listing
Personal name: Ritzenthaler, Mary Lynn.
Main title: Preserving archives & manuscripts / Mary Lynn Ritzenthaler.
Edition: 2nd ed.
Published/Created: Chicago : Society of American Archivists, c2010.
Description: xx, 521 p. : ill. ; 23 cm.
ISBN: 1931666326 (alk. paper); 9781931666329 (alk. paper)
LC classification: Z110.C7 R58 2010
Variant title: Preserving archives and manuscripts
Related names: Society of American Archivists.
Contents: Archives preservation : definitions and context -- Implementing a preservation program -- Archival materials as physical objects -- Causes of deterioration and damage -- Creating a preservation environment -- Handling archival materials -- Storing and housing archival materials -- Integrating preservation and archival management -- Copying and reformatting -- Conservation treatment.
LC Subjects: Manuscripts--Conservation and restoration--United States; Archival materials--Conservation and restoration--United States.
Notes: Rev. ed. of: Preserving archives and manuscripts. 1993. Includes bibliographical references (p. [381]-408) and index.
Series: Archival fundamentals series II
LCCN: 2009053967
Dewey class no.: 025.8/4
Geographic area code: n-us---
Other system no.: (OCoLC)ocn496595620
Type of material: Book