Describing Archives: A Content Standard - 1931666083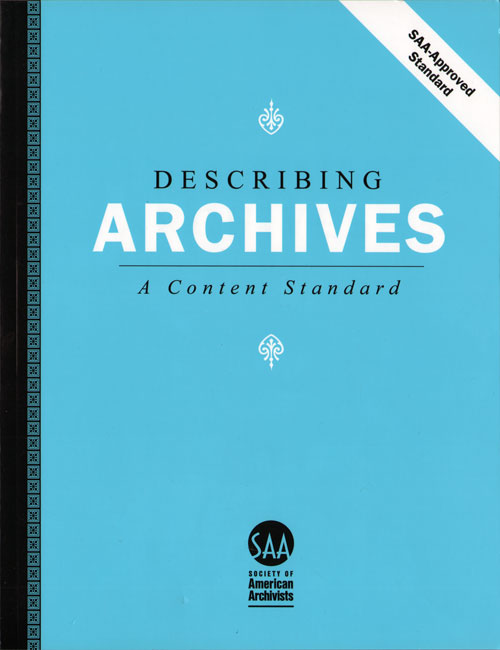 Front Cover, Describing Archives: A Content Standard by The Society of American Archivists, 2004. GGA Image ID # 1721148d02

From The Back Cover
A product of the CUSTARD project (Canadian-U.S. Task Force on Archival Description), and funded by the National Endowment for the Humanities, Describing Archives: A Content Standard (DACS) is designed to fcilitate consistent, appropriate, and self-explanatory description of archival materials and creators of archival materials. It can be applied to all types of material at all levels of description.
Although the rules can be used for any type of descriptive output, examples of the application of the rules are provided for two widely used structure standards, MARC 21 and Encoded Archvial Description (EAD).
DACS will replace Archives, Personal Papers and Manuscripts (APM) as content standard for catloging records.
The volume consists of three parts: "Describing Archival Materials," "Describing Creators," and "Forms of Names."
Seperate sections discuss levels of description and the importance of access points to retrieval of descriptions. Appendicies include a glossary, list of companion standards, and crosswalks to AAPM, ISAD(G), ISAAR(CPF), MARC 21, and EAD. Also Included is an index.
Book Information
Title: Describing Archives: A Content Standard
Author: Corporate Author - Society of American Archivists
ISBN-10: 1931666083 / 1-931666-08-3
ISBN-13: 978-1931666084
Format: Paperback
Number of Pages: 269
Publication Date: July 2004
Publisher: Society of American Archivists
Language: English
Library of Congress Catalog Listing
Corporate name: Society of American Archivists.
Main title: Describing archives : a content standard.
Published/Created: Chicago : Society of American Archivists, c2004.
Description: xxi, 269 p. ; 28 cm.
ISBN: 1931666083
LC classification: Z695.2 .S625 2004
Variant title: Also known as: DACS
Related names: Hensen, Steven L., 1944- Archives, personal papers, and manuscripts.
LC Subjects: Cataloging of archival materials--Standards.
Notes: Supersedes: Archives, personal papers, and manuscripts : a cataloging manual for archival repositories, historical societies, and manuscript libraries / compiled by Steven L. Hensen. 2nd ed. Chicago : Society of American Archivists, 1989.
Includes bibliographical references (p. 209-212).
LCCN: 2004052584
Dewey class no.: 025.3/414
Other system no.: (OCoLC)ocm55940511
Type of material: Book