How To Manage Processing In Archives And Special Collections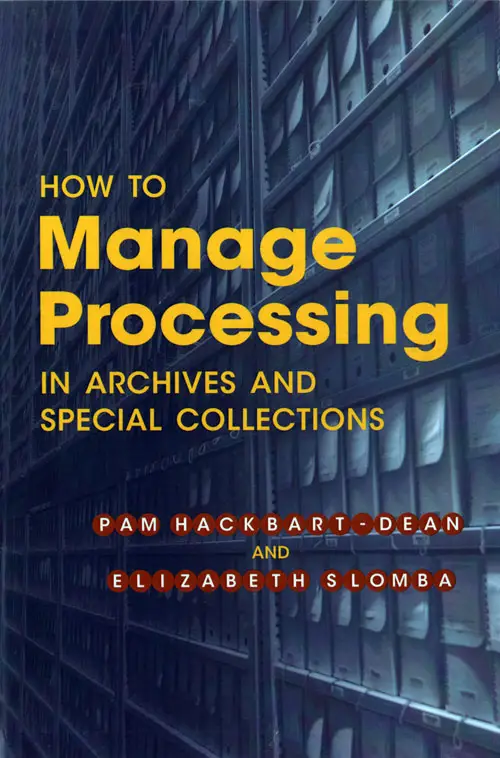 Front Cover, How To Manage Processing In Archives And Special Collections, 2012. GGA Image ID # 172136a6c1
Every archives strives to have an active, well-planned processing program—but achieving this is no easy task. How to Manage Processing in Archives and Special Collections breaks down what you need to know to establish or revitalize your processing program, delivering effective methods to help you succeed. This resource is packed with information about:
Creating a framework for a processing program, including developing processing policies, priorities, and strategies;
Managing the day-to-day work of processing assessment techniques;
Implementing best practices and standards;
Administering a "patron-based approach" to managing processing;
Effectively assessing the demands for descriptions and item-level cataloging to make collections available more swiftly; and
Applying standards in the adoption of trends and new concepts in processing and in handling outside demands.
Whether you manage numerous archivists, operate as one member of a processing team, or operate as a lone arranger, How to Manage Processing in Archives and Special Collections is your go-to guide for developing and managing a processing program. With an effective processing program in place, your archives will be better positioned to help users find the materials they need.
ISBN 1-931666-434 / 9781931666435
Table of Contents
Introduction
1 Processing Program
Components of a Processing Program
Defining the Mission
Planning the Program
Iplementing and Adjusting
Decision Making and Accountability
Evaluating the Final Product
Celebrating
A Final Thought

2 Processing Priorities
Developing Processina Priorities
Common Criteria for Priorities
Strategies for Prioritization
Final Considerations in Developing Policies

3 Managing Processing
Workflow for Individual Collections
Management Strategies and Techniques
The Basics of Processing
Minimal or Streamlined Processing
Lone Arranger
Team or Group Processing
Processing Manuals
Processing Work Plans
Processing Checklist
Special Considerations
Reprocessing
Accruals and Additions
Legacy
Artificial Collections
Beyond Paper
Audiovisual Materials
Electronic Files
Objects
A Final Thought
4 Preservation Administration
Incorporating Preservation into Processing Activities
Incorporating MPLP and Preservation into Processing Activities
Preservation Assessment and Planning Tools
Audiovisual Assessment Tools
A Final Thought
5 Impact of Description, Standards, and Innovation
Incorporating New Standards
Web-based Finding Aids
Processing and Collection Management Systems
Digitization Concerns
Alternative Access Methods
Outreach: Web 2.0 and Processing
A Final Thought
6 Training and Managing Processing Staff
Skill Sets and Responsibilities
Professional Processing Archivists
Paraprofessional Processing Staff
Students, Interns, and Volunteers
Grant and Processing Project Staff Considerations
Assigning Processing Work
Development, Training, and Continuing Education
Training for New Staff Members
Continuing Education
Organization and Performance Evaluation
A Final Thought
7 Evaluation and Assessment
Accountability
Evaluation
Processing Costs and Rates
Assessment
Benchmarking
A Final Thought
Conclusion
Bibliographic Essay
General Works
Manuals
Related Archival Publications
Planning
Processing Costs
Processing Strategies
Backlog Management
More Product Less Process (MPLP)
Electronic and Digital-born Records
Preservation
Providing Access
Social Networking Technologies
Archival Management Systems
Assessment
Administration/Management
Appendix 1: Examples of Processing plans
Appendix 2: Website Resources
Index
Library of Congress Catalog Listing
Personal name: Hackbart-Dean, Pam.
Main title: How to manage processing in archives and special collections / Pam Hackbart-Dean and Elizabeth Slomba.
Published/Created: Chicago, IL : Society of American Archivists, c2012.
Description: vi, 147 p. : ill. ; 23 cm.
ISBN: 1931666431 (alk. paper)
LC classification: CD971 .H33 2012
Related names: Slomba, Elizabeth; Society of American Archivists.
LC Subjects: Archives--Processing; Archives--Administration
Notes: Includes bibliographical references and index.
LCCN: 2012024050
Dewey class no.: 025
Type of material: Book