Collaborative Access to Virtual Museum Collection Information: Seeing Through the Walls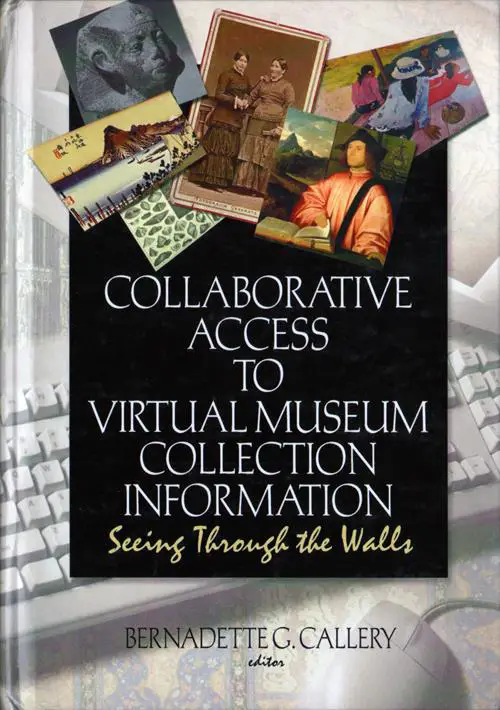 2004
Virtual museums provide an opportunity to spark learning through online access to multi-sensory information, and collaboration between sources is needed to efficiently and effectively catalog and present material.
Collaborative Access to Virtual Museum Collection Information: Seeing Through the Walls presents respected authorities exploring the world of virtual collections, from the identification and selection of objects to be included to providing online access using common terminology.
Future possibilities and problems are fully detailed, taking into consideration the need for fixed metadata, descriptive standards, and negotiated compromise. Solutions to difficult issues are provided to allow successful development of collaborative virtual museum projects of all types.
From The Back Cover
Library and Information Science; Internet and Online Studies
"ADDS TO OUR UNDERSTANDING OF HOW TO MAKE EFFECTIVE USE OF THE WEB. ... Assists us to comprehend the differences between online and other kinds of users. ... This book will stimulate discussion in museums, libraries, and archives about how they can most effectively utilize the Web and avoid its pitfalls."
—Richard J. Cox, PhD,
"FILLS A SIGNIFICANT GAP IN THE LITERATURE. This work provides practical advice from experienced professionals on the best ways to avoid hazards and trouble. Complete with examples and frank descriptions, this book will assist many individuals faced with difficult choices as digitization efforts move forward with accelerating speed. As those storage devices fill with text and images, the reports in this book will help many a librarian, curator, and technologist to make educated decisions about their growing digital collections."
—Edward J. Valauskas,
Follett Chair, Graduate School of Library and Information Science,
Dominican University
ABOUT THE EDITOR
Bernadette G. Callery, PhD, is Museum Librarian and Head, Library and Archives, at the Carnegie Museum of Natural History. Her research interests include the development of museum recordkeeping systems, particularly as they move from paper-based systems to electronic ones. For the last five years, she has served as a visiting lecturer at the University of Pittsburgh's School of Information Sciences, where she teaches the Museum Archives course.
Active in the Society of American Archivists' Museum Section, Dr. Callery has lectured and published on various aspects of museum archives, including contributing to Museum Archives: An Introduction, edited by Deborah Wythe and published by the Society of American Archivists in 2004. Based on experience gained during her previous positions at the Hunt Institute for Botanical Documentation and the New York Botanical Garden, she continues to lecture on the history of botanical illustration.

Professor of Archival Studies, Department of Library and Information Science, School of Information Sciences, University of Pittsburgh

ISBN-13: 978-0-7890-2933-1
ISBN 0-7890-2933-2
Haworth Information Prf-
An Imprint of The Haworth Press, Inc.
Bernadette G. Callery
Table of Contents
Foreword
Robert S. Martin
Introduction
Bernadette G. Gallery
Searching for Nirvana: Cataloging and the Digital Collection at the Experience Music Project
Marsha Maguire
David E. Motson
Gwen Wilson
Jen Wolfe
Collaborative Cataloging: Using Dublin Core to Unite Local Heritage Organizations
Kody Janney
Building a Common Catalog for Cultural Heritage Repositories: A Case Study of the Ohio Memory Online Scrapbook
Elizabeth Nelson
Laurie Gemmill
Stories Told: Tribal Communities and the Development of Virtual Museums
Mark Christal
Loriene Roy
Antony Cherian
Chinese Collections in Museums on the Web: Current Status, Problems, and Future
Hsin-liang Chen
Patterns of Identification of Potentially Sensitive Data in Natural History Museum Online Catalogs
Bernadette G. Gallery
Index
Library of Congress Catalog Listing
Main title: Collaborative access to virtual museum collection information : seeing through the walls / Bernadette G. Callery, editor.
Published/Created: Binghamton, NY : Haworth Information Press, c2004.
Description: xv, 123 p. : ill.; 23 cm.
ISBN: 9780789029331 (alk. paper); 0789029332 (alk. paper); 9780789029348 (pbk. : alk. paper); 0789029340 (pbk. : alk. paper)
LC classification: AM7 .C576 2004
Related names: Callery, Bernadette G.
Subjects: Virtual museums; Digital communications; Museums--Collection management; Electronic information resources--Access control
Notes: "Co-published simultaneously as Journal of Internet Cataloging, Volume 7, Number 1 2004." and Includes bibliographical references and index.
LCCN: 2005001501
Dewey class no.: 069/.5
Type of material: Book