The Art of SEO - Second Edition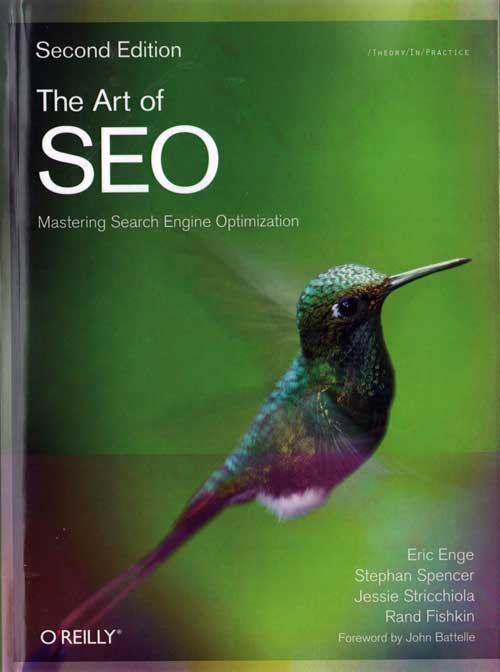 Web Analytics / Search Engine Optimization
"Hype-free, data-rich and loaded with insight that's essential reading for anyone who needs a deep understanding of SEO."
-Seth Godin, author, We Are All Weird
"SEO expertise is a core need for today's online businesses. Written by some of the top SED practitioners out there, this book can teach you what you need to know for your online business."
-Tony Hsieh, CEO of Zappos.com, Inc., author of New York Times bestseller Delivering Happiness
Four acknowledged experts in search engine optimization share guidelines and innovative techniques that will help you plan and execute a comprehensive SEO strategy. This second edition brings you up-to-date on recent changes in search engine behaviorsuch as new ranking methods involving user engagement and social media-with an array of effective tactics, from basic to advanced.
Eric Enge is the CEO of SEO consulting firm Stone Temple Consulting (www.stonetemple.com).
Stephan Spencer founded the SEO firm Netconcepts and the training/coaching program ScienceofSEO.com. He's the author of Google Power Search (O'Reilly).
Jessie Stricchiola, co-founder of SEMPO.org, is the CEO of San Francisco SEO and web marketing firm Alchemist Media.
Rand Fishkin is CEO and co-founder of Moz (http://moz.com), a Seattle-based startup focused on building software for marketers.
Visit www.artofseobook.com for late·breaking updates, checklists, worksheets, templates, and guides.
US $49.99 CAN $52.99
Table of Contents
FOREWORD
PREFACE
1 SEARCH: REFLECTING CONSCIOUSNESS AND CONNECTING COMMERCE
The Mission ofSearch Engines
The Market Share ofSearch Engines
The Human Goals of Searching
Determining Searcher Intent: A Challenge for Both Marketers and Search Engines
How People Search
How Search Engines Drive Commerce on the Web
Eye Tracking: How Users Scan Results Pages
Click Tracking: How Users Click on Results, Natural Versus Paid
Conclusion
2 SEARCH ENGINE BASICS
Understanding Search Engine Results
Algorithm-Based Ranking Systems: Crawling. Indexing, and Ranking
Determining Searcher Intent and Delivering Relevant. Fresh Content
Analyzing Ranking Factors
Using Advanced Search Techniques
Vertical Search Engines
Country-Specific Search Engines
Conclusion
3 DETERMINING YOUR SEO OBJECTIVES AND DEFINING YOUR SITE'S AUDIENCE
Every SEO Plan Is Custom
SEO for Ideologicallnf/uence
Strategic Goals SEO Praclitioners Can Fulfill
Understanding Search Engine Traffic and Visitor Intent
Developing an SEO Plan Prior to Site Development
Understanding Your Audience and Finding Your Niche
SEO for Raw Traffic
SEO for Ecommerce Sales
SEOfor MindsharelBranding
SEOfor Lead Generalion and Direct Marketing
SEO for Reputation Management
Conclusion
4 FIRST STAGES OF SEO
The Major Elements of Planning
Identifying the Site Development Process and Players
Defining Your Site's Information Architecture
Auditing an Existing Site to Identify SEO Problems
Identifying Current Server Statistics Software and Gaining Access
Determining Top Competitors
Assessing Historical Progress
Benchmarking Current Indexing Status
Benchmarking Current Rankings
Benchmarking Current Traffic Sources and Volume
Leveraging Business Assets for SEO
Combining Business Assets and Historical Data to Conduct SEO/Website SWOT Analysis
Conclusion
5 KEYWORD RESEARCH
Thinking Strategically
Understanding the Long Tail of the Keyword Demand Curve
Traditional Approaches: Domain Expertise, Site Content Analysis
Keyword Research Tools
Determining Keyword Value/Potential ROI
Leveraging the Long Tail of Keyword Demand
Trending, Seasonality, and Seasonal Fluctuations in Keyword Demand
Conclusion
6 DEVELOPING AN SEQ-FRIENDLY WEBSITE
Making Your Site Accessible to Search Engines
Creating an Optimal Information Architecture (IA)
Root Domains, Subdomains, and Microsites
Optimization of Domain Names/URLs
Keyword Targeting
Content Optimization
Duplicate Content tssues
Controlling Content with Cookies and Session IDs
Content Delivery and Search Spider Control
Redirects
Content Management System (CMS) Issues
Best Practices for Multilanguage/Country Targeting
Conclusion
7 CREATING LINK-WORTHY CONTENT AND LINK MARKETING
How Links Influence Search Engine Rankings
Further Refining How Search EnginesJudge Links
The Psychology ofLinking
Types ofLink Building
Choosing the Right Link-Building Strategy
More Approaches to Content-Based Link Acquisition
Incentive-Based Link Marketing
How Search Engines Fight Link Spam
Social Networking for Links
Conclusion
8 HOW SOCIAL MEDIA AND USER DATA PLAY A ROLE IN SEARCH RESULTS AND RANKINGS
Why Rely on Social Signals?
Social Signals That Directly Influence Search Results
The Indirect Influence ofSocial Media Marketing
Monitoring, Measuring, and Improving Social Media Marketing
User Engagement as a Measure ofSearch Quality
Document Analysis
Optimizing the User Experience to Improve SEO
Additional Social Media Resources
Conclusion
9 OPTIMIZING FOR VERTICAL SEARCH
The Opportunities in Vertical Search
Optimizing for Local Search
Optimizing for Image Search
Optimizing for Product Search
Optimizing for News, Blog, and Feed Search
Others: Mobile, Video/Multimedia Search
Conclusion
10 TRACKING RESULTS AND MEASURING SUCCESS
Why Measuring Success Is Essenlial to the SEO Process
Measuring Search Traffic
Tying SEO to Conversion and ROI
Competitive and Diagnostic Search Metrics
Key Performance Indicators for Long-Tail SEO
Other Third-Party Tools
Conclusion
11 DOMAIN CHANGES, POST-SEO REDESIGNS, AND TROUBLESHOOTING
The Basics of Moving Content
Maintaining Search Engine Visibility During and Aftera Site Redesign
Maintaining Search Engine Visibility During and AfterDomain Name Changes
Changing Servers
Hidden Content
Spam Filtering and Penalties
Content Theft
Changing SEO Vendors or Staff Members
Conclusion
12 SEQ RESEARCH AND STUDY
SEO Research and Analysis
Competitive Analysis
Using Search Engine-Supplied SEO Tools
The SEO Industry on the Web
Participation in Conferences and Organizations
Conclusion
13 BUILD AN IN-HOUSE SEO TEAM, OUTSOURCE IT, OR BOTH?
The Business of SEO
The Dynamics and Challenges ofUsing In-House Talent Versus Outsourcing
The Impact of Site Complexity on SEO
Workload Solutions for Small Organizations
Solutions for Large Organizations
Hiring SEO Talent
The Case for Working with an Outside Expert
Selecting an SEO Firm/Consultant
Mixing Outsourced SEO with In-House SEO Teams
Building a Culture ofSEO into Your Organization
Conclusion
14 AN EVOlVING ART FORM: THE FUTURE OF SEO
The Ongoing Evolution of Search
More Searchable Content and Content Types
Personalization, Localization, and User Influence on Search
The Increasing Importance ofLocal, Mobile, and Voice Recognition Search
Increased Market Saturation and Competition
SEO as an Enduring Art Form
Conclusion
GLOSSARY
INDEX
Library of Congress Catalog Listing
Personal name
Enge, Eric.
Main title
The Art of SEO / Eric Enge, Stephan Spencer, Jessie Stricchiola, and Rand Fishkin.
Edition
SECOND EDITION.
Published/Produced
Beijing : O'REILLY, [2012]
Description
xxii, 688 pages : illustrations; 24 cm
ISBN
9781449304218 (pbk.)
LC classification (full)

HF5418.126 .E65 2012

LC classification (partial)
HF5418.126
Subjects

Web sites--Design.
Web site development.
Web search engines.
Internet marketing.
Web sites--Ratings and rankings.
Program transformation (Computer programming)
Internet searching.

Notes
Includes index.
LCCN
2012538320
Type of material
Book
Content type
text
Media type
unmediated
Carrier type
volume