Printed Ephemera: Collection, Organisation, Access by Alan Clinton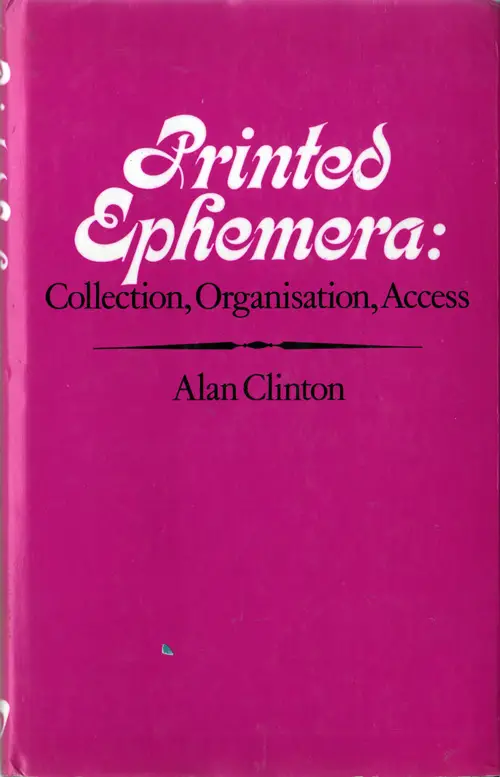 Front Cover, Printed Ephemera: Collection, Organisation, Access by Alan Clinton, 1981. GGA Image ID # 1723a69f89
This carefully researched book represents a professional response to the growing interest of scholars, historians and collectors in the preservation of printed ephemera—material that in contemporary society is often regarded as disposable 'junk', but which, put in an historical context, can be very instructive and revealing about social conditions and attitudes.
By concentrating on certain major areas of ephemera collections—postal history, pictures of domestic appliances, non-book materials in housing, for example —the author succeeds in providing general guidelines for locating collections and discusses different methods of organising the materials. This book, which originated in a British Library research investigation, will be of particular value to librarians, collectors of ephemera and those wishing to carry out research into collection.
Table of Contents
PREFACE
What is ephemera?
The etymology of `ephemera'; Attitudes to ephemera; Looking at 'collections'; Some conclusions.
General ephemera collections
The world of printing and its history; Private collectors and the Ephemera Society; Ephemera collections in libraries and museums; Subject and local collections; Conclusion.
Postal history
Definitions; Major national collections; Specialist and local collections; Private collectors and their clubs and societies; Greeting cards and picture postcards.
Archivists, collectors and historians
Attitudes of private collectors; Attitudes of archivists; The need for subject indexing; A plea for mutual understanding.
Finding pictures of domestic appliances
Forms of material; History and general sources; The gas industry; The electricity industry; The private entrepreneur.
The organisation of images
Forms of arrangement in picture libraries; Some general schemes; The methods of the future.
Non-book materials in housing
National organisations; Research bodies; Local authorities; Specialist institutions; Pressure groups; Local and community information provision, Alternative information networks.
Governments, librarians and pressure groups
Ephemera collections: the particular and the general
Some particular problems; The collections themselves; Beyond the collections; Some points on history; How the national register of collections would work; Functions of the NRC.
APPENDICES
Appendix One: General ephemera collections and sources
Appendix Two: Collections including postal history
Appendix Three: Some collections of greeting cards and postcards
Appendix Four: Subject based referral agencies
Appendix Five: Sources for pictures of domestic appliances
Appendix Six: Picture collections and relevant organisations
Appendix Seven: Sources of current housing information
The aim of this book is to investigate an important problem faced by all those who organise printed sources of knowledge. Traditionally librarians deal with books, museum curators with artifacts, and archivists with manuscripts. Yet at the edges of what was once regarded as the proper concern of each of these are large amounts of printed paper. These materials are often designated nowadays as 'ephemera', and are generally distinguished by being difficult to arrange and to find.
Since the term came into general use in the early 1960s, a number of publications have appeared giving examples of the various forms of printed ephemera and describing the location of such material in particular fields. The Dainton Committee on National libraries in 1969 maintained that the new centralised library structure it helped to bring into being should take account of the 'great quantity and variety of ephemeral material', especially in the social sciences. (Report of the National Libraries Committee, Cmnd 4028 p76). In 1971, Mr J.E. Pemberton, in a report referred to many times in the following pages, put forward proposals for doing this through a National Documents Library. Two conferences sponsored by the Aslib Social Science Group followed, and a Working Party within the British Library Reference Division discussed the problem in the mid 1970s. However, no concrete results followed.
This book sets out more details on ephemeral printed materials than any other known to the author. It discusses the issues which have been encountered in looking at ephemeral printed material in a very wide variety of settings and contexts.
FIRST PUBLISHED 1981 BY CLIVE BINGLEY LTD
16 PEMBRIDGE ROAD LONDON W11
SET IN 10 ON 11 POINT PRESS ROMAN BY ALLSET
PRINTED AND BOUND IN THE UK BY
REDWOOD BURN LIMITED TROWBRIDGE AND ESHER
COPYRIGHT © ALAN CLINTON 1981
ALL RIGHTS RESERVED
CLIVE BINGLEY ISBN: 0-85157-337-1
Library of Congress Catalog Listing
Personal name: Clinton, Alan.
Main title: Printed ephemera : collection, organisation, and access / Alan Clinton.
Published/Created: London : Bingley, 1981.
Description: 125 p. ; 23 cm.
ISBN: 0851573371
LC classification: Z1029.5 .C55
LC Subjects: Printed ephemera.
Notes: Includes bibliographical references and index.
LCCN: 81139560
Dewey class no.: 001.55/2024092
National bib no.: GB***
Type of material: Book