Past or Portal? Enhancing Undergraduate Learning through Special Collections and Archives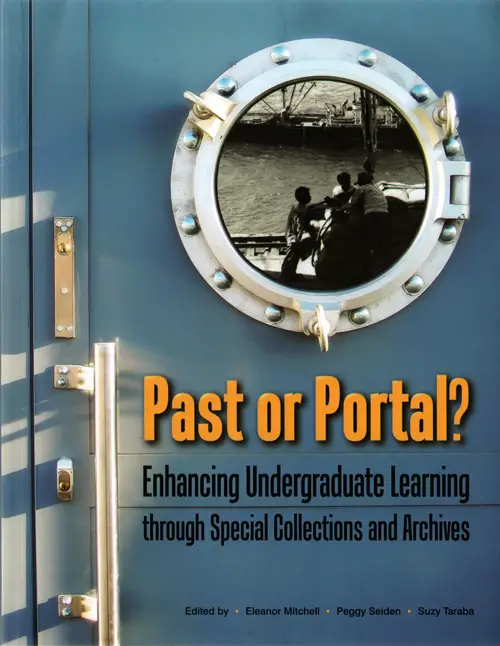 Front Cover, Past or Portal? Enhancing Undergraduate Learning through Special Collections and Archives, 2012. GGA Image ID # 1722d6a8ff
Past or Portal? provides a host of examples of the effective involvement of undergraduates with primary sources found in archives and special collections in nearly fifty different institutions. We hope that it will inspire librarians and faculty who are new to teaching using these resources, as well as those who have been using similar methods for years.
Edited by Eleanor Mitchell Peggy Seiden Suzy Taraba
Association of College & Research Libraries
A Division of the American Library Association
Chicago, 2012
978-083898610-3
Table of Contents
INTRODUCTION
THE ARTIFACT
COLORADO COLLEGE
The History and Future of the Book, a Half-Block Course at Colorado College 
Steve Lawson and Jessy Randall
EAST CAROLINA UNIVERSITY
Rebooting the Old North State: Connecting Undergraduates with State Focused Special Collections Materials
L.K. Gypsye Legge, Matthew Reynolds, and Dale Sauter
JOHNS HOPKINS UNIVERSITY
Teaching by the Book: The Culture of Reading in the George Peabody Library 
Gabrielle Dean
JOHNS HOPKINS UNIVERSITY
The Scholar's Bookshelf: Recreating a Premodern Library for the Classroom 
Earle Havens, Ph.D.
MERTON COLLEGE
Oxford University: Speed-dating' in Special Collections: A Case Study 
Julia Walworth
THE OHIO STATE UNIVERSITY
Seeing through the 'Priest's Eye': Teaching Medieval Codicology and Book History through William of Pagula's Oculus sacerdotis
Eric J. Johnson
ST. JOHN'S UNIVERSITY
"A Special Collection": A Fine Arts-Library Collaborative Project 
Claudia Sbrissa and Blythe E. Roveland-Brenton
SKIDMORE COLLEGE
Artists' Books: Esthetics, Media, Communication 
Ruth Copans and John Anzalone
UNIVERSITY OF PENNSYLVANIA
Crazy for Pamela in the Rare Books Library: Undergraduates Reflect on Doing Original Research in Special Collections
Sarah Arkebauer, Toni Bowers, Lauren Corallo, Eoin Ennis, Rivka Fogel, Jessica Kim, Michael Masciandaro, John Pollack, Tatum Regan, Tyler Russell, Sandra Sohn, Marykate Stopa, Jessica Sutro, and Valeria Tsygankova
WAKE FOREST UNIVERSITY
Putting the Material in Materiality: The Embedded Special Collections Librarian 
Megan Mulder and Carolyn Jones
WHITMAN COLLEGE
What is Primary: Teaching Archival Epistemology and the Sources Continuum 
Michael J. Paulus, Jr.
THE PEDAGOGY
COLORADO COLLEGE
Archival Sound Recordings in Undergraduate Education: The Ruben Cobos Collection of Indo-Hispanic Folklore
Victoria Lindsay Levine
CONNECTICUT COLLEGE
Building a New Model: Faculty-Archivist Collaboration in Architectural Studies 
Nova M. Seals
DARTMOUTH COLLEGE
A Novel Approach: Teaching Research through Narrative 
Stephanie Boone and Jay Satterfield
EMORY UNIVERSITY
Teaching First-Year Writing with 'All the Detritus, Debris and Ephemera" of Literary Manuscripts 
Elizabeth A. Chase
HARVARD UNIVERSITY
Common Ground: A Collaboration between the Harvard University Archives and the Harvard Yard Archaeology Project
Barbara S. Meloni
MILLERSVILLE UNIVERSITY
Engaging the Text
Carla Mary Rineer and Marilyn McKinley Parrish
NEW YORK UNIVERSITY
Computing in the Humanities @ NYU Libraries 
Janet Bunde, Deena Engel, and Paula Feid
PENNSYLVANIA STATE UNIVERSITY
"Pulling on the White Gloves ... is Really Sort of Magic": Report on Engaging History Undergraduates with Primary Sources
Doris Malkmus
UNIVERSITY OF CHICAGO
Lighting Fires in Creative Minds: Teaching Creative Writing in Special Collections 
David Pavelich
UNIVERSITY OF COLORADO, BOULDER
Special Collections Instruction in the Sciences: A Collaborative Model 
Barbara Losoff, Caroline Sinkinson, and Elizabeth Newsom
UNIVERSITY OF HOUSTON
More than Gold Leaf: Teaching Undergraduates in Capstone Courses about the Scholarly Use of Medieval Manuscripts
Julie Grob
UNIVERSITY OF ILLINOIS AT URBANA-CHAMPAIGN
Making It Personal: Engaging Students with Their University 
Ellen D. Swain
UNIVERSITY OF MINNESOTA
Teaching Research and Learning Skills with Primary Sources: Three Modules 
Ryan Bean and Linnea M. Anderson
UNIVERSITY OF NEBRASKA-LINCOLN
Teaching Digital History Through the University Archives: The Case of Nebraska U: A Collaborative History
Peterson Brink, Mary Ellen Ducey, Andrew Jewell, and Douglas Seefeldt
UNIVERSITY OF OREGON
Student as Historian/Student as Historical Actor: Documenting the Student Experience at the University of Oregon
Heather Briston
UNIVERSITY OF THE PACIFIC
The Special Collections Laboratory: Integrating Archival Research into Undergraduate Courses in Psychology and Music
Shan C. Sutton
UNIVERSITY OF VERMONT
Teaching Cultural Memory: Using and Producing Digitized Archival Material in an Online Course
Robin M. Katz
UNIVERSITY OF WYOMING
When Did Sacajawea Die Anyway?: Challenging Students with Primary Sources 
Rick Ewig
THE PROGRAM
AUGUSTANA COLLEGE
Faculty Buy-In: Encouraging Student Use through Faculty Stipends Sarah M. Horowitz and Jamie L. Nelson
IOWA STATE UNIVERSITY
Collaboration between the Iowa State University Honors Program and the Special Collections Department (ISU Library)
Tanya Zanish-Belcher, Laurie Fiegel, and Ashley Rosener
OBERLIN COLLEGE
Building a Book Studies Program at a Liberal Arts College 
Laura Baudot and Wendy Hyman
UNIVERSITY OF CALIFORNIA
"The Links in the Chain": Connecting Undergraduates with Primary Source Materials at the University of California
Sherri Berger, Ellen Meltzer, and Lynn Jones
UNIVERSITY OF WYOMING, LARAMIE
Books IN History; Books AS History: Teaching Undergraduates in the Toppan Rare Books Library University of Wyoming
Anne Marie Lane
WESLEYAN UNIVERSITY
Where Do We Go From Here?: Evaluating a Long-Term Program of Outreach and Making it Better
by Suzy Taraba
THE WORK
BRYN MAWR COLLEGE
Real Objects, Real Spaces, Real Expertise: An Undergraduate Seminar Curates an Exhibition on the Medieval Book of Hours
Marianne Hansen
CARLETON COLLEGE
Exhibiting Artists' Books: Three Perspectives from a Curatorial Seminar 
Laurel Bradley, Kristi Wermager, and Gabriel Perri Silberblatt
DICKINSON COLLEGE
Finding Value and Meaning through Work/Study in the Archives 
James W Gerencser
DICKINSON COLLEGE
Social Networking Software in the Archives: Using Blogs to Engage Students with Primary Sources
Malinda Triller
LAFAYETTE COLLEGE
Waiting to Excel: Undergraduate Research Partnerships in Special Collections at Lafayette College
Diane Windham Shaw
MISSISSIPPI STATE UNIVERSITY 
The Swing Around the Circle
Sarah Dauterive and Ryan P. Semmes
RAMAPO COLLEGE OF NEW JERSEY
The American History Textbook Project: The Making of a Student-Centered Special Collection at a Public Liberal Arts College
Christina Connor and Steven P. Rice
SWARTH MORE COLLEGE
The Early Novels Database and Undergraduate Research: a Case Study 
Rachel Sagner Buurma, Anna Tione Levine, and Richard Li
TULANE UNIVERSITY
Amistad Research Center Case Study 
Christopher Harter
UNIVERSITY OF DELAWARE
Learning as Doing: Undergrads Using Special Collections for Conservation and Material Culture Studies
Deborah C. Andrews, Vicki Cassman, and L. Rebecca Johnson Melvin
UNIVERSITY OF HAWAII, HILO
UH-Hilo & the Christensen Photographic Collection: Preserving a Piece of Hamakua's History
Kerni A. Inglis and Helen Wong Smith
UNIVERSITY OF WISCONSIN, MADISON
"Science Circa 1859: On the Eve of Darwin's On the Origin of Species": A Class-Curated Exhibit
Robin E. Rider
ABOUT THE AUTHORS
Eleanor Mitchell
Eleanor Mitchell is Director of Library Services at Dickinson College in Carlisle, PA. She also co-edited the ACRL title, Past or Portal? Enhancing Undergraduate Learning through Special Collections and Archives with Peggy Anne Seiden and Suzy Taraba. Her articles have appeared in Libraries Unlimited, and ALA publications.
Peggy Anne Seiden
Peggy Anne Seiden is College Librarian at Swarthmore College in Swarthmore, PA. She also co-edited the ACRL title, Past or Portal?Enhancing Undergraduate Learning through Special Collections and Archives with Suzy Taraba and Eleanor Mitchell. Her articles have appeared in Reference and User Services Quarterly, The Reference Librarian, Library Trends, and various ALA publications.
Suzy Taraba
Suzy Taraba is Director of Special Collections and Archives at Wesleyan University. She holds BA and MALS degrees from Wesleyan and the MS in Library Science from Columbia. Before returning to her alma mater in 1997, she held special collections positions at the Bakken Library of Electricity in Life (now the Bakken Museum), Columbia, Duke, and the University of Chicago. Suzy is a former chair of ACRL's Rare Books and Manuscripts Section. Fostering undergraduate excitement about special collections and archives is one of her favorite parts of her job.
Library of Congress Catalog Listing
 Main title: Transforming information literacy programs : intersecting frontiers of self, library culture, and campus community / Carroll Wilkinson and Courtney Bruch, editors.
Published/Created: Chicago : Association of College and Research Libraries, A Division of the American Library Association, 2012.
Description: vii, 263 pages ; 23 cm.
ISBN: 9780838986035 (pbk.)
LC classification: ZA3075 .T73 2012
Related names: Wilkinson, Carroll Wetzel, editor of compilation.; Bruch, Courtney, editor of compilation.
Contents: Surveying terrain, clearing pathways / by Courtney Bruch and Carroll Wetzel Wilkinson -- Ethnographic study of information literacy librarians' work experience : a report from two states / by Celene Seymour -- Critical information literacy : definitions and challenges / by James Elmborg -- A well-worn path...and beyond : charting feminization in academic instruction librarianship / by Noël Kopriva -- Hitching your wagon to institutional goals / by Anne E. Zald and Michelle Millet -- Merging critical thinking and information literacy outcomes-making meaning or making strategic partnerships? / Robert Schroeder -- Crossing the instructional divide : supporting K-20 information literacy initiatives / Jo Ann Carr -- Settling uncharted territory : documenting & rewarding librarians' teaching role in the academy / by April D. Cunningham and Carrie Donovan -- Information literacy reality check / by Nancy H. Seamans.
LC Subjects: Information literacy--Study and teaching (Higher)
Notes: Includes bibliographical references and index.
Series: ACRL publications in librarianship; 64
LCCN: 2011050153
Dewey class no.: 025.5/2777
Invalid ISBN: 9780838994122 (kindle); 9780838994139 (epdf)
Type of material: Book