The Myth Of The Paperless Office - 0262194643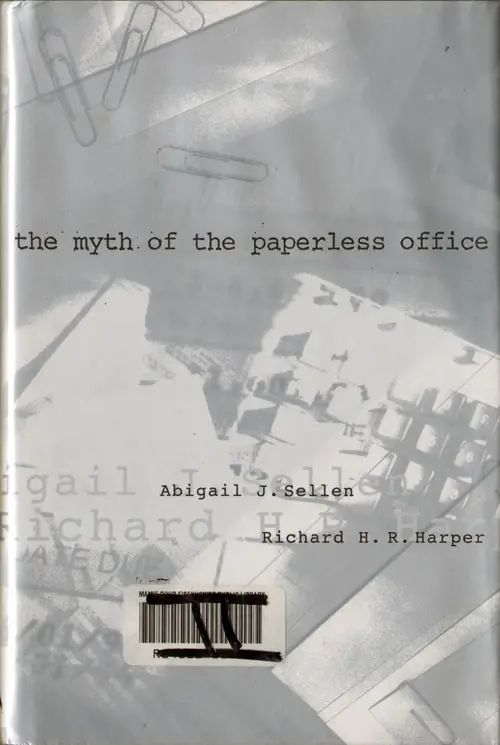 Abigail J. Sellen and Richard H.R. Harper | The MIT Press | 2002
From the Publishers
Over the past thirty years, many people have proclaimed the imminent arrival of the paperless office. Yet even the World Wide Web, which allows almost any computer to read and display another computer's documents, has only increased the amount of printing done by computer users. The use of e-mail in an organization increases paper consumption by an average of 40 percent.
In The Myth of the Paperless Office, Abigail Sellen and Richard Harper study paper usage as a way to understand the work that people do and the reasons they do it the way they do. Using the tools of ethnography and cognitive psychology, they look at paper use from the level of the individual up to that of organizational culture.
Central to Sellen and Harper's investigation is the concept of "affordances"—the activities that an object allows, or affords.The physical properties of paper (its being thin, light, porous, opaque, and flexible) afford the human actions of grasping, carrying, folding, writing, and so on. The concept of affordance allows us to compare the affordances of paper with those of existing digital devices. We can then ask what kinds of devices or systems would make new kinds of activities possible or better support current activities.
The authors argue that paper will continue to play an important role in office life. Rather than pursue the ideal of the paperless office, we should work toward a future in which paper and electronic document tools work in concert and organizational processes make optimal use of both.
Abigail J. Sellen is a cognitive psychologist at Hewlett-Packard Laboratories in Bristol, UK. Richard H. R. Harper is Director of the Digital World Research Centre at the University of Surrey, UK.
the myth of the paperless office
Abigail J. Sellen and Richard H. R. Harper
From the Back Cover
"Paper is the old-fashioned technology that refuses to die—and for good reason. As this pioneering study by Sellen and Harper shows, paper supports many needs and work styles better than any other medium. As a result, paper is the perfect complement to electronic documents, superior at many things, inferior at many. Want to know if an organization is working efficiently? Sellen and Harper say to check the wastebaskets — they should be full."
—Donald A. Norman, 
Nielsen Norman Group, 
author of The Invisible Computer

The MIT Press
Massachusetts Institute of Technology Cambridge, Massachusetts 02142 http://mitpress.mit.edu
0-262-19464-3
Contents
Acknowledgments
1 Introduction
2 What's Wrong with Paper?
3 Paper in Knowledge Work
4 Reading from Paper
5 Paper in Support of Working Together
6 Designing New Technologies
7 The Future of Paper
Notes
References
Index
Book Information
Title: The Myth of the Paperless Office
Authors: Abigail J. Sellen and Richard H. R. Harper
ISBN-10: 0262194643 / 0-262-19464-3
ISBN-13: 978-0262194648
Format: Hardcover
Number of Pages: 231
Publication Date: 2002
Publisher: The MIT Press, Cambridge, Massachusetts, London, England
Language: English
Library of Congress Catalog Listing
LC control no.:
2001032626
Type of material:
Book (Print, Microform, Electronic, etc.)
Personal name:
Sellen, Abigail J.
Main title:
The myth of the paperless office / Abigail J. Sellen and Richard H.R. Harper.
Published/Created:
Cambridge, Mass. : MIT Press, c2002.
Related names:
Harper, Richard (Richard H. R.)
Description:
xi, 231 p. : ill.; 23 cm.
ISBN:
0262194643 (hc. : alk. paper)
Notes:
Includes bibliographical references (p. [219]-222) and index.
Subjects:
Office equipment and supplies.
Paper.
LC classification:
HF5521 .S43 2002
Dewey class no.:
651.5
Quality code:
pcc