Understanding Archives & Manuscripts - 1931666202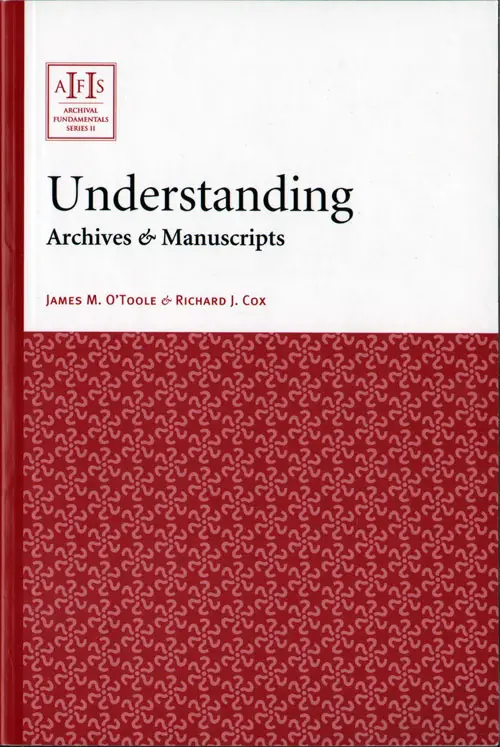 Front Cover, Understanding Archives & Manuscripts by James M. O'Toole & Richard J. Cox, 2006. GGA Image ID # 1725506d12
| Society of American Archivists
This new edition of the Archival Fundamentals Series is intended to provide the basic foundation for modern archival practice and theory.
From the Back Cover
A][F][S ARCHIVAL FUNDAMENTALS SERIES II 

Understanding Archives & Manuscripts
JAMES M. O'TOOLE & RICHARD J. COX
This thoroughly updated version of the 1990 edition is not only the best short introduction to archives for students, new archivists, and anyone interested in archiving, but also provides the experienced archivist an invaluable summary analysis of the field's burgeoning literature and increasingly complex issues."
—TOM NESMITH
Archival Studies Program, Department of History University of Manitoba, Canada
O'Toole and Cox have once again produced a thoughtful and thought-provoking contribution to professional literature in the excellent Archival Fundamentals Series II. Spanning the archival world from the earliest literate societies to postmodernism, this book challenges us to think about who we are and what we do as archivists."
—DR ELIZABETH SHEPHERD
Senior Lecturer, Archives and Records Management
University College London
A cogent, compelling, comprehensive read for committed professionals and anyone
seeking to understand the work and appreciate the power and importance of documentary heritage management."
—ANN PEDERSON
Archival Consultant and Educator Sydney, Australia
O'Toole and Cox's updated version of this classic archival work is a fascinating look
into the origins and core values of the archives profession. Those of us who 'grew up' with the 1990 edition will be engaged by the fresh ideas and examples illuminating the study of archives and its contemporary challenges. Today's students, educators, and practitioners undoubtedly will adopt this new edition as their own professional touchstone."
—AMY COOPER CARY
Archival Studies Program Coordinator School of Information Studies
University of Wisconsin-Milwaukee
SOCIETY OF American Archivists www.archivists.org
ISBN 1-931666-20 2
Table of Contents
Preface to the Archival Fundamentals Series II
Introduction
Chapter 1 Recording, Keeping, and Using Information
The Oral World
The Rise and Spread of Literacy
Reasons for Recording Information
The Impulse to Save
The Impulse to Destroy
The Technology of Record Making
Characteristics of Recorded Information in the Modern Age
The Usefulness of Archives
Conclusion
Chapter 2 The History of Archives and the Archives Profession
Old World Antecedents
American Origins: The Two Traditions
Emergence of the Archival Profession
The Crucial Decade: The 1930s
Diversification and Development
Consolidation of Professional Identity
Current Issues
Conclusion
Chapter 3 The Archivist¿s Perspective: Knowledge and Values
Knowledge
Values
Conclusion
Chapter 4 The Archivist¿s Task: Responsibilities and Duties
Planning
Saving and Acquiring Archival Records
Organizing Archival Records
Making Archival Records Available
Conclusion
Chpater 5 Archivists and the Challenges of New Worlds
Postmodernism
Internet Time
Ethics and Security
Symbolism and Technology
Advocacy and the Archival Mission
Recordkeeping in the Digital Era
Professionalism
Conclusion
Bibliographical Note
Notes
Index
Library of Congress Catalog Listing
Personal name: O'Toole, James M., 1950-
Main title: Understanding archives & manuscripts / James M. O'Toole & Richard J. Cox.
Published/Created: Chicago, IL : Society of American Archivists, c2006.
Description: xvii, 237 p. : ill. ; 23 cm.
ISBN: 1931666202 (alk. paper); 9781931666206 (alk. paper)
LC classification: CD950 .O57 2006
Variant title: Understanding archives and manuscripts
Related names: Cox, Richard J.; Society of American Archivists.
Contents: Recording, keeping, and using information -- The oral world -- The rise and spread of literacy -- Reasons for recording information -- The impulse to save -- The impulse to destroy -- The technology of record making -- Characteristics of recorded information in the modern age -- The usefulness of archives -- The history of archives and the archives profession -- Old world antecedents -- American origins: the two traditions -- Emergence of the archival profession -- The crucial decade: the 1930s -- Diversification and development -- Consolidation of professional identity -- Current issues -- The archivist's perspective: knowledge and values -- Knowledge -- Values -- The archivist's task: responsibilities and duties -- Planning -- Saving and acquiring archival records -- Organizing archival records -- Making archival records available -- Archivists and the challenges of new worlds -- Postmodernism -- Internet time -- Ethics and security -- Symbolism and technology -- Advocacy and the archival mission -- Recordkeeping in the digital era -- Professionalism.
LC Subjects: Archives--Administration. Archives--History. Archives--Handbooks, manuals, etc.
Notes: Includes bibliographical references (p. 195-228) and index.
Series: Archival fundamentals series. II
LCCN: 2006017311
Dewey class no.: 027
NAL class no.: CD950 .O57 2006
Other class no.: 06.90
Other system no.: (OCoLC)70054151; (OCoLC)ocm70054151
Type of material: Book