The Encyclopedia of Ephemera by Maurice Rickards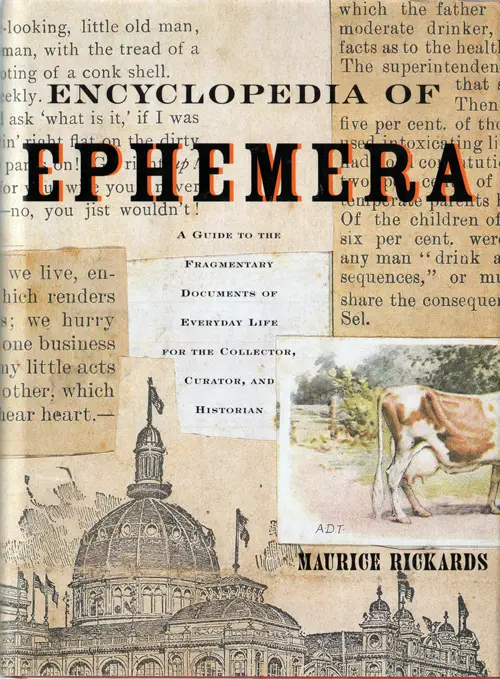 The Encyclopedia of Ephemera: A Guide to the Framentary Documents of Everyday Life for the Collector, Curator, and Historian
By Maurice Rickards
Edited and Completed by Michael Twyman with the Assistance of Sally de Beaumont and Amoret Tanner
Ephemera is the plural form of the Greek word ephemeron (epi = on, about, round; hemera = day). Literally, it refers to something that lasts through the day, or, as Maurice Rickards proposed, the minor transient documents of everyday life, although not every item of ephemera can be regarded as transient or even minor. Collectively the many entries in this formidable new reference work provide a better definition of ephemera, since they include manuscript and printed matter (sports programs, envelopes, visiting cards, ballots), records of the past and present (newspapers, cigarette cards, seed packets, ration papers), items designed to be thrown away (bus tickets, paper bags, fruit labels), and to be kept (bookmarks, playing cards, board games).
This lavishly illustrated landmark volume is intended for social historians as well as collectors of ephemera who take a broader view than their own specialist field.
From the Publisher
The joy of finding an old box in the attic filled with postcards, invitations, theater programs, laundry lists, and pay stubs is discovering the stories hidden within them. The paper trails of our lives -- or ephemera -- may hold sentimental value, reminding us of great grandparents. They chronicle social history. They can be valuable as collectibles or antiques. But the greatest pleasure is that these ordinary documents can reconstruct with uncanny immediacy the drama of day-to-day life.

The Encyclopedia of Ephemera is the first work of its kind, providing an unparalleled sourcebook with over 400 entries that cover all aspects of everyday documents and artifacts, from bookmarks to birth certificates to lighthouse dues papers. Continuing a tradition that started in the Victorian era, when disposable paper items such as trade cards, die-cuts and greeting cards were accumulated to paste into scrap books, expert Maurice Rickards has compiled an enormous range of paper collectibles from the obscure to the commonplace. His artifacts come from around the world and include such throw-away items as cigarette packs and crate labels as well as the ubiquitous faxes, parking tickets, and phone cards of daily life.
As this major new reference shows, simple slips of paper can speak volumes about status, taste, customs, and taboos, revealing the very roots of popular culture.
About the Authors
Maurice Rickards (1919-98), a graphic designer, photographer, author, and collector of ephemera, founded the ephemera society in 1975. Later he established the foundation for ephemera studies and, with Michael Twyman, the centre for ephemera studies at the University of Reading. Among his many books on ephemera are posters of the First World War, the public notice, and collecting printed ephemera.
Professor Michael Twyman was professor of typograph and graphic communication at the University of Reading until his retirement in 1998. He is the author of many book on printing history, including early lithographed books, printing 1770-1970, and The British Library Guide to Printing: History and Techniques.
JACKET DESIGN BY JONATHAN HERDER
COVER IMAGES: PAGES FROM AN OLD
SCRAPBOOK IN THE DESIGNER'S COLLECTION
ROUTLEDGE
NEW YORK
0-415-92648-3
Library of Congress Catalog Listing
| | |
| --- | --- |
| LC control no.: | 00062569 |
| LCCN permalink: | http://lccn.loc.gov/00062569 |
| Type of material: | Book (Print, Microform, Electronic, etc.) |
| Personal name: | Rickards, Maurice, 1919- |
| Main title: | The encyclopedia of ephemera : a guide to the fragmentary documents of everyday life for the collector, curator, and historian / Maurice Rickards; edited and completed by Michael Twyman with the assistance of Sally de Beaumont and Amoret Tanner. |
| Published/Created: | New York : Routledge, 2000. |
| Description: | x, 402 p. : ill. (some col.); 30 cm. |
| ISBN: | 0415926483 |
| Related names | Twyman, Michael. |
| | De Beaumont, Sally. |
| | Tanner, Amoret. |
| Review: | "With more than 400 entries on paper collectibles from the most obscure to the most common, this outstanding source is arranged alphabetically and provides written descriptions and photographs of anything from an ABC primer from 19th-century London to winkle bags. This is truly a source to be consulted by collectors or anyone looking for a glimpse of the past."--"Outstanding Reference Sources," American Libraries, May 2001. |
| Subjects: | Printed ephemera --Dictionaries. |
| | Printed ephemera --Collectors and collecting. |
| Notes: | Includes bibliographical references (p. 369-376) and index. |
| LC classification: | NC1280 .R52 2000 |
| Dewey class no.: | 769.5/03 |

Reference Library
GG Archives
Reference Book Library
BookS by Category
Periodicals
Newspapers
Brochures
Music