Web Content Strategist's Bible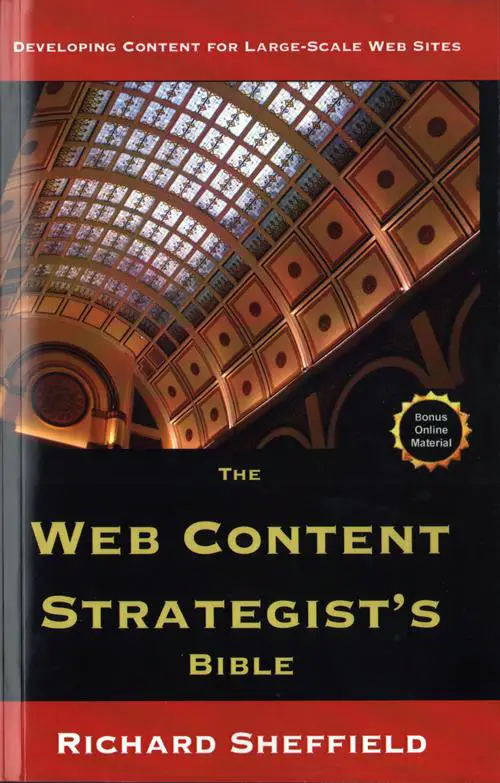 Front Cover, The Web Content Strategist's Bible: Developing Content for Large-Scale Web Sites by Richard Sheffield. The Comple Guide to a New and Lucrative Career Path for Writers of All Kinds. Atlanta: CLUEfox Publishing, 2009, ISBN 978-1441482624. GGA Image ID # 172450c8f8
From the Back Cover
Managing the creation and maintenance of Web content requires an understanding of not just Web writing, but of detailed, well-planned, realistic content development processes.
Those practicing the new discipline of Web Content Strategy are being called upon to help Web development teams navigate this new editorial ecosystem where content not only has to be written, but also broken up into thousands of pieces that have to be reviewed, approved, repurposed, edited for search engines, translated, localized, and generated using a new and complex set of tools and techniques.
The Web Content Strategist's Bible explains how the practice of Web content strategy can be used to effectively manage the size, scope, and cost of content-heavy Web development projects. Presented in an easy, readable style, the book explains the fundamentals of Web content strategy using recent examples and the presentation of best practices. The book focuses on asking the right questions and gathering relevant information needed for efficient project planning and development.
About the Author
Richard Sheffield is currently Managing Editor for a Fortune 50 corporation's Web site headquartered in Atlanta, GA. He specializes in Web site content management system issues, editorial workflow, and content development processes.
Prior to this, Richard was a Senior Content Strategist in IBM's Interactive Design Studio where he worked on Web content strategy engagements with a long list of IBM's top-shelf clients.
Richard has a B.S. in Industrial Management from Georgia Tech and an M.A. in Professional Writing from Kennesaw State University.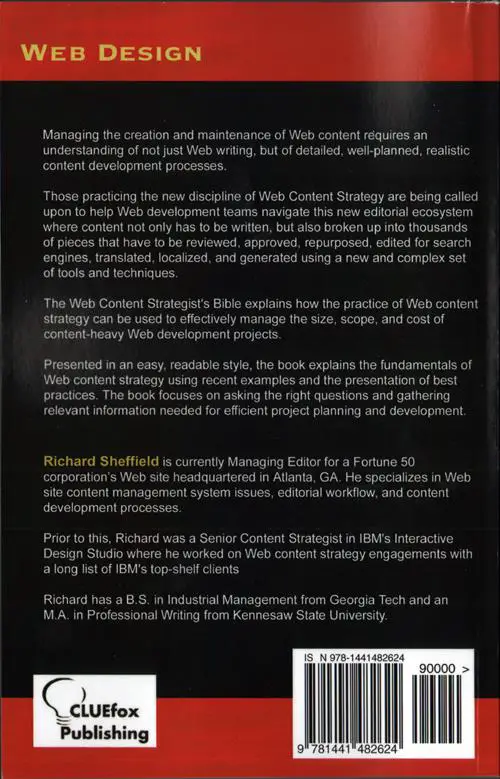 Back Cover, Web Design: The Web Content Strategist's Bible: Developing Content for Large-Scale Web Sites, 2009. GGA Image ID # 17246ce9ba
Table of Contents
Introduction
The Day I Doubled My Salary
Maybe All You Need to Do Is Ask
Is "Web Content Strategist" a Real Job?
What Is Web Content?
Working In the Web Design World
What Are the Projects and Who Are the Players?
A Day in the Life of a Web Content Strategist
Does This Sound Interesting to You?
Chapter 1— An Introduction to Web Content Strategy
What Is Web Content Strategy?
The Origins of Content Strategy
Web Content Strategist vs. Information Architect
Who Could Be a Web Content Strategist?
The Website Development Process
Chapter 2 — Why Web Development Project Plans Fail — And How
Web Content Strategy Can Help
Arbitrary Time Frames
Lack of Understanding of the Editorial Process
Failure to Really Plan for Missed Deadlines
Chapter 3 — Content Strategy During the Discovery Phase
Discovery Phase Documents/Deliverables
Content Project Summary Worksheet
Content Inventory Spreadsheet
Existing Content Audit
Content Datascape
Missing Source Content Report
Content Workshop Agenda
Chapter 4 — Content Strategy During the Analysis Phase
The Content Strategy Document
Existing Content Analysis
Content Gap Analysis of Current Site
Competitive Content Analysis
Editorial Process Analysis
Making Editorial Process Recommendations
Readiness Analysis
Chapter 5 — Content Strategy During the Design Phase
The Content Matrix
Building a Content Matrix
Content Matrix Rows
Content Matrix Columns
Editorial Style Guide
Sample Style Guide Table of Contents
Approval Process
Translation Process
WCMS Development Consulting
Chapter 6 — Content Strategy During the Build Phase
The Content Reviewer Guide
Content Strategist Tasks During the Build Phase
Maintaining the Content Matrix
Track and Complete the Project
Chapter 7 — Content Strategy During the Maintenance Phase
Ongoing Website Maintenance
Establishing an Editorial Calendar
Content Removal Process Description
Archival Plan and Policy
Chapter 8 — Content Strategy and Translations
Translation Impacts to the Project Plan
Creating a Master Translation Glossary
Translation SME Issues
Vendors and Translation Memory
Estimating Translation Word Counts
Specifying Languages and Countries
Internationalization vs. Localization
Content Control
Translation Issues and the Content Strategist
Chapter 9 — Search Engine Optimization and Content Strategy
Focus on Google
What Pages Should Be Optimized?
SEO Revolves Around Keywords
Keyword Focused SEO Process
Step 1 — Creating the Initial Keyword List
Step 2 — Test the Initial Keyword List
Step 3 — Identify Keywords That Need Improvement
Step 4 - Match the Keywords That Need Improvement to Individual Web Pages
Step 5 - Use SEO Techniques to Adjust These Pages
On-Page SEO Factors
Step 6 - Retest and See if the Changes Improved in the Search Results
Step 7 - Repeat
Chapter 10 — What You Need to Know about Web Content Management Systems
Why Is It Important to Know about Web Content Management Systems?
What Is a Web Content Management System?
Separating Content from Presentation
Metadata
Input Templates
Workflow Automation
Who Are the Big Players?
Interwoven TeamSite
Vignette
Documentum
Why Is Understanding WCMS So Important?
Chapter 11 — Getting Your First Job as a Web Content Strategist
Finding Web Content Strategist Jobs
The Right Attitude
The Jobs Are There
Appendix A — Supporting Research
Morkes and Nielsen, 1997
Morkes and Nielsen, 1998
Princeton Survey Research Associates, 2000
Appendix B — Content Strategist Job Duties and Descriptions
Appendix C — Abbreviations
Appendix D — Access to Online Bonus Material
Index 201

Figures
Figure 1 — Content Matrix Example
Figure 2 — Approval Process Diagram Example
Figure 3 How to Identify Ranking Position in Google Results. Ignore the Paid Results at the Top.
Figure 4 — WCMS Input Template Example
Tables
Table 1— Content Project Summary Worksheet
Table 2 — Content Inventory Worksheet
Table 3 — Existing Content Audit Spreadsheet
Table 4 — Content Workshop Agenda
Table 5 — Existing Content Analysis Report
Table 6 — Content Gap Analysis Spreadsheet
Table 7 — Competitive Content Analysis Spreadsheet
Table 8 — Sample Style Guide Table of Contents
Table 9 — Master Translation Glossary Example