Creating a Winning Online Exhibition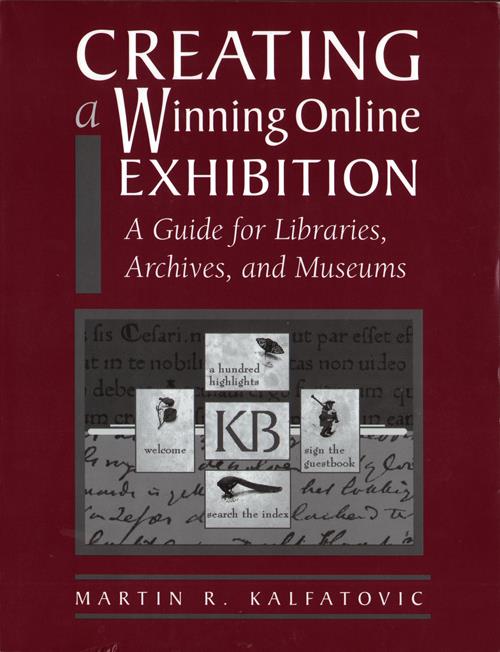 Front Cover, Creating a Winning Online Exhibition: A Guide for Libraries, Archives, and Museums, 2002. A Hundred Highlights from the home of Koninklijke Bibliotheek-National Library of the Netherlands. Used·by-permission. Cover and text design by Dianne M. Rooney. GGA Image ID # 1720ba99ca
While extensive effort has gone into ensuring the reliability of information appearing in book, the publisher makes no warranty, express or implied, on the accuracy or reliability of information, and does not assume and hereby disclaims any liability to any person for any or damage caused by errors or omissions in this publication.
Composition by ALA Editions in Berkeley and Formata Regular typefaces using QuarkXpress! on a PC platform
Printed on 50-pound white offset, a pH-neutral stock, and bound in 10-point cover stock
McNaughton & Gunn
The paper used in this publication meets the minimum requirements of American National
Standard for Information Sciences-Permanence of Paper for Printed Library Materials, 
AI:\ Z39.48-1992.®
ISBN: 0-8389-0817-9
Copyright © 2002 by the American Library Association.
CONTENTS
ILLUSTRATIONS
FOREWORD BY S. DIANE SHAW
ACKNOWLEDGMENTS
INTRODUCTION
Online Exhibitions versus Digital Collections
The Idea
Executing the Exhibition Idea
The Staff
Technical Issues: Digitizing
Technical Issues: Markup Languages
Technical Issues: Programming, Scripting, Databases, and Accessibility
Design
Online Exhibitions: Case Studies and Awards
Conclusion: Online with the Show!
APPENDIXES
A Sample Online Exhibition Proposal
B Sample Exhibition Script
C Guidelines for Reproducing Works from Exhibition Websites
D Suggested Database Structure for Online Exhibitions
E Timeline for Contracted Online Exhibitions
F Dublin Core Metadata of an Online Exhibition
G The Katharine Kyes Leah and Daniel J. Leah American Book Prices Current Exhibition Awards
H Bibliography of Exhibitions (Gallery and Virtual)
INDEX
ILLUSTRATIONS
CHAPTER 1: Online Exhibition versus Digital Collections
FIGURE 1: Duane Hanson: An Exhibition, Broward County Libraries Division, Bienes Center for the Literary Arts
FIGURE 2: Powers of Persuasion, United States National Archives and Records Administration
CHAPTER 2: The Idea
FIGURE 3: From Smithson to Smithsonian, Smithsonian Institution Libraries
FIGURE 4: Canada at Scale: Maps of Our History, National Archives of Canada I Archives nationales du Canada
FIGURE  5: The Night before Christmas by Clement C. Moore, Illustrated, Brown University Library
FIGURE 6: American Treasures of the Library of Congress, Library of Congress  
FIGURE 7: Dino at the Sands, UNLV Libraries Special Collections
CHAPTER 3: Executing the Exhibition Idea
FIGURE 8: Science and the Artist's Book, Smithsonian  Institution Libraries
FIGURE 9: Nos Los Inquisidores, Department of Special Collections of the University Libraries of Notre Dame
FIGURE 10: Frontier Photographers: Edward S. Curtis, Smithsonian Institution Libraries
FIGURE 11: Jewish marriage contracts, Nice, 1690, Yale University Library Judaica Collection 
FIGURE 12: World's Fair literatures from "Make the Dirt Fly!" Smithsonian Institution  Libraries 
FIGURE 13: Bill Hoppers from From Smithson to Smithsonian, Smithsonian Institution Libraries
CHAPTER 8 Designs
FIGURE 14: Screen shot, Internet Explorer (version 5.0) 
FIGURE 15: Screen shot, Internet Explorer (version 5.0), full-screen mode
FIGURE 16: Screen shot, Netscape Navigator (version 4.7)
CHAPTER 9     Online Exhibitions: Case Studies and Awards
FIGURE 17: Bibliotheca Canadiana. A Historical Survey of Canadian Bibliography I Etude Historique de la Bibliographie Canadienne, Rare Books and Special Collections Division, McGill University Libraries
FIGURE 18: Halifax and Its People 11749-1999, Nova Scotia Archives and Records Management
FIGURE 19: Do You Remember, When, United States Holocaust Memorial Museum
FIGURE 20: Nabokov under Glass: A Centennial Exhibition, Henry W. and Albert A. Berg Collection of English and American Literature, Humanities and Social Sciences Library, New York Public Library
About the Author
Martin  R. Kalfatovic is  the Digital Projects Librarian  and  Head of the  New Media Office at Smithsonian  Institution Libraries, where he oversees the digitizing efforts of   the Libraries. These efforts include online exhibitions and digital editions and collections. An active member of the Library Information and Technology Association, he is a former editor of the Library and Information Technology (UTA) Newsletter (1997 to 2000) and was named UTA web coordinator for 2000 to 2002.  He is a frequent contributor of articles and reviews to various publications.  He is also an adjunct faculty member at the Catholic University of America's School of Library and Information Science, where he teaches library automation and museum librarianship.
Library of Congress Catalog Listing
Personal name: Kalfatovic, Martin R., 1961-
Main title: Creating a winning online exhibition : a guide for libraries, archives, and museums / Martin R. Kalfatovic.
Published/Created: Chicago : American Library Association, 2002.
Description: xvii, 117 p. : ill. ; 28 cm.
ISBN: 0838908179 (alk. paper)
LC classification: Z717 .K35 2002
LC Subjects: Library exhibits--Design--Handbooks, manuals, etc.; Library Web sites--Design--Handbooks, manuals, etc.; Web sites--Design--Handbooks, manuals, etc.' Libraries--Public relations--Handbooks, manuals, etc.
Notes: Includes bibliographical references (p. 111-114) and index.
LCCN: 2002283614
Other system no.: (OCoLC)ocm48953289
Type of material: Book

Reference Library
GG Archives
Reference Book Library
BookS by Category
Periodicals
Newspapers
Brochures
Music