Planting Your Family Tree Online: How To Create Your Own Family History Web Site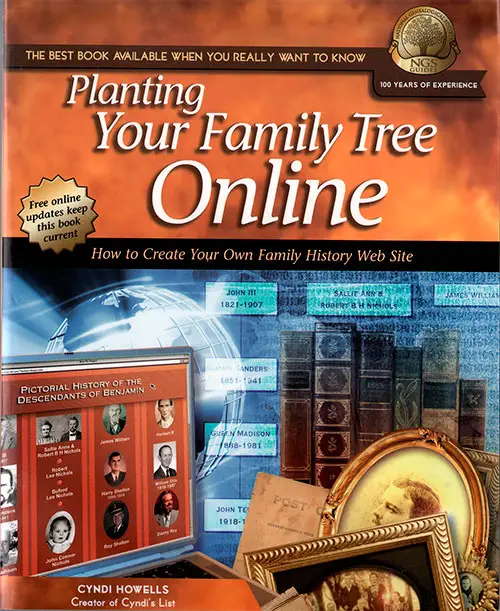 Reference $19.99 U.S. ISBN 1-4016-0022-0

Rutledge Hill Press®
P.O. Box 141000 Nashville, Tennessee 37214 www. rutledgehillpress. com
A Division of Thomas Nelson, Inc. www.ThomasNelson.com
Image on computer screen on front cover courtesy of The Hatcher Families Genealogy Center and Robert E. Hatcher, John C. Nichols Jr., Roy S. Hatcher, and Danny R. Hatcher.
COVER, DESIGN BT SETTINGPACE
From the Back Cover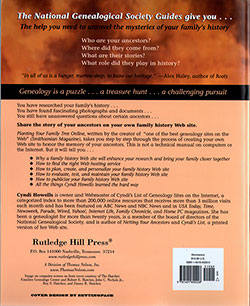 Genealogy is a puzzle . . . a treasure huntchallenging pursuit
You have researched your family's history . . .
You have found fascinating photographs and documents .. .
You still have unanswered questions about certain ancestors . ..
Share the story of your ancestors on your own family history Web site.
Planting Your Family Tree Online, written by the creator of "one of the best genealogy sites on the Web" (Smithsonian Magazine), takes you step by step through the process of creating your own Web site to honor the memory of your ancestors. This is not a technical manual on computers or the Internet. But it will tell you . . .
Why a family history Web site will enhance your research and bring your family closer together
How to find the right Web hosting service
How to plan, create, and personalize your family history Web site
How to evaluate, test, and maintain your family history Web site
How to publicize your family history Web site
All the things Cyndi Howells learned the hard way
About the Author
Cyndi Howells is owner and Webmaster of Cyndi's List of Genealogy Sites on the Internet, a categorized index to more than 200,000 online resources that receives more than 3 million visits each month and has been featured on ABC News and NBC News and in USA Today, Time, Newsweek, Parade, Wired, Yahoo!, Internet Life, Family Chronicle, and Home PC magazines. She has been a genealogist for more than twenty years, is a member of the board of directors of the National Genealogical Society, and is author of Netting Your Ancestors and Cyndi's List, a printed version of her Web site.
Contents
Acknowledgments
Introduction: Who Should Read This Book?
Chapter 1. Why You Need a Genealogy Web Site

Publishing in Pixels versus Publishing in Ink
Always a Work in Progress
Leave a Trail for Your Cousins to Follow
Help Fellow Genealogists and Set an Example for Others

Chapter 2. Find a Home for Your Web Site

What to Look For
Where to Look
Domain Name Registration and Hosting
Extra Tools and Features
What Is the Best Choice for You?

Chapter 3. Plan Ahead for a Successful Genealogy Web Site

Who Will Visit Your Site?
How Should Your Site Look and Behave?
What Is the Purpose of Your Site?
Types of Genealogy Web Sites

Chapter 4. Structure Your Genealogy Web Site

Folders and Directories
A Model for Web Site Structure
Let Your Ancestor Chart Be Your Guide
Duplicate the Organization on Your Computers Hard Drive
Plan Ahead—Avoid Broken Links and Lost Cousins

Chapter 5. Select the Contents for Your Genealogy Web Site

The Title
What You Should Include
What You Should Not Include
Food for Thought: NGS Standards and Guidelines

Chapter 6. Create the Basic Web Pages

Using Genealogy Software
GEDCOM Web Page Conversion Software
Customizing the Softwares Output
Displaying the Data without Genealogy Software
Using HTML Editors
Using a Text Editor to Write HTML Code Yourself
The Home Page and Index Pages
Checking Your Work
Getting Help from Friends and Professionals

Chapter 7. Personalize Your Web Site with Color and Style

Remember Your Mission and Audience
Colors in Backgrounds, Text, and Links
Fonts and Formatting
Graphics: Backgrounds, Bullets, and More

Chapter 8. Customize Your Web Site

Navigation Tools
The Common Footer
Disclaimers
Getting Search Engines to Notice Your Site

Chapter 9. Enhance Your Web Site with Extras

Links and Bibliographies
Photographs and Scanned Documents
Downloadable Files
Multimedia
Automated Features and Forms

Chapter 10. Guarantee Success: Common Web Site Dos and Don'ts

Web Site Title Follies
Purpose or Mission Statement
Contact Information
Grammar, Spelling, and Punctuation
Location, Location, Location!
Broken Links
Background Graphics
Colors That Blind or Hypnotize
Anything That Moves
It Really Isn't Music to My Ears
Frames Are Evil
Things-That Make My Browser Crash

Chapter 11. Check Your Work and Give Your Site a Trial Run

Proofread and Review the Site
Validate Your HTML for Accuracy and Usability
Upload the Pages to the Web Server
Check Navigation, Verify Links, and Confirm Accessibility
Test Your Site in Various Web Browsers
Back Up and Archive Your Web Site

Chapter 12. Make It Official: Publicize Your New Web Site

Strategies for Making Your Site Known to Other Genealogists
Genealogy Mailing Lists and Message Boards
E-mailing Other Family Historians
Online Genealogy Columnists and Editors
Genealogy Web Indexes and Search Engines
Surname Registry Sites
Internet Search Engines
Offline Announcements
Last, but Not Least: Stationery

Chapter 13. Keep Your Web Site Alive and Kicking: Give It a Checkup

Why You Should Check and Update Your Site
Create a Maintenance Routine
Whats New
Annual Maintenance
Share New Things You Have Learned
Reevaluate Your Research and the Purpose of Your Site

Appendixes

National Genealogical Society Standards and Guidelines
Standards for Sound Genealogical Research
Guidelines for Using Records, Repositories, and Libraries
Standards for Use of Technology in Genealogical Research
Guidelines for Genealogical Self-Improvement and Growth

Glossary
Index

Library of Congress Catalog Listing
Personal name
Howells, Cyndi.
Main title
Planting your family tree online : how to create your own family history web site / Cyndi Howells.
Published/Created
Nashville : Rutledge Hill Press, c2003.
Description
ix, 259 p. : ill.; 23 cm.
ISBN
1401600220 (pbk.)
LC classification (full)
CS21 .H76 2003
LC classification (partial)
CS21
Subjects

Web sites.
Genealogy--Computer network resources.

Notes
Includes index.
Series
National Genealogical Society guides
LCCN
2003020410
Dewey class no.
929/.1/028567
Type of material
Book