Long-Distance Genealogy: Researching Your Family History From Home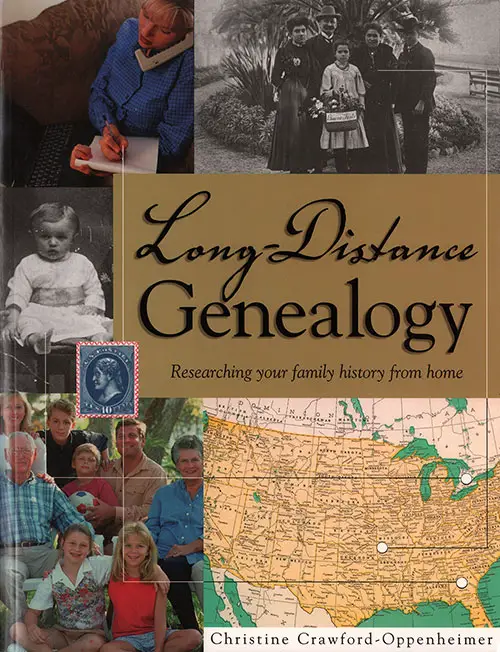 Author: Christine Crawford-Oppenheimer, MLS
Title: Long-Distance Genealogy: Researching Your Family History from Home
Edition: First Edition
Format: Paperback
Pages: 208 Pages
ISBN: 1-55870-535-X
DCN: 929'.1'072073-dc21
Publisher: Betterway Books
Location: Cincinnati, Ohio
Pub. Date: © 2000
Language: English
Subjects: 1. Genealogy 2. United States -- Genealogy -- Handbooks, manuals, etc.

Description:
Notes:
Size:
Dust Jacket: No
List Price: US$18.99
Synopsis: Explains how to locate and obtain family records and documents from libraries, family history centers, archival reposititories, microfilm, and the Internet. Focused on Research in the United States.
From the Back Cover
Whether the distance between them is two hundred miles or two thousand, every genealogist faces the challenge of gathering information from sources that they can't visit in person. This book is designed specifically to help "armchair researchers" access records and publications from afar, while providing techniques for overcoming problems associated with the process.
Author Christine Crawford-Oppenheimer shares her insights and expertise, ensuring that your search starts off on the right foot. You'll begin by learning basic techniques for locating and obtaining documents through correspondence, library research, inter-library loans, Family History Centers, archival repositories, microfilm and the Internet.
You'll also discover how to:
get birth, marriage and death records
obtain federal and state census records, estate files, land records, military records and more
acquire copies of original documents
locate others who are researching your family lines
get maximum results from a research trip
locate where your ancestors might be buried
conduct interviews
know when you should consider hiring a professional genealogist
Long-Distance Genealogy will show you how to make the world a smaller place--one in which the information you need waits no further than a post office, library or keystroke away.
Table of Contents
Preface
Introduction
1 Some Basics of Genealogy
2 Some Basics of Letter (and E-Mail) Writing
3 Long-Distance Research Begins at Home
4 Collecting Information From Close Relatives
5 Vital Records: Birth, Marriage, Death
6 Estate Files: Not Just Wills
7 Land Records
8 Censuses
9 Other Federal Government Records
10 Other Sources of Information
11 Newspapers
12 Library Research
13 CD-ROMs, Microfilm, and Microfiche
14 Build Your Own Library
15 Archival Repositories
16 Joining Genealogical and Historical Societies
17 Genealogical Magazines
18 Finding Other People Who Are Researching Your Line
19 It's All on the Internet, Isn't It?
20 Why Not Go There Yourself?
21 Hiring a Professional Genealogist
Appendix A Useful Addresses for Genealogists
Appendix B Where to Find Vital Records, Estate Records, and Land Records
Appendix c Where to Write for Vital Records at the State Level
Appendix D The National Archives and Its Branch Regional Records Service Facilities
Appendix E Addresses of State Libraries and Archives
Bibliography
Index

Library of Congress Catalog Listing
LC Control Number: 00040332
Type of Material: Book (Print, Microform, Electronic, etc.)
Personal Name: Crawford-Oppenheimer, Christine, 1950-
Main Title: Long-distance genealogy / Christine Crawford-Oppenheimer.
Published/Created: Cincinnati, Ohio : Betterway Books, c2000.
Description: 246 p. : ill.; 28 cm.
ISBN: 155870535X (pbk.)
Notes: Includes bibliographical references (p. 235-240) and index.
Subjects: Genealogy. United States--Genealogy--Handbooks, manuals, etc.
LC Classification: CS16 .C78 2000
Dewey Class No.: 929/.1/072073 21
Geog. Area Code: n-us---
CALL NUMBER: CS16 .C78 2000 Copy 1