Organizing Your Family History Search: Efficient & Effective Ways to Gather and Protect Your Genealogical Research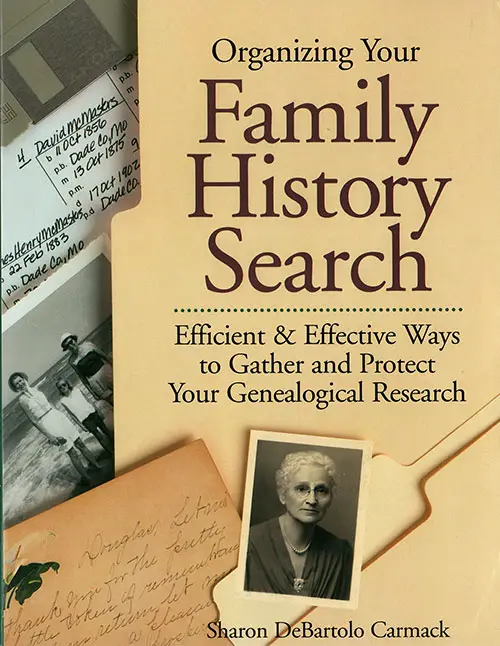 Sharon DeBartolo Carmack, Organizing Your Family History Search: Efficient & Effective Ways to Gather and Protect Your Genealogical Research, © 1999, Betterway Books, Cincinnati, Ohio, Soft Bound, 150 Pages, 1-55870-511-2, 929'.1--dc21.
From the Back Cover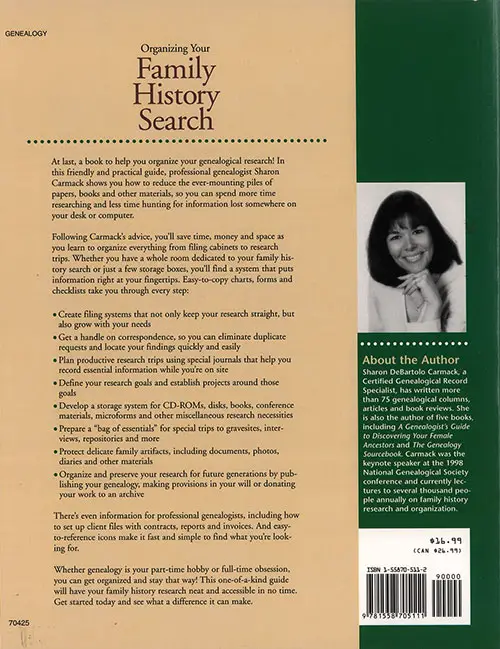 Organizing Your Family History Search
At last, a book to help you organize your genealogical research! In this friendly and practical guide, professional genealogist, Sharon Carmack shows you how to reduce the ever-mounting piles of papers, books, and other materials, so you can spend more time researching and less time hunting for information lost somewhere on your desk or computer.
Following Carmack's advice, you'll save time, money and space as you learn to organize everything from filing cabinets to research trips. Whether you have a whole room dedicated to your family history search or just a few storage boxes, you'll find a system that puts information right at your fingertips. Easy-to-copy charts, forms and checklists take you through every step.
Create filing systems that not only keep your research straight, but also grow with your needs.
Get a handle on correspondence, so you can eliminate duplicate requests and locate your findings quickly and easily.
Plan productive research trips using special journals that help you record essential information while you're on site.
Define your research goals and establish projects around those goals.
Develop a storage system for CD-ROMs, disks, books, conference materials, microfilms and other miscellaneous research necessities.
Prepare a "bag of essentials" for special trips to grave sites, interviews, repositories and more.
Protect delicate family artifacts, including documents, photos, diaries and other materials.
Organize and preserve for future generations by publishing your genealogy, making provisions in your will or donating your work to an archive.
There's even information for professional genealogists, including how to set up client files with contracts, reports and invoices. And easy-to-reference icons make it fast and simple to find what you're looking for.
Whether genealogy is your part-time hobby or full-time obsession, you can get organized and stay that way! This one-of-a-kind guide will have your family history neat and accessible in no time. Get started today and see what a difference it can make.
Contents
Why Genealogists Need to Be Organized
Creating and Maintaining a Family History Filing System
Oh No! Not More Files!
Making Your Research Trip Count
Packing for Research Trips
Organizing a Research Project
There's more to Organize Than Your Research
Finding Room in Your House for Your Genealogy Stuff
Organization for Professional  Genealogists
Organizing and Preserving Your Genealogy for the Future.
Appendixes
Addresses
Bibliography
Organizational Forms for Genealogists
Index
Library of Congress Catalog Listing
LC Control Number: 99021643
Type of Material: Book (Print, Microform, Electronic, etc.)
Personal Name: Carmack, Sharon DeBartolo, 1956-
Main Title: Organizing your family history search : efficient & effective ways to gather and protect your genealogical research / Sharon DeBartolo Carmack.
Portion of Title: Family history search Edition Information: 1st ed.
Published/Created: Cincinnati, Ohio : Betterway Books, c1999.
Description: 150 p. : ill.; 28 cm.
ISBN: 1558705112 (alk. paper)
Notes: Includes bibliographical references (p. 130-132) and index.
Subjects: Genealogy. United States--Genealogy--Handbooks, manuals, etc.
LC Classification: CS44 .C375 1999
Dewey Class No.: 929/.1 21
Other System No.: (DLC) 99021643
Geog. Area Code: n-us---