Searching For Your Ancestors: The How And Why Of Genealogy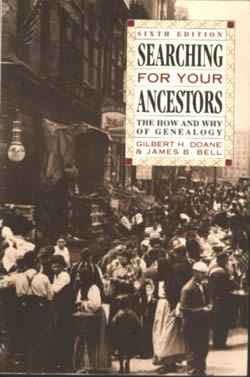 Gilbert H. Doane and James B. Bell, Searching for Your Ancestors: The How and Why of Genealogy, © 1992, University of Minnesota Press, Minneapolis, Soft Bound, 334 Pages, 0-8166-1990-5, 929'.1-dc20. 
The classic, easy-to-use guide for tracing family history in over 35 ethnic groups-now fully revised to include new resources and technologies. "The standard work, now fully revised and updated. Still the most readable and reliable genealogical text available." Thomas J. Kemp, University of South Florida Library.
Library of Congress Catalog Listing
LC Control Number: 91032606
Type of Material: Book (Print, Microform, Electronic, etc.)
Personal Name: Doane, Gilbert Harry, 1897-
Main Title: Searching for your ancestors : the how and why of genealogy / Gilbert H. Doane & James B. Bell.
Edition Information: 6th ed.
Published/Created: Minneapolis : University of Minnesota Press, 1992.
Related Names: Bell, James B.
Description: xvii, 334 p. : ill.; 23 cm.
ISBN: 0816619905 (pbk. : acid-free paper)
Notes: Includes bibliographical references (p. 281-293) and index.
Subjects: United States--Genealogy--Handbooks, manuals, etc. United States--Genealogy--Bibliography.
LC Classification: CS16 .D6 1992
Dewey Class No.: 929/.1 20
Geog. Area Code: n-us---
CALL NUMBER: CS16 .D6 1992