Organizing & Preserving Your Heirloom Documents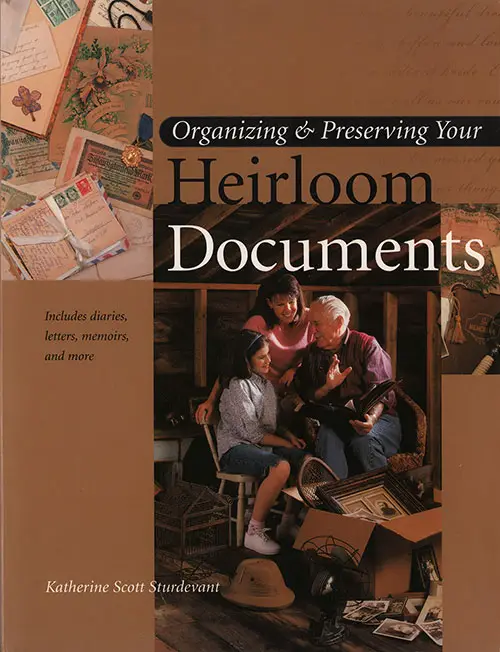 Organizing and Preserving Your Heirloom Documents Edition by Katherine Scott Sturdevant, ISBN10: 155870597X ISBN13: 97815587059710 Format: Paperback Pub. Date: 8/1/2002 Publisher(s): F & W Pubns Inc
Genealogists and non-genealogists alike inherit diaries, memoirs, letters, papers, or memorabilia from their relatives and ancestors. This book shows readers how to safely collect, preserve, and even publish some of these treasured heirlooms.
From the Back Cover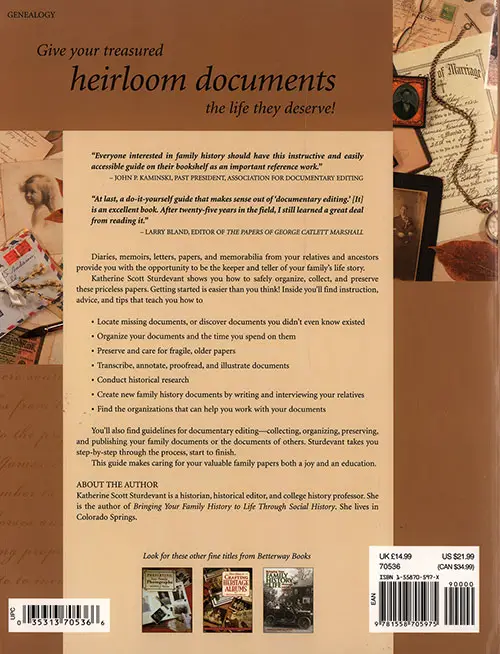 Diaries, memoirs, letters, papers, and memorabilia from your relatives and ancestors provide you with the opportunity to be the keeper and teller of your family's life story.
Katherine Scott Sturdevant shows you how to safely organize, collect, and preserve these priceless papers. Getting started is easier than you think! Inside you'll find instruction, advice, and tips that teach you how to
Locate missing documents, or discover documents you didn't even know existed
Organize your documents and the time you spend on them
Preserve and care for fragile, older papers
Transcribe, annotate, proofread, and illustrate documents
Conduct historical research
Create new family history documents by writing and interviewing your relatives
Find the organizations that can help you work with your documents
You'll also find guidelines for documentary editing—collecting, organizing, preserving, and publishing your family documents or the documents of others. Sturdevant takes you step-by-step through the process, start to finish.
This guide makes caring for your valuable family papers both a joy and an education.
About The Author
Katherine Scott Sturdevant is a historian, historical editor, and college history professor. She is the author of Bringing Your Family History to Life Through Social History. She lives in Colorado Springs.
Katherine Scott Sturdevant, M.A. and Ph.D. candidate, is a social historian. She has taught college-level American history for nearly twenty years, including an innovative, team-taught course combining history and genealogy. Her first Betterway book, the highly regarded Bringing Your Family Flistory to Life Through Social History, reveals new methods of doing family history in a social history context. Trained as a documentary editor at the Institute for the Editing of Historical Documents, Kathy has been a historical editor for twenty years. She lives in Colorado Springs, Colorado, with her husband, Rick, who is deputy director of the Air Force Space Command History Office.
Table Of Contents
Acknowledgments
Your Family Heirloom Papers
Being Biographer, Aficionado, Literary Critic
Professional Field + Personal Element
Locating Family Heirloom Documents
Preserving Original Documents
Your Selection Process
Organizing Your Documents
Organizing Your Project
Transcribing Your Documents
How to Edit and Proofread
Annotating Your Documents
Illustrating Your Documents
Researching Annotation and Illustrations
To Keep or to Donate?
Publishing Your Documentary Book
What Else Can You Do?
Selected Glossary
Appendix A Reaching The Professionals
Appendix B Forms for Family Documentary Editors
Bibliography
Index
Library of Congress Cataloging-In-Publication Data
Sturdevant, Katherine Scott
Organizing & preserving your heirloom documents / Katherine Scott Sturdevant. p. cm.
Includes bibliographical references and index.
ISBN 1-55870-597-X (alk. paper)
1. Genealogy.
2. Manuscripts—Conservation and restoration.
3. Archival materials— Conservation and restoration.
4. History—Sources—Conservation and restoration.
I. Title.
CS14 .S78 2002
929'. 1—dc21 2002066524
CIP
Additional Credits
Editor: Sharon DeBartolo Carmack, CG
Production editor: Brad Crawford
Production coordinator: Sara Dumford
Cover designer: Clare Finney
Interior designer: Sandy Conopeotis Kent
Icon designer: Cindy Beckmeyer
Main cover photo by Pam Monfort, Bronze Photography.
Other cover photos by A1 Parrish.

Library of Congress Catalog Listing
LC Control No.: 2002066524
Type of Material: Book (Print, Microform, Electronic, etc.)
Personal Name: Sturdevant, Katherine Scott.
Main Title: Organizing & preserving your heirloom documents / Katherine Scott Sturdevant.
Variant Title: Organizing and preserving your heirloom documents
Edition Information: 1st ed.
Published/Created: Cincinnati, Ohio : Betterway Books, c2002.
Description: 238 p. : ill.; 28 cm.
ISBN: 155870597X (alk. paper)
Notes: Includes bibliographical references (p. 217-230) and index.
Subjects: Genealogy. Manuscripts --Conservation and restoration. Archival materials --Conservation and restoration. History --Sources --Conservation and restoration.
LC Classification: CS14 .S78 2002
Dewey Class No.: 929/.1 21
CALL NUMBER: CS14 .S78 2002