Uncovering Your Ancestry through Family Photographs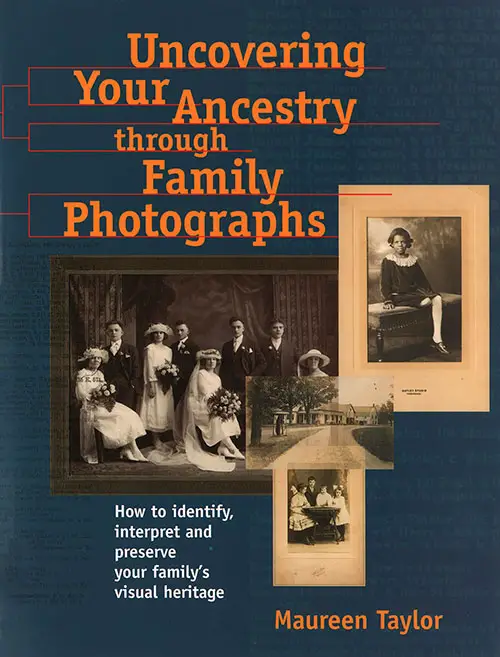 Front Cover, Uncovering Your Ancestry through Family Photographs: How to Identify, Interpret, and Preserve Your Family's Visual Heritage by Maureen Taylor, 2000. GGA Image ID # 15bfbe5e48
Table of Contents
Introduction
Bringing the Past to Life
Compiling a Visual History
How to Get Started
A Few Rules to Follow
Cased Images: Daguerreotypes, Ambrotypes and Tintypes
Daguerreotypes
Ambrotypes
Tintypes
How to Identify a Cased Image
Dating a Cased Image
Paper Prints and Negatives
Talbotypes: The First Paper Print
Card Photographs
Candid Photography
Negatives
Dating Paper Prints
Tax Stamps
Color Photographs
Hand-coloring
Retouching
Color Photography
Looking for Clues
Family Resemblances
Props and Backdrops
Internal Information
Case Study: Internal Details
Identifying the Photographer
Photographer's Imprint
Researching a Photographer
Internet Sites
Case Study: Tracking the Manchester Brothers
Images From Birth to Death
Portraits
Checklist of Photographs Usually Found in Family Collections
Identifying Costume
Dating a Photograph Using Costume Clues
Case Study: Alice McDuff
Talking With Relatives
Oral Interviews
Case Study: Bessette Family
Library Research for Photographs
Patent Deposit Libraries
Research Resources On-line
What Can You Do From Home?
Building A Home Library
Building a Family Collection
Plan a Family Reunion
Friends and Printed Sources
On-line Sources
Labeling Your Images
Putting All the Clues Together: Two Case Studies
Case Study: Galli/Mumt/Richards Family Photograph Collection
Case Study: A Family Photo Mystery Remains
Appendixes
Appendix A: Timeline of Photographic History
Appendix B: Important Addresses
Appendix C: Conference Lectures
Appendix D: Web Sites of Interest
Appendix E: Magazines and Catalogs To Help You Date Costume and Interior Photos
Appendix F: Worksheets,
Bibliography
Sources of Information About Photographers
Index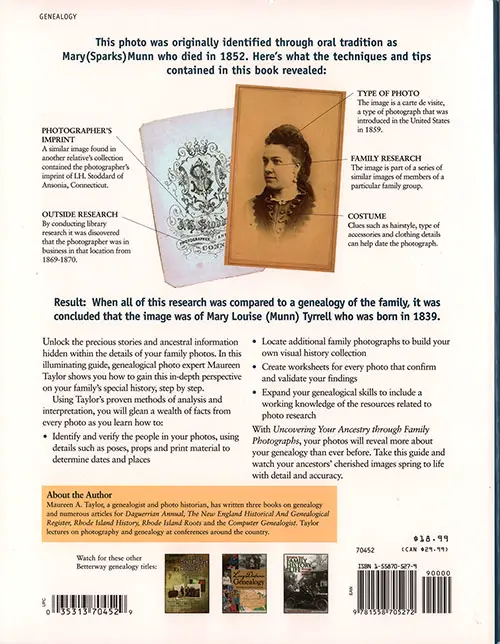 Back Cover, Uncovering Your Ancestry through Family Photographs by Maureen Taylor, 2000. GGA Image ID # 15bfd916a4
From the Back Cover
This photo was originally identified through oral tradition as Mary (Sparks) Munn who died in 1852. Here's what the techniques and tips contained in this book revealed:
PHOTOGRAPHER'S IMPRINT
A similar image found in another relative's collection contained the photographer's imprint of I.H. Stoddard of Ansonia, Connecticut.
TYPE OF PHOTO
The image is a carte de visite, a type of photograph that was introduced in the United States in 1859.
FAMILY RESEARCH
The image is part of a series of similar usages of members of a particular family group.
OUTSIDE RESEARCH
By conducting library research it was discovered that the photographer was in
business in that location from 1869-1870.
COSTUME
Clues such as hairstyle, type of accessories and clothing details can help date tlie photograph.
Result: When all of this research was compared to a genealogy of the family, it was concluded that the image was of Mary Louise (Munn) Tyrrell who was born in 1839.
Unlock the precious stories and ancestral information hidden within the details of your family photos. In this illuminating guide, genealogical photo expert Maureen Taylor shows you how to gain this in-depth perspective on your family's special history, step by step.
Using Taylor's proven methods of analysis and interpretation, you will glean a wealth of facts from every photo as you learn how to:
Identify and verify the people in your photos, using details such as poses, props and print material to determine dates and places
Locate additional family photographs to build your own visual history collection
Create worksheets for every photo that confirm and validate your findings
Expand your genealogical skills to include a working knowledge of the resources related to photo research
With Uncovering Your Ancestry through family Photographs, your photos will reveal more about your genealogy than ever before. Take this guide and watch your ancestors' cherished images spring to life with detail and accuracy.
About the Author
Maureen A. Taylor, a genealogist and photo historian, has written three books on genealogy and numerous articles for Daguerrian Annual, The New England Historical And Genealogical Register, Rhode Island History, Rhode Island Roots and the Computer Genealogist. Taylor lectures on photography and genealogy at conferences around the country.
Library of Congress Catalog Record
Personal name: Taylor, Maureen Alice.
Main title: Uncovering your ancestry through family photographs / Maureen A. Taylor.
Edition: 1st ed.
Published/Created: Cincinnati, Ohio : Betterway Books, c2000.
Description: 145 p. : ill. ; 28 cm.
ISBN: 1558705279 (alk. paper)
LC classification: CS14 .T39 2000
LC Subjects: Genealogy. Portrait photography--History.
Notes: Includes bibliographical references (p. 128-132) and index.
LCCN: 99051778
Dewey class no.: 929/.1/072
Type of material: Book