How To Write The Story Of Your Life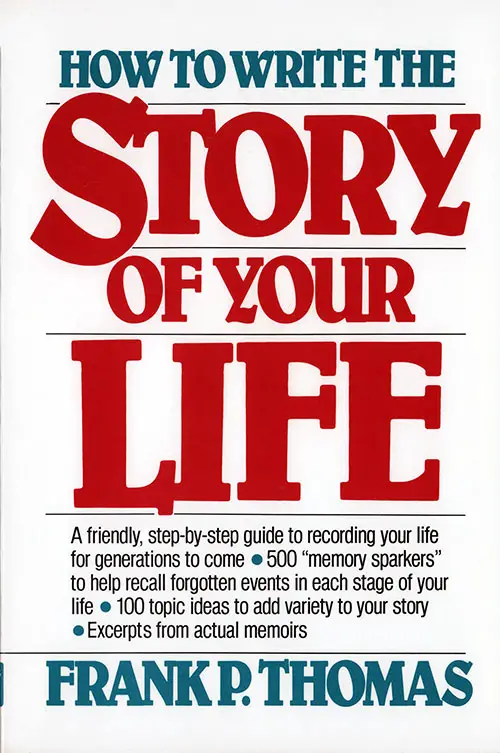 Front Cover, How To Write The Story of Your Life, 1984. GGA Image ID # 1d91e0d50c
Frank P. Thomas, How To Write The Story of Your Life, © 1984, Writer's Digest Books, Cincinnati, Ohio, Soft Bound, 230 Pages, 0-89879-359-9, 808'.066920.
A friendly, step-by-step guide to recording your life for generations to come • 500 "memory sparkers" to help recall forgotten events in each stage of your life • 100 topic ideas to add variety to your story • Excerpts from actual memoirs.
This is a friendly guide that makes memoir writing an enjoyable undertaking for writers and non-writers alike. It includes topics ideas and excerpts from actual memoirs.
Dimensions (in inches): 0.71 x 8.95 x 6.03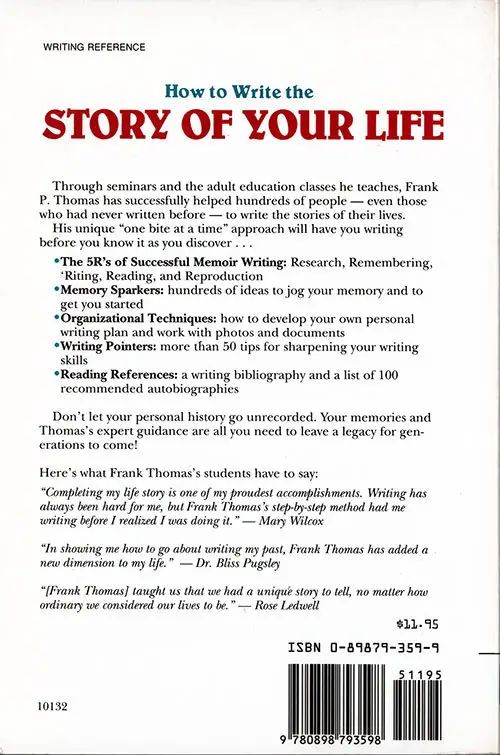 Back Cover, How To Write The Story of Your Life, 1984. GGA Image ID # 1d91ee3cfc
From the Back Cover
WRITING REFERENCE
How to Write the STORY OF YOUR LIFE
Through seminars and the adult education classes he teaches, Frank P. Thomas has successfully helped hundreds of people — even those who had never written before — to write the stories of their lives.
His unique "one bite at a time" approach will have you writing before you know it as you discover . . .
The 5R's of Successful Memoir Writing: Research, Remembering, 'Riting, Reading, and Reproduction
Memory Sparkers: hundreds of ideas to jog your memory and to get you started
Organizational Techniques: how to develop your own personal writing plan and work with photos and documents
Writing Pointers: more than 50 tips for sharpening your writing skills
Reading References: a writing bibliography and a list of 100 recommended autobiographies
Don't let your personal history go unrecorded. Your memories and Thomas's expert guidance are all you need to leave a legacy for generations to come!
Here's what Frank Thomas's students have to say:
"Completing my life story is one of my proudest accomplishments. Writing has always been hard for me, but Frank Thomas 's step-by-step method had me writing before I realized I was doing it. " — Mary Wilcox
"In showing me how to go about uniting my past, Frank Thomas has added a new dimension to my life. " — Dr. Bliss Pugsley
"[Frank Thomas] taught us that we had a unique story to tell, no matter how ordinary we considered our lives to be. " — Rose Ledwell
Library of Congress Catalog Listing
LC Control Number: 84019527
Type of Material: Book (Print, Microform, Electronic, etc.)
Personal Name: Thomas, Frank P., 1916-
Main Title: How to write the story of your life / Frank P. Thomas.
Edition Information: 1st ed.
Published/Created: Cincinnati, Ohio : Writer's Digest Books, c1984.
Description: 230 p.; 24 cm.
ISBN: 089879160X :
Notes: Includes index.
Bibliography: p. 222-224.
Subjects: Autobiography--Authorship. Report writing.
LC Classification: CT25 .T48
1984 Dewey Class No.: 808/.066920 19