Ellis Island (Highsmith & Landphair) - 2000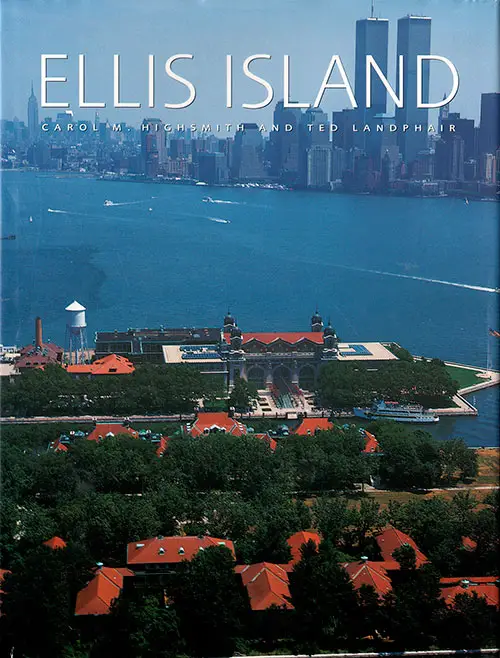 Highsmith, Carol M. and Ted Landphair, Ellis Island, Crescent Books: New York (2000), Hardcover, 64 pages. ISBN 0-517-20879-2.
From the Publisher
A brand new, original book with stunning images by Carol Highsmith, photographer of the Photographic Tour and Pictorial Souvenir series, as well as fascinating black and white archival photographs, about the remarkable place that marked the first step to a new life for the hundreds of thousands of immigrants who came to America.
From the Inside Flap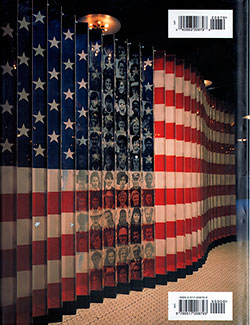 Ellis Island's "Golden Door" to a new life in America for millions of immigrants slammed shut in 1954. It had effectively stopped handling immigrants in the 1930s, as immigration quotas and the Depression obviated the need for the turreted, red-brick and white-lime- stone Beaux Arts building.
But in the glow of celebration of the two-hundredth anniversary of the nation's independence in 1976, millions of Americans chipped in to restore not only the great Ellis Island processing center but also the Statue of Liberty National Monument, which the newcomers passed as they arrived in New York.
Carol Highsmith's lens and Ted Landphair's words record the results of the Ellis Island restoration, in-cluding the unforgettable exhibits that bring back haunting memories of relief and joy that accompanied the successful completion of the grueling registry process.
Shown, too, are the many unrestored and decrepit remnants of the hospital, detention, and quarantine compounds where those deemed unfit were deported to their countries of origin.
Although immigrants arrived in America at several points and passed many border crossings, Ellis Island has always symbolized the immigrant experi-ence. Now a national monument, the main island's processing center is reached by ferry as part of tours of the Statue of Liberty from New York and New Jersey. Both of those states hold claim to a piece of Ellis and its adjacent islands, but the legacy of immi-grants' courage, persistence, and contributions to American life belong to us all.
Library of Congress Catalog Listing
Personal name
Highsmith, Carol M., 1946-
Main title
Ellis Island / Carol M. Highsmith and Ted Landphair.
Published/Created
New York : Crescent Books, 2000.
Description
61 p. : ill. (some col.); 29 cm.
ISBN
0517208792
LC classification (full)
JV6484 .H54 2000
LC classification (partial)
JV6484
Related names
Landphair, Ted, 1942-
Subjects

Ellis Island Immigration Station (N.Y. and N.J.)--History--Pictorial works.
Immigrants--United States--History--Pictorial works.
Ellis Island (N.J. and N.Y.)--Pictorial works.
United States--Emigration and immigration--History--Pictorial works.

LCCN
99027774
Dewey class no.
974.7/1
Geographic area code
n-us--- n-us-nj n-us-ny
Type of material
Book