Producing a Quality Family History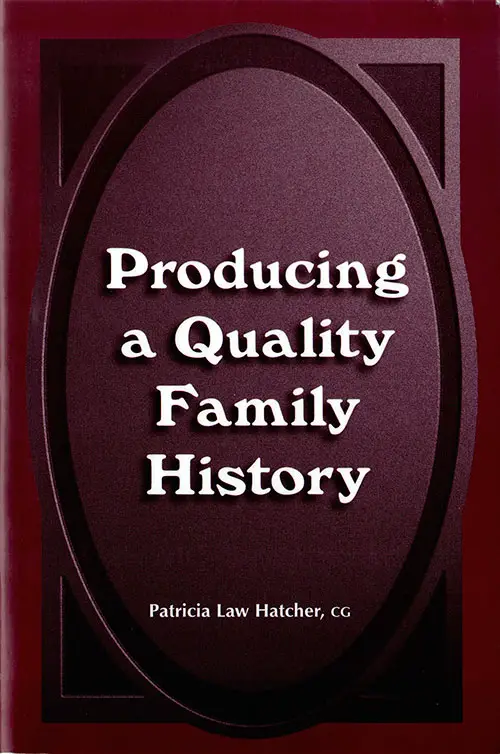 Patricia Law Hatcher, CG, Producing a Quality Family History, © 1996, Ancestry Incorporated, Salt Lake City, Utah, soft binding, 278 Pages, 0-916489-64-7, 808'.066929-dc20.
From the Publisher
Producing A Quality Family History, by Patricia Law Hatcher, guides you through the steps required to create an attractive - and functional - family history report. Learn how to organize your work, how to write the narrative, choose type faces, grammar styles and punctuation. You'll also see how to create useful bibliographies and discover ways to incorporate photos and illustrations effectively plus much, much more.
From the Back Cover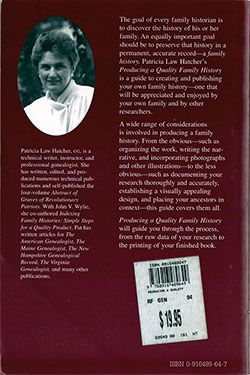 The goal of every family historian is to discover the history of his or her family. An equally important goal should be to preserve that history in a permanent, accurate record—a history. Patricia Law Hatcher's Producing a Quality Family History is a guide to creating and publishing your own family history—one that will be appreciated and enjoyed by your own family and by other researchers.
A wide range of considerations is involved in producing a family history. From the obvious—such as organizing the work, writing the nar-rative, and incorporating photographs and other illustrations—to the less obvious—such as documenting your research thoroughly and accurately, establishing a visually appealing design, and placing your ancestors in context—this guide covers them all.
Producing a Quality Family History will guide you through the process, from the raw data of your research to the printing of your finished book.

Contents:
Publishing Family History in the 1990s
What to Write; When to Write It
You Must Have Style
Writing
Understanding Type and Fonts
Book Design
Page Layout and Formatting
Organizing and Presenting Family Information
How Do You Know?
Turning Paper Into People
Illustrations, Charts, and photographs
Opening the Door to Your Books
Developing an Editorial Eye
Preparing Camera-Ready Art
Turning Camer-Ready Art into Books
Options from Technology
Self-Publishing
Resources
Index
About the Author
Patricia Law Hatcher, cg, is a technical writer, instructor, and professional genealogist. She has written, edited, and produced numerous technical publications and self-published the four-volume Abstract of Graves of Revolutionary Patriots. With John V. Wylie, she co-authored Indexing Family Histories: Simple Steps for a Quality Product. Pat has written articles for The American Genealogist, The Maine Genealogist, The New Hampshire Genealogical Record, The Virginia Genealogist, and many other publications.
Library of Congress Catalog Listing
LC Control Number: 96008240
Type of Material: Book (Print, Microform, Electronic, etc.)
Personal Name: Hatcher, Patricia Law.
Main Title: Producing a quality family history / Patricia Law Hatcher.
Published/Created: Salt Lake City : Ancestry, c1996.
Description: 278 p. : ill.; 23 cm.
ISBN: 0916489647
Notes: Includes bibliographical references (p. [249]-262) and index.
Subjects: Genealogy--Authorship. United States--Genealogy--Handbooks, manuals, etc.
LC Classification: CS16 .H36 1996
Dewey Class No.: 808/.066929 20
Geog. Area Code: n-us---
CALL NUMBER: CS16 .H36 1996