Lifelines: A Guide To Writing Your Personal Recollections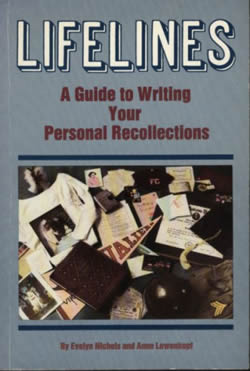 EvelynNichols and Anne Lowenkopf, Lifelines, A Guide to Writing Your Personal Recollections, © 1989, Betterway Publications, Inc., White Hall, Virginia, Soft Bound, 180 Pages, 1-55870-137-0, 808'.06692-dc20. 
Lifelines tells the reader how to get started, how to interview himself or herself about the their lives.  The authors propose ways to construct a family history, how to interview family members and they offer practical advice on writing the personal history, editing the notes, improving the interviews and putting the book together.
Publisher's Note
Gives the means (questions, questions, questions) for a complete rehashing of one's or another's life
Library of Congress Catalog Listing
LC Control Number: 89036141
Type of Material: Book (Print, Microform, Electronic, etc.)
Personal Name: Nichols, Evelyn, 1921-
Main Title: Lifelines : a guide to writing your personal recollections / Evelyn Nichols and Anne Lowenkopf.
Published/Created: White Hall, Va. : Betterway Publications, c1989.
Related Names: Lowenkopf, Anne N., 1927-
Description: 180 p.; 23 cm. ISBN: 1558701370 :
Notes: Includes index. Includes bibliographical references (p. 175-176).
Subjects: Autobiography--Authorship. Report writing.
LC Classification: CT25 .N52 1989
Dewey Class No.: 808/.06692 20
CALL NUMBER: CT25 .N52 1989