Family Associations: Organization and Management
A Handbook For New and Existing Organizations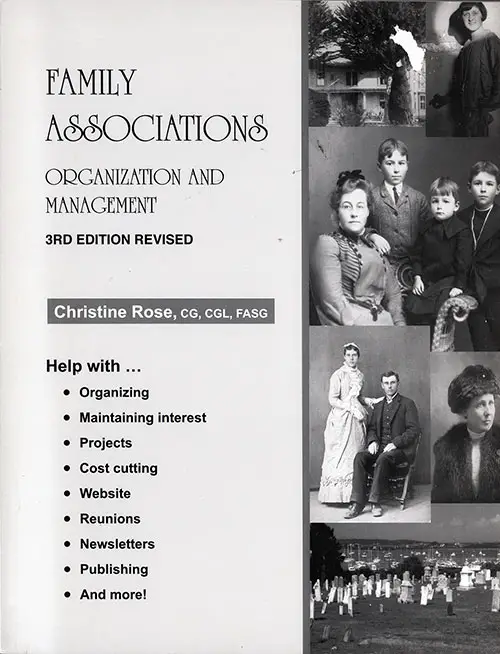 Front Cover, Family Associations: Organization and Management, 3rd Edition, Revised, 2001. GGA Image ID # 1d910962aa
Synopsis: Discusses how Family Associations are formed with sample By-laws, filing systems, and ways to assist members.  Concrete ideas are offered for handling and increasing renewals.  Cost cutting methods, fund raisers, keeping interest up, and advertising are included. Presents topics on Family Newsletters, Publishing Books, Family Gatherings, and Websites.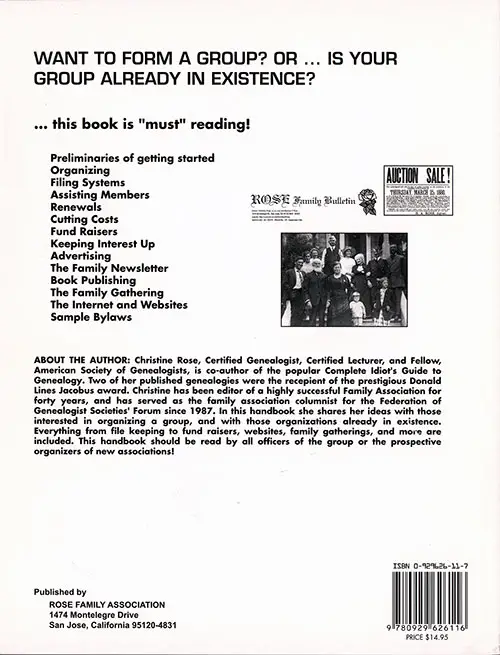 Back Cover, Family Associations: Organization and Management, 3rd Edition, Revised, 2001. GGA Image ID # 1d914268f1
From the Back Cover
WANT TO FORM A GROUP? OR ... IS YOUR GROUP ALREADY IN EXISTENCE?
... this book is "must" reading!
Preliminaries of getting started
Organizing
Filing Systems
Assisting Members
Renewals
Cutting Costs
Fund Raisers
Keeping Interest Up
Advertising
The Family Newsletter
Book Publishing
The Family Gathering
The Internet and Websites
Sample Bylaws
ABOUT THE AUTHOR
Christino Rojo, Certified Genealogist, Certified lecturer, and Fellow, American Society of Genealogists, is co-author of the popular Complete Idiot's Guide to Genealogy. Two of her published goneologies were the recipient of the prestigious Donald Lines Jacobus award.
Christine has been editor of a highly successful Family Association for forty years, and has served as the family association columnist for the Federation of Genealogist Societies' Forum since 1987. In this hondbook she shares her ideas with those interested in organizing a group, and with those organizations already in existence.
Everything from filo keeping to fund raisors, websites, family gatherings, ond moro ore included. This handbook should be read by all officers of the group or the prospective organizers of new associations)
Published by
ROSE FAMILY ASSOCIATION
1474 Montolcgro Drive
San Jose. California 95120-4831
Library of Congress Catalog Listing
LC Control Number: 00-190497
Type of Material: Book (Print, Microform, Electronic, etc.)
Personal Name: Rose, Christine, 1935-
Main Title: Family Associations : Organization and Management : A Handbook For New and Existing Organizations / compiled by Christine Rose.
Edition Information: 3rd Edition Revised
Published/Created: San Jose, Calif. : Rose Family Association, 2001.
Description: 72 p. : ill.; 28 cm.
ISBN: 0929626117
Notes: Includes index.
Subjects: United States--Genealogy--Societies, etc.--Handbooks, manuals, etc.
LC Classification: CS42 .R67 1991
Dewey Class No.: 929/.1/072073 20
Geog. Area Code: n-us---