Microfilm Resources For Research: A Comprehensive Catalog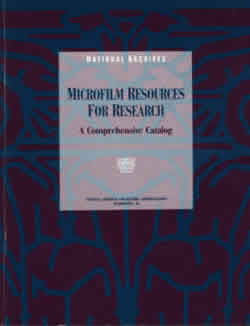 National Archives Trust Fund Board, National Archives and Records Administration, Microfilm Resources for Research: A Comprehensive Catalog,  © 1986, National Archives Trust Fund Board, Washington, D.C., Soft Bound, 118 Pages.
A comprehensive catalog that lists the microfilm publications by record group is available, as are catalogs for the Federal population censuses from 1790 to 1930 and subject catalogs that list publications by topic and provide roll-by-roll lists of contents.
Contents:
United States Government-General Records
Congress
Judicial Branch
Presidential Agencies
Department of State
Department of the Treasury
Department of Defense
Department of the Army
Department of the Navy
Department of the Air Force
Department of Justice
Post Office Department
Department of the Interior
Department of Agriculture
Department of Commerce
Department of Labor
Department of Health and Human Services
Department of Transportation
Office of Education
Independent Agencies
Records of, or Relating to, Other Governments.
Library of Congress Catalog Listing
LC Control Number: 85015242
Type of Material: Book (Print, Microform, Electronic, etc.)
Corporate Name: United States. National Archives and Records Administration.
Main Title: Microfilm resources for research : a comprehensive catalog / National Archives.
Published/Created: Washington, DC : National Archives and Records Administration, 1986.
Description: xiii, 126 p.; 28 cm.
ISBN: 0911333347 (pbk.);
Notes: Includes indexes.
Subjects: United States. National Archives--Microform catalogs. Documents on microfilm--United States--Catalogs. United States--History--Sources--Bibliography--Microform catalogs.
LC Classification: CD3026 1986
Dewey Class No.: 027.573 19
Geog. Area Code: n-us---
CALL NUMBER: CD3026 1986