Bringing Your Family History to Life Through Social History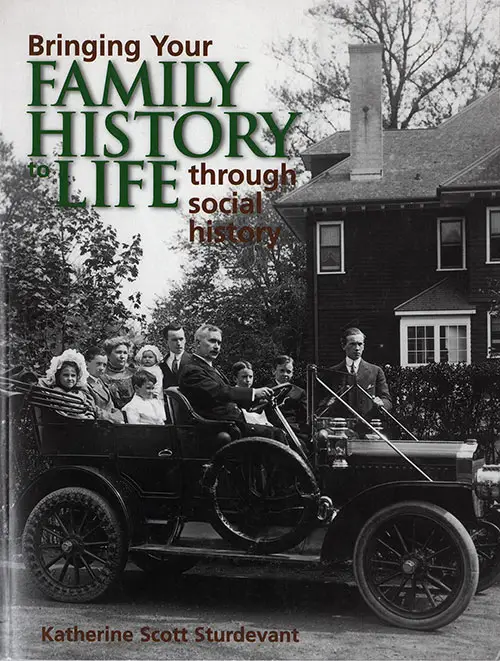 Front Cover, Bringing Your Family History to Life Through Social History, 2000. GGA Image ID # 15bd4370d6
Book Publication Summary
Author: Katherine Scott Sturdevant
Title: Bringing Your Family History to Life Through Social History
Edition: 1st
Format: Paperback
Pages: 242
ISBN: 1-55870-510-4
DCN: 929'.1'072073-dc21
Publisher: Betterway Books
Location: Cincinnati, Ohio
Pub. Date: 2000
Language: English US
Subjects: 1. Genealogy. 2. Local history. 3. Material culture.
Size: 8.5" x  11"
Dust Jacket: No
List Price: US$19.99
Synopsis of Bringing Your Family History to Life:
Katherine Scott Sturdevant shows you how to use social history -- the study of "ordinary people's everyday lives" -- to add depth, detail, and drama to your family's saga.
From the Back Cover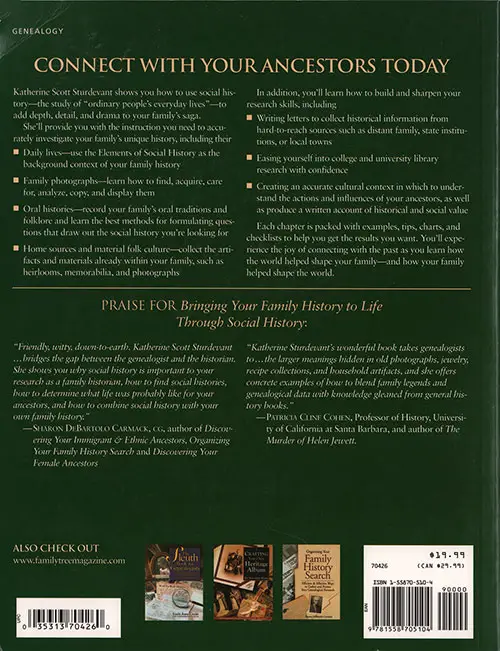 Back Cover, Bringing Your Family History to Life Through Social History, 2000. GGA Image ID # 15bd55c97d
CONNECT WITH YOUR ANCESTORS TODAY
Katherine Scott Sturelevant shows you how to use social history—the study of uordinary people's everyday lives"—to add depth, detail, and drama to your family's saga.
She'll provide you with the instruction you need to accurately investigate your family's unique history, including their
Daily lives—use the Elements of Social History as the background context of your family history
Family photographs—learn how to find, acquire, care for, analyze, copy, and display them
Oral histories—record your family's oral traditions and folklore and learn the best methods for formulating questions that draw out the social history you're looking for
Home sources and material folk culture—collect the artifacts and materials already within your family, such as heirlooms, memorabilia, and photographs
In addition, you'll learn how to build and sharpen your research skills, including
Writing letters to collect historical information from hard-to-reach sources such as distant family, state institutions, or local towns
Easing yourself into college and university library research with confidence
Creating an accurate cultural context in which to understand the actions and influences of your ancestors, as well as produce a written account of historical and social value
Each chapter is packed with examples, tips, charts, and checklists to help you get the results you want. You'll expe-rience the joy of connecting with the past as you learn how the world helped shape your family—and how your family helped shape the world.
Table of Contents At a Glance
Acknowledgments
Foreword by Sharon DeBartolo Carmack Introduction
1 Social History: 'Your Ancestors' World
2 A Historian's Approach to Home Sources: Artifacts
3 Artifacts II: Culture, Citing, and Caring
4 A Historian's Approach to Family Photographs
5 Relative Talk: Oral History and Oral Tradition
6 Recapturing a Dying Art: Correspondence
7 "Here Come the Genies": Braving the College Library
8 My Conclusion Is 'Your Beginning: Writing Family History
Endnotes
General Bibliography
Appendix: Forms for Family Historians
Index
About the Author
Katherine Scott Sturdevant is a social historian with the B.A., M.A. and Ph.D. candidacy in American history. She has taught college-level American history courses for more than sixteen years, including regional, community, women's, immigrant, and minority history.
A popular speaker for historical and genealogical organizations, Kathy is also a professional editor. As an innovator of the idea that genealogists should research and write their family histories in the context of social history, she team-teaches with Sharon Carmack college courses in family history and genealogy, as well as an online course for Writer's Digest School. Kathy lives in Colorado Springs with her husband, Rick, who is a historian for Air Force Space Command.
Library of Congress Catologing-in-Publication Data
Editor: Sharon DeBartolo Carmack, CG
Production editor: Brad Crawford
Production coordinator: Emily Gross
Interior designer: Sandy Conopeotis Kent
Cover designer: Wendy Dunning
Icon designer: Cindy Beckmeyer
Cover photograph by Underwood Photo Archives/Superstock
Library of Congress Catalog Listing
LC Control No.: 00044505
LCCN Permalink: http://lccn.loc.gov/00044505
Type of Material: Book (Print, Microform, Electronic, etc.)
Personal Name: Sturdevant, Katherine Scott.
Main Title: Bringing your family history to life through social history / Katherine Scott Sturdevant.
Edition Information: 1st ed.
Published/Created: Cincinnati, Ohio : Betterway Books, c2000.
Description: 242 p. : ill.; 28 cm.
ISBN: 1558705104 (pbk.)
Notes: Includes bibliographical references (p. 223-230) and index.
Subjects: Genealogy. Local history. Material culture.
LC Classification: CS16 S862 2000
Dewey Class No.: 929/.1/072073 21
Quality Code: pcc