The Family Tree Scandinavian Genealogy Guide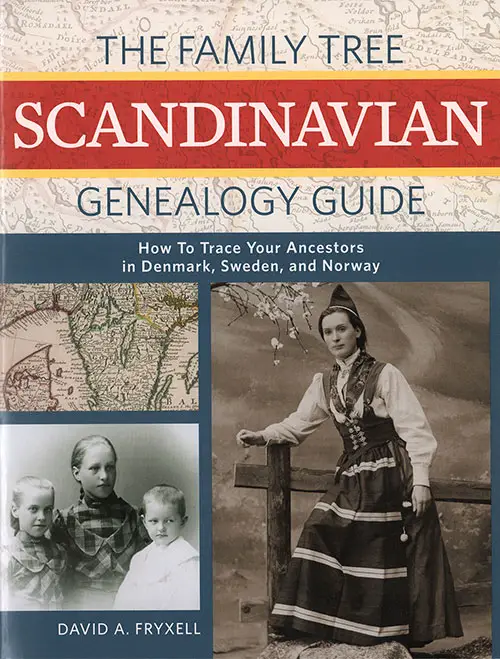 Front Cover, The Family Tree Scandinavian Genealogy Guide: How to Trace Your Ancestors in Denmark, Sweden, and Norway by David A. Fryxell, 2019. GGA Image ID # 15bfe2cb24
Table of Contents
INTRODUCTION

PART ONE: UNKING YOUR FAMILY
CHAPTER 1: YOUR SCANDINAVIAN HERITAGE
Learn more about the history of the Scandinavians in North America: traditional cuisine and celebrations, famous Scandinavians, and where to being your search.
CHAPTER 2 JUMP-STARTING YOUR DANISH. SWEDISH, AND NORWEGIAN RESEARCH
Set yourself up for research success. This chapter includes advice on how to interview- relatives, document information, and also provides some genealogy research tips.
CHAPTER 3: IDENTIFYING YOUR IMMIGRANT ANCESTOR
Discover more about those ancestors who craved a new start in the New World. Locate and research naturalization records, passenger lists, and other US resources.
PART TWO: GETTING TO KNOW THE OLD COUNTRY
CHAPTER 4: THE HISTORY OF DENMARK:
From the rise of the Vikings to the modern world, follow along as Denmark becomes a country. This chapter also includes a timeline of key dates in Danish history.
CHAPTER 5: THE HISTORY OF SWEDEN
Discover how the map of modem Sweden was formed through powerful rulers and military victories. This chapter also includes a timeline of key dates in Swedish history.
CHAPTER 6: THE HISTORY OF NORWAY
Although often connected to Denmark or Sweden throughout history, Norway's past is rich and proud. This chapter also includes a timeline of key dates in Norwegian history.
PART THREE: TRACING YOUR FAMILY IN SCANDINAVIA
CHAPTER 7: UNDERSTANDING SCANDINAVIAN GEOGRAPHY
"Visit" your ancestor's homeland. Learn how the three countries divided jurisdictions, and how to use maps and other resources to locate your family's town.
CHAPTER 8: SCANDINAVIAN LANGUAGES AND NAMES
The tips in this chapter include the Scandinavian alphabets, key genealogical terms, and cultural naming traditions that may affect your research.
CHAPTER 9: CHURCH VITAL RECORDS
Explore the faith of your ancestors with this chapter's guide to birth, death, marriage, and other events recorded by the church.
CHAPTER 10: OTHER CHURCH RECORDS
Vital records weren't the only type kept by local churches. Dig deeper by researching arrival and departure, confirmation, and vaccination records.
CHAPTER 11: CENSUSES AND HOUSEHOLD EXAMINTATIONS
Find the ancestors that are hiding in Danish, Swedish, or Norwegian census records or census substitutes.
CHAPTER 12: PROBATE, ESTATES, AND LAND RECORDS
Unearth your ancestors and the places they called home. This chapter outlines the various types of information you can find in these resources.
CHAPTER 13: MILITARY RECORDS
Militär)' service was a part of life for many Scandinavians and is well-documented. Learn about the different types of service records available and where to locate them.
CHAPTER 14: OTHER RECORDS
Search for your family in records that don't fit into a single category. These include directories, newspapers, and tax records.
PART FOUR: ADVANCED SOURCES AND STRATEGIES
CHAPTER 15: PUTTING IT ALL TOGETHER.
With three case studies, witness this book's techniques in action.
CHAPTER 16
WHAT TO DO WHEN YOU GET STUCK
Blast your brick walls by following these tips mid methods for overcoming research dead-ends.
APPENDIX A BOOKS AND RESOURCES
APPENDIX B WRITING FOR HELP
APPENDIX C LANGUAGE QUICK GUIDES
APPENDIX D ARCHIVES APPENDIX t WORKSHEETS
INDEX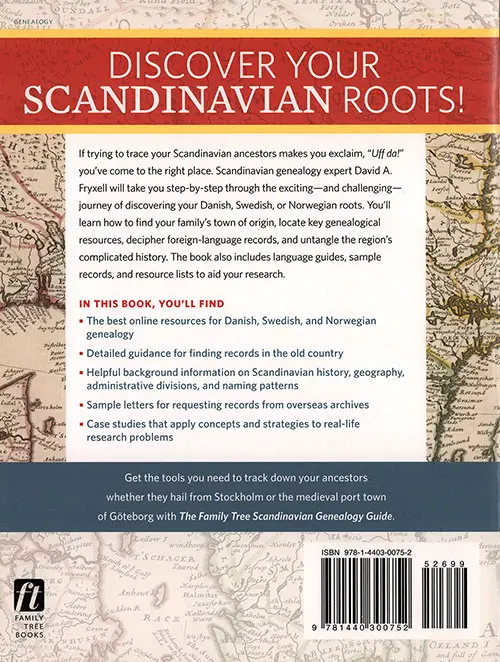 Back Cover of the Scandinavian Genealogy Guide, 2019. ISBN 9781440300752. GGA Image ID # 15c0018f56
From the Back Cover
Discover Your Scandinavian Roots!
If trying to trace your Scandinavian ancestors makes you exclaim, "Uff da!" you've come to the right place. Scandinavian genealogy expert David A. Fryxell will take you step-by-step through the exciting—and challenging- journey of discovering your Danish, Swedish, or Norwegian roots.
You'll learn how to find your family's town of origin, locate key genealogical resources, decipher foreign-language records, and untangle the region's complicated history. The book also includes language guides, sample records, and resource lists to aid your research.
IN THIS BOOK, YOU'LL FIND
The best online resources for Danish, Swedish, and Norwegian genealogy
Detailed guidance for finding records in the old country
Helpful background information on Scandinavian history, geography, administrative divisions, and naming patterns
Sample letters for requesting records from overseas archives
Case studies that apply concepts and strategies to real-life research problems
Get the tools you need to track down your ancestors whether they hail from Stockholm or the medieval port town of Göteborg with The Family Tree Scandinavian Genealogy Guide.
Library of Congress Catalog Record
Personal name: Fryxell, David A., 1956- author.
Main title: The Family Tree Scandinavian genealogy guide : how to trace your ancestors in Denmark, Sweden, and Norway / David A. Fryxell.
Published/Produced: [New York] : Family Tree Books, an imprint of Penguin Random House LLC, [2019] ©2019
Description: 255 pages : illustrations, maps ; 24 cm
ISBN: 1440300755; 9781440300752 (pbk.)
LC classification: CS892 .F79 2019
Portion of title: Scandinavian genealogy guide

Contents
Part 1. Linking your family tree to Scandinavia. Your Scandinavian heritage -- Jump-starting your Danish, Swedish, and Norwegian research -- Identifying your immigrant ancestor -- Part 2. Getting to know the old country. The history of Denmark -- The history of Sweden -- The history of Norway -- Part 3. Tracing your family in Scandinavia. Understanding Scandinavian geography -- Scandinavian languages and names -- Church vital records -- Other church records -- Censuses and household examinations -- Probate, estates, and land records -- Military records -- Other records -- Part 4. Advanced sources and strategies. Putting it all together -- What to do when you get stuck.
LC Subjects
Scandinavian Americans--Genealogy--Handbooks, manuals, etc.
Scandinavia--Genealogy--Handbooks, manuals, etc.
Denmark--Genealogy--Handbooks, manuals, etc.
Sweden--Genealogy--Handbooks, manuals, etc.
Norway--Genealogy--Handbooks, manuals, etc.
Browse by shelf order
CS892
Notes
Includes bibliographical references and index.
LCCN
2019287112
Dewey class no.
929.1072048
Geographic area code
ev----- e-dk-- e-sw--- e-no--- n-us---
Other system no.
(OCoLC)on1089493984
Type of material
Book