Writing the Family Narrative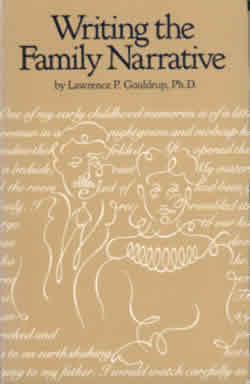 Lawrence P. Gouldrup, Ph.D., Writing the Family Narrative,  © 1987, Ancestry Incorporated, Salt Lake City, Utah, Soft Bound, 157 Pages, 0-916489-27-2. 
Contents:
What is Family History?
Using Genealogical and Local History Records to Write the Historical Exposition
Writing the Narrative
Point of View
Some Finishing Touches.
From the Publisher
Anyone who has ever tried to write a family history knows that it can be overwhelming. Writing the Family Narrative offers a clear and concise explanation of how to write your history in a way that entertains as well as informs.
Using his experience teaching creative writing, Lawrence P. Gouldrup, has outlined a process that is tailored not for the serious novel writer, biographer, or essayist, but for the serious genealogist who wants to record his or her family story.
He uses solid examples from both amateur and professional writers, making it easy for you to learn the process. The companion workbook to Writing the Family Narrative goes further, taking you through each step of the writing process. You'll learn how to organize your records for writing, develop characters, include point of view, use dialogue, create an effective setting, and even edit and design your family history.
Library of Congress Catalog Listing
LC Control Number: 87070106
Type of Material: Book (Print, Microform, Electronic, etc.)
Personal Name: Gouldrup, Lawrence P.
Main Title: Writing the family narrative / by Lawrence P. Gouldrup.
Published/Created: [United States] : Ancestry Pub., c1987.
Description: xiii, 157 p.; 22 cm.
ISBN: 0916489272 (pbk.) :
Notes: Includes bibliographies and index.
Subjects: Genealogy--Authorship. Narration (Rhetoric) Report writing.
LC Classification: CS14 .G68 1987
Dewey Class No.: 808/.066929021 19