The Genealogist's Computer Companion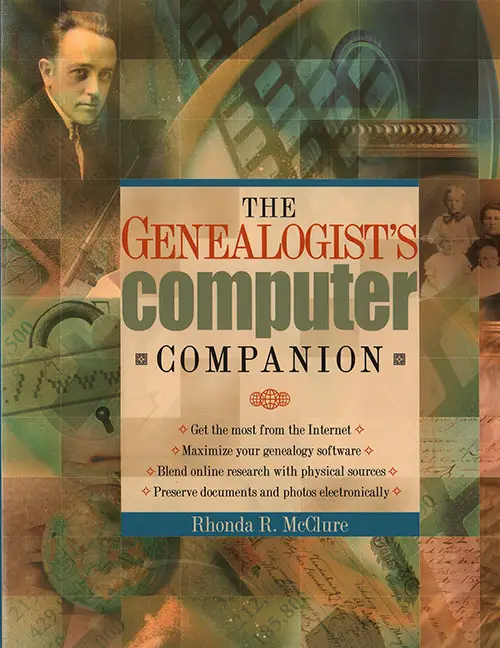 by Rhonda R. McClure
The only book of its kind that looks at the genealogical research process as a whole in conjunction with computer use for conducting research and preserving documents electronically. Illustrations. ISBN: 1558705910, Soft cover: 84 pages, Binding: Trade paperback, Publisher: Betterway Books (01/2003), Copyright 2001, Language: English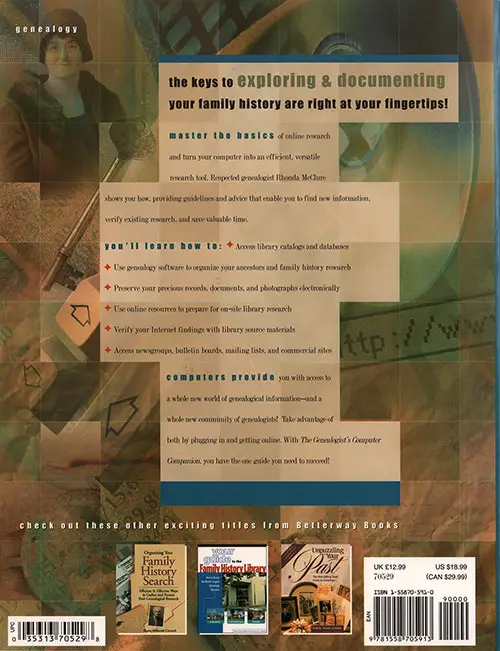 Description
Explains how to use the computer, the Internet, and genealogical software to trace one's family history.
From the Back Cover
The keys te exploring & documenting your family history are at your fingertips! Master the basics of online research and turn your computer into an efficient, versatile research tool. Respected genealogist Rhonda McGinn shows you how, providing guidelines and advice that enable you to find new information, verify existing research, and save valuable time.
You'll learn how to:
Access library catalogs and databases
Use genealogy software to organize your ancestors and family history research
Preserve your precious records, documents, and photographs electronically
Use online resources to prepare for on-site library research
Verify your Internet findings with library source materials
Access newsgroups, bulletin boards, mailing lists, and commercial sites
Computers provide you with access to a whole new world of genealogical information -- and an entirely new community of genealogists! Take advantage of both by plugging in and getting online. With The Genealogist's Computer Companion, you have the one guide you need to succeed!
Table of Contents At a Glance
1 Computers and Genealogy: Where We've Been
2 Understanding Your Computer
3 Put the Computer to Work for You, Part 1
4 Head Onto the Internet
5 Tools of the Internet
6 Library Research From Home
7 The Search Is On
8 Genealogical Aids
9 Look Toward the Future
10 Put the Computer to Work for You, Part II
Appendixes:

A State Resources
B Country Resources
C Library Resources Online
D Glossary of Genealogical and Technical Terms

Index, 181

Library of Congress Catalog Listing
LC Control No.: 2001043535
LCCN Permalink: http://lccn.loc.gov/2001043535
Type of Material: Book (Print, Microform, Electronic, etc.)
Personal Name: McClure, Rhonda R.
Main Title: The genealogist's computer companion / Rhonda R. McClure.
Edition Information: 1st ed.
Published/Created: Cincinnati, Ohio : Betterway Books, c2002.
Description: 183 p. : ill.; 28 cm.
ISBN: 1558705910 (alk. paper)
Notes: Includes bibliographical references (p. 161-169) and index.
Subjects: Genealogy --Computer network resources --Handbooks, manuals, etc. Genealogy --Databases --Handbooks, manuals, etc.
LC Classification: CS14 .M345 2002
Dewey Class No.: 929/.2/0285 21
CALL NUMBER: CS14 .M345 2002