The Seefert Weier Story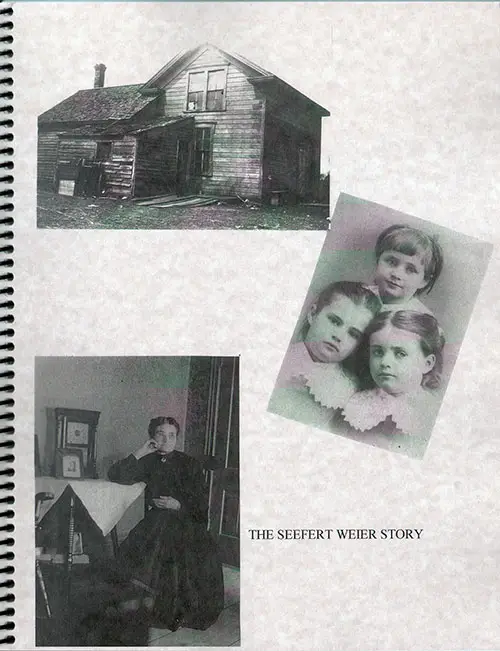 Knaphus, Marie Anna, The Seefert Weier Story, Self Published: Ames, Iowa (2004), Spiral Bound, 63 pages.
This booklet tells the story of the Seefert-Weier family, their voyage to America on the SS Itzstein from Bremen to New York and their family tree.
Note that early records show Seefert is the Americanized version of the German surname Sievert.
TABLE OF CONTENTS
Acknowledgments
The Voyage; August and Mary Seefert
Birthplaces of Michael John Weier and Susanna Marx
News Story of Hattie Weier
William and Maria Anna (Mary) Seefert
Auction Sale Bill for Seefert Farm
Photographs of the Mohrmann, Seefert, Weinand, and Mangel Families
Emma Rachel Seefert Mangel
Anna Mary (Annie) Seefert Weinand
Wilhelmina (Minnie) Seefert Schramm
August William (Gust) Seefert
Michael August (Mike) Seefert
Stephen David (Steve) Seefert
John Edgar Seefert
Clara Susan Seefert Gjenvick
Refinishing Business
Sources of Information
About the Author
Photos on the cover are of Grandma Maria Anna (Mary) Seefert, the William and Mary Seefert home on the farm at Hanover and of three young Seefert daughters, Emma, Minnie, and Anna. See page 19 for a picture of the same three as adults.