Hamburg America Line History and Ephemera

Hamburg Amerika Linie / Hamburg American Line / Hamburg Amerikanische Packetfahrt Actien Gesellschaft (HAPAG)
Hamburg America Line was one of the major steamship companies to handle the immigrant trade. Their primary routes of Hamburg, Germany to New York via Southampton were supplemented by other vessels that called on the ports of Portland ME, Baltimore, Boston, Philadelphia, Galveston and New Orleans, in addition to Canadian ports.

The Hamburg America Line Piers at Hoboken NJ (NYC) ca 1910
Their early passenger lists featured some of the most intricate and beautiful graphic designs, especially prior to World War One. They are a favorite among collectors who value these passenger lists from the Hamburg American Line for their artwork, instead of their historical value. This unfortunately, makes the pre-1918 passenger lists quite scarce for this steamship line.
Hamburg America Line or Hamburg-America Line. We are often asked this question - officially, the English branding of this steamship line, based on their published materials was The Hamburg America Line.
A simple translation from German to English of "Hamburg Amerika Linie" is "Hamburg America Line". Hamburg America Line, while correctly translating the German to English is not correct in referring to steamship line as they intended.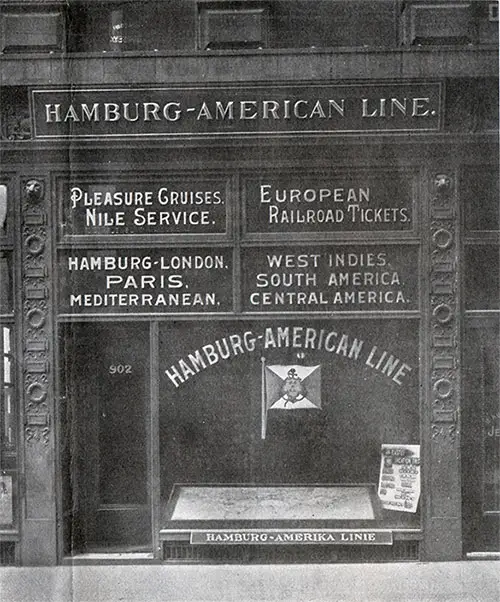 HAPAG Office in St. Louis, MO ca 1909
Photographs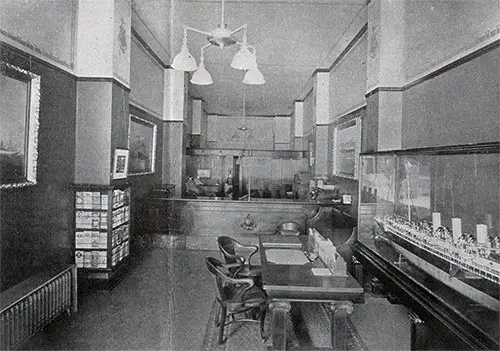 Interior View of the HAPAG Office in St. Louis, MO ca 1909

Steamship Lines | GG Archives
Steamship Lines
Other Related Items
Ocean Travel Topics A-Z