The Fireside Cook Book: A Complete Guide to Fine Cooking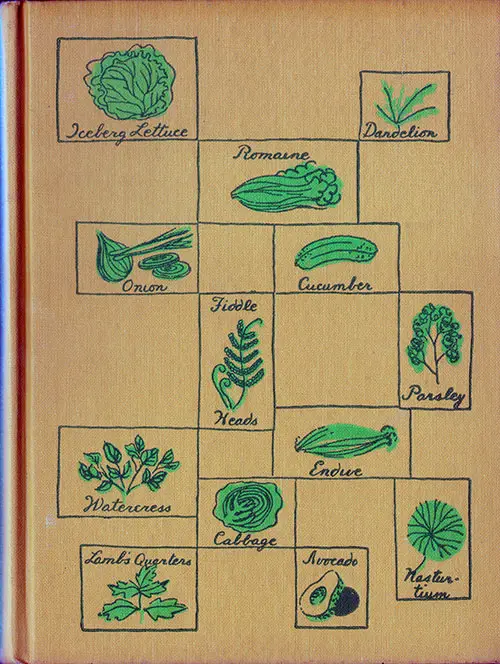 Front Cover, The Fireside Cook Book, 1949. GGA Image ID # 1d8dbf47aa
The Fireside Cook Book is A Complete Guide to Fine Cooking for Beginner and Expert Containing 1,247 Recipes and Over 400 Color Pictures
By JAMES A. BEARD
And Illustrations by ALICE AND MARTIN PROVENSEN
SIMON AND SCHUSTER • NEW YORK
Eight Printing © 1949
Over 1,200 recipes and 400+ color photographs covering a wide variety of dishes as you will see just browing the table of contents. Generally, these recipes are basic enough for the movice cook will feel comfortable following the clear, easy to read instructions.

Contents
Introduction
A Word of Advice
Culinary Terms
The Seasoning Shelf
Herbs
Spices and Seasonings
Other Flavoring and Enhancing Agents
The Calorie Question
Hors d'Oeuvres
Cocktail Snacks: Dunking Bowls, Stuffed Eggs, Meat Hors d'Oeuvres, Canapes,
Hot Hors d'Oeuvres for Luncheon: Fish, Meats, Smoked Poultry and Game, Vegetables, Accessories
Seafood Appetizers
Fruit Appetizers
Soups
Meat Soups, 38-43. Cream Soups, 43- 47. Canned Soups, 48.
Fish and Shellfish
Fish: Selecting and Dressing, Broiled, Baked, Sautéed, Poached, Fried, and Filleted Fish,
Other Recipes
Shellfish: Lobster, Shrimp, Crabs, Clams, Scallops
Poultry
Chicken : Basic Procedures Broiled, Sautéed, Fried, Fricassee, Poached (Boiled), Cold, and Roast Chicken, Chicken in Casserole
Duck: Roast, Boiled, Steamed, Baked, Braised, and Broiled Duck, Other Duck Dishes
Turkey: Roast and Broiled Turkey, 88-89. Turkey in Casserole and Grilled Turkey Legs, 89.
Game and Special Poultry
Pheasant
Pigeon
Wild Duck
Quail
Squab
Goose
Partridge
Venison
Meats
Beef: Steak, Roast Beef, Leftover Roast Beef, Roast Beef Tenderloin, Pot Roasts, Braised, Boiled, and Corned Beef, Other Beef Recipes
Veal: Roast Veal Cutlets, Scallopini, Chops, Calf's Liver, Veal Kidneys, Sweetbreads, Other Veal Dishes
Pork: Roast Pork, Chops, Spareribs, Tenderloin, Feet and Hocks, Kinds of Ham, Fried and Broiled Ham, Pork Sausage, Bacon, and Salt Pork
Lamb and Mutton: Lamb Roasts, Chops, and Steaks, Breast of Lamb, Other Lamb Recipes
Eggs and Cheese Dishes
Eggs: Boiled, Poached, and Scrambled Eggs, Omelets
Cheese Dishes: Soufflés, Pie, Tartlets, Rarebits, Sandwiches, Croquettes, and Molds
Vegetables
Globe Artichokes, Asparagus, Lima Beans, Snap Beans or Green Beans, Beets, Broccoli, Brussels Sprouts, Cabbage, Carrots, Cauliflower, Celeriac or Knob Celery, Celery, Chayote, Corn, Cucumbers, Eggplant, Leeks, Mushrooms, Onions, Parsnips, Peas, Peppers, Spinach, Squash, Tomatoes, Turnips
Potatoes, Beans, Rice, and Spaghetti
Potatoes: Mashed, Baked, Oven- Cooked, and Fried, New Potatoes
Beans and Lentils
Rice, Wild Rice, Polenta
Pastes
Stuffings
Salads and Cheese
Salad Greens: Lettuce and Other Greens
Salad Accessories: Herbs, Vegetables, and Fruit
Salad Dressings
Salads: Tossed Salads, Vegetable Salads, Mixed Vegetable Salads, Seafood Salads, Molded Salads, Chicken Salad
Cheese: Varieties and Uses
Desserts
Fruit Desserts: Apples, Avocados, Apricots, Bananas, Blackberries, Blueberries, Cherries, Figs, Gooseberries, Grapefruit, Grapes, Melons, Nectarines, Oranges, Peaches, Pears, Pineapple, Plums and Prunes, Raspberries, Rhubarb, Strawberries
Fruit Desserts with Ice Cream
Pies and Pastries
Soufflés
Custards and Meringues
Cakes and Icings
Fritters
Sauces
White or Cream, Brown, Hollandaise, Spaghetti, Butter, Tomato, Meat, and Other Sauces, Sauces for Dessert
Breads
Quick Breads: Biscuits, Muffins, Pancakes, and Nut Bread
Recipes without Basic Mix: Biscuits, Muffins, Waffles, Pancakes, Special Breads, Brioche, and Popovers
White Breads: Basic and Special Breads, Rolls, Toast, and Croutons
Outdoor Cookery
Beef: Steaks and Hamburger
Veal: Chops and Steaks
Pork: Roasts, Chops, and Steaks, Ham Steak
Lamb or Mutton: Legs, Shoulders, Steaks, and Chops
Chickens: Broiled, Fried, and In Casserole
Turkey
Sauces
Frozen Foods and Pick-Up Meals
Frozen Vegetables, Fruits, Shellfish, Fish, Poultry, Meats, and Other Foods, Prepared Dishes, Quick Meals from the Emergency Shelf and the Freezer, The Frozen Food Reserve
Menus for Warm and Cold Weather
Warm Weather Meals: Luncheon and Dinners
Cold Weather Meals: Luncheons and Dinners
Wines and Liquors
Wines: Facts and Superstitions, Serving, Temperatures for Serving, Handling and Opening, Care of Wine, Enjoyment of Wines, Varieties and Characteristics of Wines
Liquors: Cocktails, Long Drinks
Index