The Norwegian Kitchen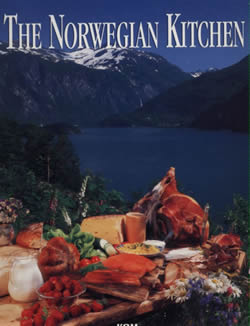 Kjell E. Innli, Ed.,  The Norwegian Kitchen, Photographs by Per Eide and Bengt Wilson, Translation of "Vårt Norske Kjøkken" by Melody Favish © 1993, KOM Forlag A/S, Kristiansund, Norge, Hardcover, 224 Pages, 8290-823-231.
Lavishly illustrated cookbook with recipes from the Association of Norwegian Chefs. The book intermingles social and travel commentary with the recopies to provide additional context.
Contents:
Nature's Own Flavours
The Sea as a Food Source
Fruits of the Earth
Forests, Mountains and Plateaus
The Historic Menu
The Norwegian Table
To Drink with Food
Appetizers
Soups
Porridge
Fish and Shellfish
Meat and Game
Vegetable and Grain Dishes
Desserts
Baked Goods
Library of Congress Catalog Listing
LC Control No.: 96159883
LCCN Permalink: http://lccn.loc.gov/96159883
Type of Material: Book (Print, Microform, Electronic, etc.)
Uniform Title: Vårt norske kjøkken
Main Title: The Norwegian kitchen / editor, Kjell E. Innli; photographers, Per Eide and Bengt Wilson; recipes, the Association of Norwegian Chefs.
Published/Created: Kristiansund, Norway : KOM forlag; Minneapolis, MN : Distributed in the U.S. by Skandisk, 1995.
Related Names: Innli, Kjell E. Kokkenes mesterlaug.
Description: 224 p. : col. ill.; 33 cm.
ISBN: 8290823231 (English ed.)
Notes: Includes bibliographical references (p. 224) and index.
Subjects: Cookery, Norwegian. Norway --Social life and customs.
LC Classification: TX722.N6 V37 1995
Dewey Class No.: 641.59481 20
Language Code: eng nor
Geographic Area Code: e-no---
CALL NUMBER: TX722.N6 V37 1995 Norway