Metropolitan Cook Book - 1922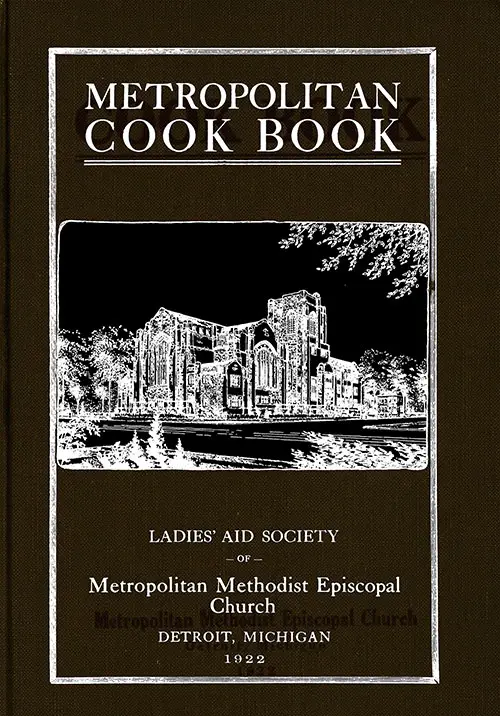 Ladies' Aid Society
Of
Metropolitan Methodist Episcopal Church
Detroit, Michigan
1922
Synopsis: Short recipes of many hand-me-down family recipes from the congregation of the Metropolitan Methodist Episcopal Church of Detroit makes this book perfect for those who enjoy comfort foods that are easy to make.
Suggestions
In soliciting advertisements for this book, we have been met almost universally with a cheerful and generous response. our friends believing it to be not only a valuable compilation of choice recipes but realizing it to be one of the best of advertising mediums, while nearly it not all have been actuated by a desire to lend a little support to the good cause for which this volume is published.
We would suggest therefore that the Metropolitan Methodist Church of Detroit remember these favors, and go out of their way, it necessary, to patronize those who have made the Metropolitan Cook Book a success.
Contents
Soups
Fish and Shell Fish
Meats and Poultry
Poultry
Vegetables
Salads
Cheese and Eggs
Bread, Muffins, Biscuits
Fritters, Waffles, and Pancakes
Cakes
Frosting and Fillings
Pies
Puddings and Desserts
Ice Cream and Sherbert
Beverages
Candy
Jellies, Preserves, and Marmalades
Pickles and Relishes
Chafing Dish Cookery
Sandwiches
Some Recipes that Men Call Good
Too Late to Classify
Facts One Ought to Know
Directions for Laying the Table
Table of Weights and Measures
Table of Contents A-Z