One Hundred Recipes for the Chafing Dish - 1894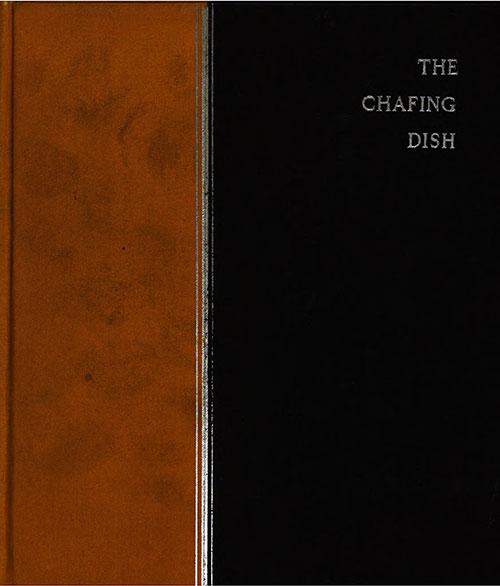 This Book is intended to give pleasure to those who enjoy using a Chafing Dish. The formulas are simple, easy to follow, and are not designed to prove that elaborate dishes can be prepared, but that many articles of food can easily be made very delicate, toothsome and enjoyable.
The Chafing Dish not only makes possible the sincerest expression of the most perfect hospitality, but it seems the true symbol of good fellowship. It develops a spirit of royal camaraderie.
Even a pessimist would be inclined to judge his neighbor by his excellencies and not by his defects, as succulent odors whet the appetite and carry the sweet assurance of coming gustatory joys.
Verily, "a good dish sharpens the wit and softens the heart." Who can measure the beneficent influence of exquisite savours ! The Chafing Dish is the culinary censer.
An exceedingly important feature in successful Chafing Dish cooking, is that the wicks of the lamp should be perfectly trimmed, and the reservoir about one half full of alcohol, after cooking a dish, and when making preparations for another, look carefully after this feature.
Have the wicks so regulated that all available flame shall be entirely under the dish, and that none of it shall come up the sides.
As the water is very liable to boil over, it is best to have a tray under the Chafing Dish to catch it, or any other drippings.
The covers are supposed to be off the Chafing Dish in the following recipes, unless otherwise directed.
Index
Asparagus
Bacon
Beans, Lima
Beans, String
Beef Steak
Beef Steak and Oysters
Beef Steak Sandwiches
Beef Steak and Onions
Beef Stew
Beef Stew with Curry
Clams, Hashed, on Toast
Crab Meat Fricassee
Crab Meat a la Newburgh
Crabs, Soft Shell
Chicken, Breast of, Braised
Chicken Fricassee
Chicken Fricassee, with Curry
Chicken, Hashed
Chicken Legs, Deviled
Codfish, Boiled, Parsley Sauce
Codfish in Butter
Codfish, Salt, in Cream
Corned Beef Hash
Corn, Sweet
Deviled Sauce
Duck Legs, Deviled
Duck, Breast of Wild, Braised
Duck, Breast of Tame, Braised
Eggs, Boiled
Eggs, en Casserole
Eggs, Scrambled
Eggs, Scrambled, with Tomatoes
Eggs, Scrambled, with Asparagus Points
Eggs, Scrambled, with Sausages
Eggs, Scrambled, with Bacon
Eggs, Scrambled, with Ham
Eggs, Scrambled, with Artichoke Hearts
Eggs, Scrambled, with Mushrooms
Frogs Legs in Butter
Frogs Legs Fricassee
Frogs Legs a la Newburgh
Grouse, Breast of, Braised
Halibut, Boiled
Halibut, Boiled, Egg Sauce
Ham Braised
Jamieson Scramble
Jowl, Smoked Pigs, and Hominy
Kidney, Deviled
Lamb Chops
Lamb Cutlets
Lamb Hash
Lamb Stew
Lamb Stew with Curry
Lamb, Deviled
Liver a la Suisse
Liver and Bacon
Lobster Fricassee
Lobster a la Newburgh
Lobster in Butter
Lobster, Deviled
Mutton Chops
Mutton Cutlets
Mutton Hash
Mutton, Deviled
Mutton Stew
Mutton, with Curry and Rice
Mushrooms, Braised
Omelette, Plain
Omelette with Parsley
Omelette with Bacon
Omelette with Jelly
Omelette with Rum
Onions in Cream
Onions Braised
Oysters, Fried
Oysters, Roasted
Oysters, Stewed in Milk
Oysters Fricassee
Oysters a la Newburgh
Oyster Crabs in Butter
Oyster Crabs Fricassee
Oyster Crabs a la Newburgh
Partridge, Breast of, Braised
Pan Cakes
Peas, French
Pepper Pot
Pigs Feet in Butter
Potatoes, Boiled
Potatoes, Stewed in Cream
Potatoes, Sweet
Quail, Breast of, Braised
Reed Birds
Roast Beef Hash
Roast Beef, Deviled
Sausage, Frankfurter, and Cabbage
Smelts in Butter
Sweetbreads, Braised
Squabs, Braised
Succotash
Tripe with Onions
Tripe with Tomatoes
Turkey, Breast of, Braised
Turkey Stew
Turkey with Curry
Turkey, Hash
Turkey Legs, Deviled
Veal Cutlets in Butter
Veal, Deviled
Venison Steak
Venison Steak, Currant Jelly Sauce
Welsh Rarebit
White Fish, Boiled
White Sauce