Cakes, Pastry, and Dessert Dishes - 1917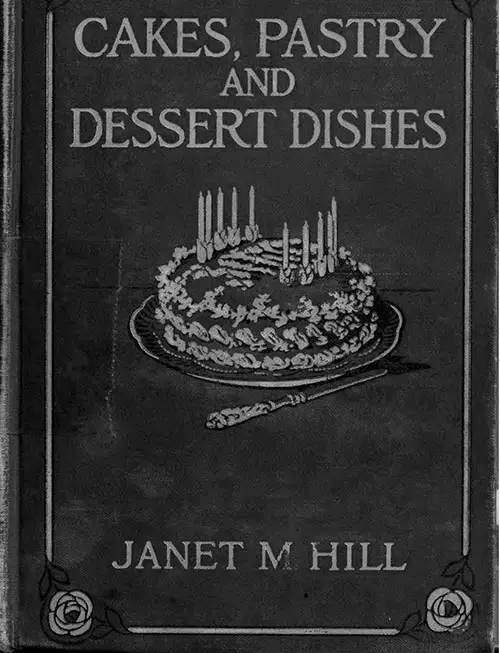 BY
Janet McKenzie Hill
Author of "Cooking for Two," "The Up-to-Date Waitress," "Salads and Sandwiches," etc.
Illustrated
Boston
Little, Brown, and Company
I9I7
Copyright, 1917,
BY JANET MCKENZIE HILL.
Published, September, I9I7
Norwood Press
Set up and electrotyped by J. S. Cushing Co., Norwood, Mass., U.S.A.
Presswork by S. J. Parkhill 8: Co., Boston, Mass., U.S.A.
Synopsis: A very attractive collection of recipes ior the housewife, cook, tea-shop manager or caterer. It is hardly in keeping, however, with the present spirit of food conservation.
From the Booklist (1917)
A tantalizing collection of recipes to be pubished in war times. However, it contains bran cookies as well as a twelve-egg torte. There are brief general directions at the head of each chapter which are useful and the recipes are easy to follow.
Introduction
"Cakes are baked for the joyful occasion, the social gathering, the feast. In their history is summed up an amount of ingenuity, the mere tracing of which affords to the philosophical inquirer after the development of human affairs the greatest intellectual pleasure; cakes signalize an evolution of culture and are a measure of culture."
"Meringues are classical confections having a good prospect of immortality, as they cannot easily be improved, spoiled, or altered."
"Baron Liebig ascribed the fact that members of the Universal Peace Congress at Frankfort ate twice the quantity of puddings known to ordinarily suffice for the same number of persons, to the circumstance that a number of the Peace Congress men were total abstainers from alcoholic liquids."
The value of sweets in satisfying specific desires cannot be ignored.
"The art of manipulating the flour of cereals with various admixtures for the production of several qualities of paste or dough is one of the most important achievements of human ingenuity."
Contents
Introduction
I Cake Making
II Cake Frostings
III Pastry
IV Custards and Souffles
V Sweet Dishes, Largely of Fruit
VI Hot and Cold Farinaceous Puddings
VII Hot and Cold Sweet Sauces
VIII Gelatine Desserts
IX Frozen Desserts
INDEX
Illustrations
Birthday Cake for Child of Ten Years, with Initials "H. B. H.", and Ornamental Frosting
Wedding Cake, Boiled Ornamental Frosting
Special Cup for Measuring Liquid. Measuring Cup
of Flour. One half Tablespoonful of Flour
Candied Mint Leaves
Cutters for Small Cakes
Cup Cake, Chocolate Frosting and Nuts
Cake Tins
Little Easter Cakes, with Tins
Individual Charlotte Russe, Meringue, Lady Fingers
Heart-shaped Sponge Pound Cake
Spring Cake
White Cake, II, Cherry Decoration
Ribbon Cake
Plain White Cake, I, Marshmallow Frosting
Birthday Cake with Hand Painted Board for Candles
White Cake, Wild Rose Decoration
Potato Torte
Birthday Cake, Crocus Decoration
Cocoanut Chocolate Cake
Genoese Cakes, Chocolate Fancies, and Croquins
Orange Jumbles
Croquin Cards, and Cutters for Card Symbols
Springerle and Mold
Almond Bars
Melba Tarts
Bermuda Ginger Snaps, with Cutters
Piping Ornamental Frosting by Amateur, with Plain, Star, and Leaf Tubes
Apple Pie, Flaky Pastry in Upper Crust
Rhubarb Pie with Meringue
Plate Lined with Pastry for Pumpkin Pie
Peach Tarts, Flower Fashion
Peach Tart
Mince Pie with Apple Meringue
Vol-au-vent of Apricots
Apple Dumplings
St. Honoré Cake, Bavarian Cream
Strawberry Tart
Caramel Custard
Boiled Custard with Snow Eggs
Pineapple Dainty
Little Bread Puddings with Fruit Jelly
Custard Pudding
Individual Strawberry Shortcakes
Individual Blackberry Shortcakes
Peach Shortcake, Whipped Cream
Showing the Combining of Foundation and Whipped Cream in Bavarian Cream
Lemon Jelly, Figs, and Boiled Custard
Princess Pudding with Marshmallows and Cherries
Macedoine of Cake, Marshmallows, Cherries, etc., in Caramel Cream
Grape Juice Sponge
Christmas Charlotte Russe
Pineapple Dessert, Valentine Style
Pear Bavarian Cream
Removing Ice Cream from Mold with Two Covers
Vanilla Ice Cream, Tea Room Style
Prune Parfait
Frozen Apricots
Strawberry Cup
Coffee Parfait
Raspberry Bombe, Alaska Style
Dessert Torte, Melba
Ice Cream with Pears, Hélene
Bombe Jeanne d'Arc
Cup "Topo Pino