Everyday Desserts - 1911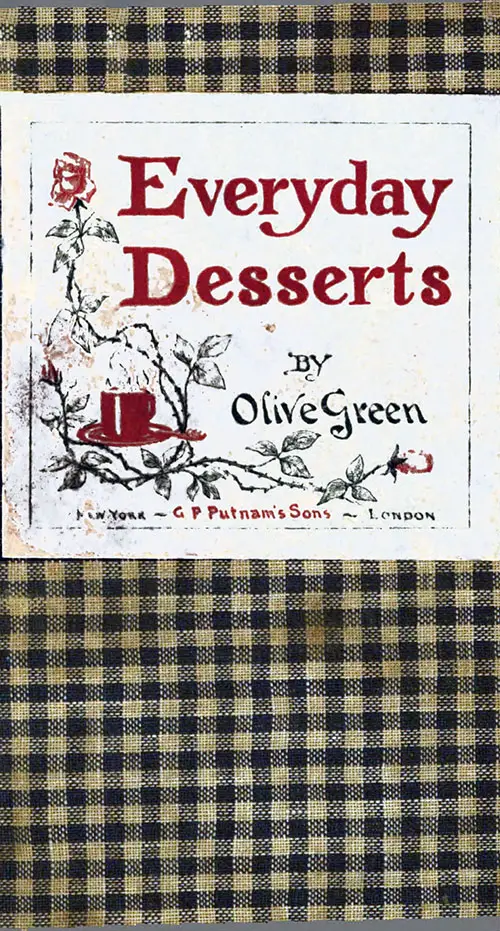 By Olive Green (Myrtle Reed/Mrs. McCullough)
G. P. Putnam's Sons
New York & London
The Knickerbocker Press
Copyright, 1911
BY
G. P. Putnam's Sons
Second Impression
Part of Putnam's Homemaker Series
Synopsis
About 1,600 recipes, including under desserts, cookies, doughnuts, gingerbread, gelatin jellies and fritters. A convenient compilation for the housekeeper of experience. Uniform with One thousand salads and other books of this series.
From the New York Observer
There is no part of the cuisine that requires more skill than the preparation of desserts. To appease the first gnawing hunger that with clock-like regularity announces the arrival of the meal hour, only the blundering efforts of an amateur cook are required.
But to coax a person who has sat through several courses of a dinner to eat the last course with as much relish as the first, a thorough mastery not only of the rudiments hut of the higher art of cooking is essential.
In "Everyday Desserts" Olive Green has added to the Homemaker. Series a volume that is in every respect up to the standard of that eminently useful series.
Contents
Simple Desserts—And Others
Twenty-Eight Blanc Manges
Two Hundred and Thirteen Cakes
Thirty-Two Cake Fillings and Frostings
Twenty-Six Charlottes
Twelve Cobblers
Forty-Eight Cookies
Twenty-Six Compotes
Seventy Creams
Sixty-Six Custards
Thirteen Doughnuts
Twenty-Two Dumplings
Forty-Four Fritters
One Hundred and Sixty Frozen Desserts
Seventy-Five Simple Fruit Desserts
Twenty-Three Gingerbreads
Thirty-Six Jellies
Twelve Sweet Omelets
Three Hundred and Eighty-Five Puddings
One Hundred and Two Pudding Sauces
Twenty-Two Short-Cakes
Thirty-Eight Souffles
Fifty Tarts
Forty Miscellaneous Desserts
Additional Recipes