Food From the Galley: Daily Fare Onboard Ship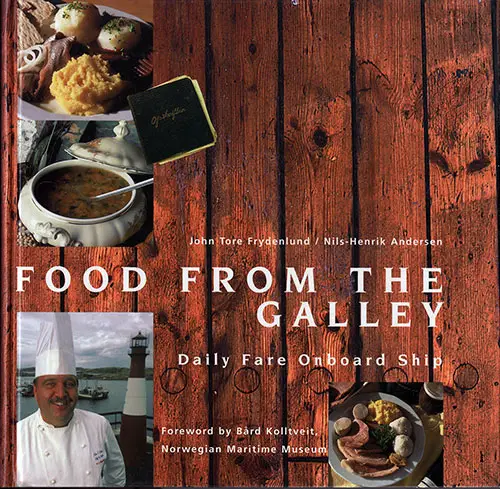 Front Cover, Food From the Galley: Daily Fare Onboard Ship, 2000. GGA Image ID # 1d8aa51492
John Tore Frydenlund and Nils-Henrik Andersen, Food From the Galley: Daily Fare Onboard Ship, Recipes Translated by Melody Favish © 2000, Kulturhistorisk Forlag A.S., Tønsberg, Norge, Hardbound, 129 Pages, 82-92069-05-4. 
Book includes an introduction to Norwegian Maritime History and the food served onboard ship through history. 
The second section has recipes for herring, fish, meat, sandwich meat, soups, porridge, bread, desserts, cakes and cookies, and emergency food.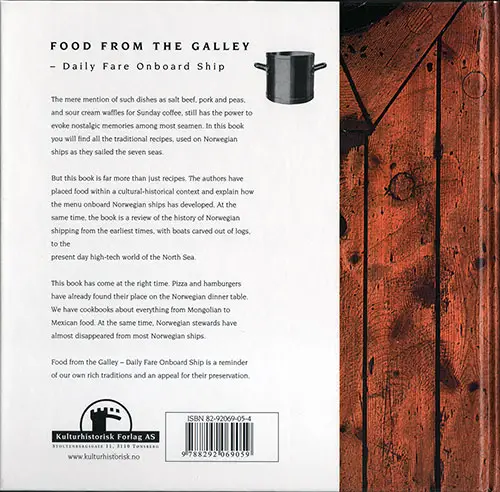 Back Cover, Food From the Galley: Daily Fare Onboard Ship, 2000. GGA Image ID # 1d8f8bd059
From the Back Cover
FOOD FROM THE GALLEY - Daily Fare Onboard Ship
The mere mention of such dishes as salt beef, pork and peas, and sour cream waffles for Sunday coffee, still has the power to evoke nostalgic memories among most seamen. In this book you will find all the traditional recipes, used on Norwegian ships as they sailed the seven seas.
But this book is far more than just recipes. The authors have placed food within a cultural-historical context and explain how the menu onboard Norwegian ships has developed. At the same time, the book is a review of the history of Norwegian shipping from the earliest times, with boats carved out of logs, to the present day high-tech world of the North Sea.
This book has come at the right time. Pizza and hamburgers have already found their place on the Norwegian dinner table. We have cookbooks about everything from Mongolian to Mexican food. At the same time, Norwegian stewards have almost disappeared from most Norwegian ships.
Food from the Galley - Daily Fare Onboard Ship is a reminder of our own rich traditions and an appeal for their preservation.
Table of Contents
A Short Introduction to Norwegian Immigrants over the Ocean 33
Maritime History Slave-Trade and Coolies 33
The Stone Age 10 Piles of Dung 34
The Bronze Age 10 Around Cape Horn to the Wild West 34
The Iron Age 11 Clipper Ships 35
The Viking Age 11 New Building Methods 35
What They Ate 1000 Years Ago 11 The Plimsolls, Rules and Regulations 35
The Need for Preservation 12 New Food Products 36
The Middle Ages - the Hanseatic League The 19th Century - the great leap 37
and the black plague 13
Lack of Capital 37
The 16th Century - exploration, The Fleet Expands - freight decreases 37
and new commodities 13 World War and a Change of Epochs 37
Tough Measures in Frederik II's Maritime Laws 14 Boom Time 38
New Naval defenses 14 The Crisis of 1920 38
The 17th Century - the Dutch Empire and The Swansong of the Sailing Ships 39
the Thirty Years' War 15 Specialization Onboard 39
Tobacco - a combustible blessing 15 Between the Wars - an unsettling time 39
Naval-Trading Ships 16 The Whaling Era 40
The Navigation Act of 1651 16 Nortraship - World War II's largest charterer 42
The 18th Century - War and Piracy 16 Forgotten Heroes 42
Booze for Breakfast 17 Sailing in Wartime - and the creativity of the cook 42
Coffee for the Captain 17 Reconstruction 43
Wages and Expenses during Girls and Waitresses - women onboard 44
the 18th Century 18 Passenger Traffic - Norwegian quality and style 45
Tight Rations 18 The Development of the Galley through the Ages 47
Useful Biscuits 19 From Cook's Mate to Steward 49
Cable Wire 20 From Oil-Fueled Galley to a Galley in the oil 51
Scurvy and Beriberi 20 Good Times 52
Porridge - loved and hated 22 The Oil Crisis and a Structural Change 52
Supplies 23 Today 52
Bonito and Turtle - fresh food at sea 24
Christmas Pork on the Poopdeck 26 Recipes
Holidays at Sea 27 Herring 54
Linje Aquavit 28 Fish 60
The 18th Century - from independence Meat 74
and crisis to the age of greatness 30 Sandwich Meat 88
A Crowded French Period 30 Soups 94
Free Trade and Periods of Prosperity 31 Porridge 98
Trade Agreements 32 Bread 102
1850 - the beginning of the age of greatness 32 Desserts 108
Every 8th Norwegian Man at Sea 32 Cakes and Cookies 116
Break-Neck Speed to the Crimea 32 Emergency Food
Library of Congress Catalog Listing
(Note: Listing for the Norwegian Version of this Book)
LC Control No.: 00435815
LCCN Permalink: http://lccn.loc.gov/00435815
Type of Material: Book (Print, Microform, Electronic, etc.)
Personal Name: Frydenlund, John Tore.
Main Title: Skipskost : fra hverdagskost til festmat / John Tore Frydenlund, Nils-Henrik Andersen.
Published/Created: Tønsberg [Norway] : Kulturhistorisk forlag, 1999.
Related Names: Andersen, Nils-Henrik.
Description: 129 p. : ill. (some col.); 21 x 22 cm.
ISBN: 8292069003
Notes: Includes bibliographical references (p. 126).
Subjects: Cookery, Marine --History.
LC Classification: TX840.M7 F78 1999
Geographic Area Code: e-no---