Scandinavian Cookbook: Traditional Recipes Tested for Today's Kitchens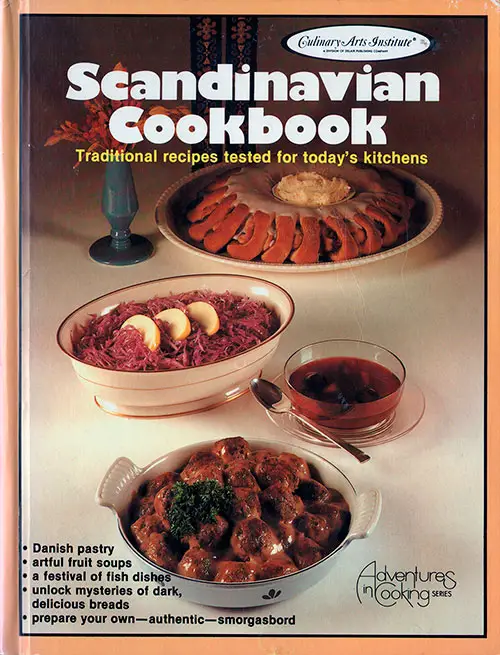 Front Cover, Scandinavian Cookbook: Traditional Recipes Tested for Today's Kitchens, 1982. GGA Image ID # 1d8c9239d8
Culinary Arts Institute, Scandinavian Cookbook: Traditional Recipes Tested for Today's Kitchens, © 1982, Delair Publishing Company, Inc., New York, Hardbound, 80 Pages, 0-8326-0633-2.
Scondanavian Cookery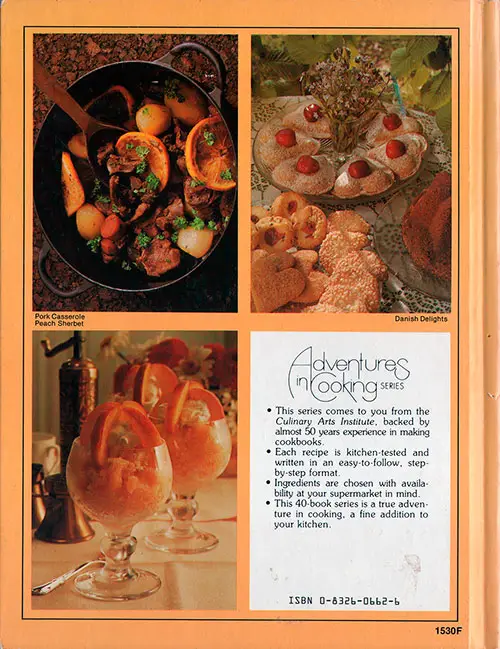 Back Cover, Scandinavian Cookbook: Traditional Recipes Tested for Today's Kitchens, 1982. GGA Image ID # 1d8cb36d36
The Sea-Girt Countries at the top of Europe—Norway, Sweden and Denmark—have developed a cuisine which, though rooted in Continental tradition, has flowered in a way uniquely its own.
A robust style of cookery that makes lavish use of energizing foods, Scandinavian cuisine is also colorful, imaginative, and strikingly beautiful in appearance.
To Americans the most familiar aspect of Scandinavian dining traditions is the smorgasbord, far- famed buffet of appetizers, hospitable invitation to hearty sociability.
If this has been your introduction to Scandinavian cooking you are already familiar with a fascinating array of hot and cold dishes, meats, cheeses and vegetables, and piquantly seasoned fish, especially herring.
But there is much more to Scandinavian tradition than this first course. There are sauces (richest in the world); dark and delicious breads; cookies, puddings and cakes; open-face sandwiches that are meals in themselves and a joy to behold.
Above all, there is the Scandinavian sorcery with fish—bountiful harvest of the cold northern seas which the Scandinavians garner so industriously and cook and garnish so handsomely.
It may seem from the pages that follow that the northern countries' menu is a heroic one, and so it is. With fare like this the hardy ancestors of modern Scandinavia conquered uncharted seas in their open ships and adventured boldly toward a new world.
Contents:
Scandinavian Cookery
It's Smart to Be Careful
A Check-list for Successful Baking
Smörgåsbord
Soups
Main Dishes, Vegetables and Salads
Breads
Danish Sandwiches
Cakes and Desserts
Cookies
Beverages
Index
Library of Congress Catalog Listing
LC Control No.: 87107923
LCCN Permalink: http://lccn.loc.gov/87107923
Type of Material: Book (Print, Microform, Electronic, etc.)
Main Title: Scandinavian cookbook / illustrations by Kimanne Core Uhler.
Published/Created: New York, N.Y. : Culinary Arts Institute, c1982.
Related Names: Culinary Arts Institute.
Description: 80 p., [8] p. of plates : col. ill.; 27 cm.
ISBN: 0832606332
Notes: Includes index.
Subjects: Cookery, Scandinavian.
Series: Adventures in cooking series
LC Classification: TX722.A1 S26 1982
Dewey Class No.: 641.5948 19
Geographic Area Code: ev-----
CALL NUMBER: TX722.A1 S26 1982