Pea Soup: Andersen's Scandinavian-American Cookbook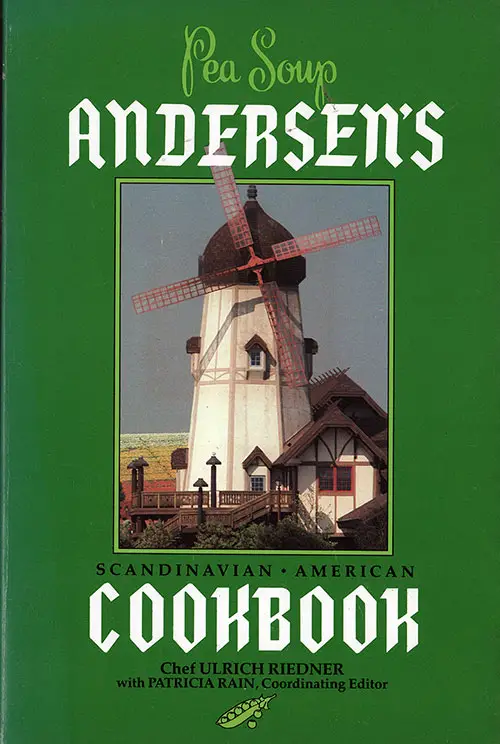 Front Cover, Pea Soup, Andersen's Scandinavian-American Cookbook, 1995. GGA Image ID # 1d8c058216
Ulrich Roedner and Patricia Rain, Pea Soup, Andersen's Scandinavian-American Cookbook, © 1995, Celestial Arts Publishing Company, Berkeley, California, Soft Cover, 169 Pages, 0-89087-523-5.
Over 2 million visitors annually enjoy the dining at Pea Soup Andersen's restaurants in California. Here is the story of the restaurant's history and popularity, along with favorite recipes, photos and illustrations.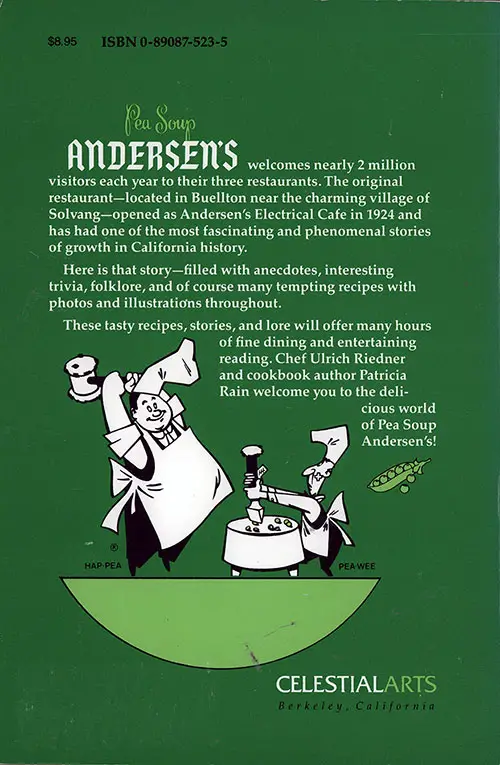 Back Cover, Pea Soup, Andersen's Scandinavian-American Cookbook, 1995. GGA Image ID # 1d8c7da0ad
On the Back Cover
$8.95 ISBN 0-89087-523-5
Pea Soup
Andersen's welcomes nearly 2 million visitors each year to their three restaurants. The original restaurant—located in Buellton near the charming village of Solvang—opened as Andersen's Electrical Café in 1924 and has had one of the most fascinating and phenomenal stories of growth in California history.
Here is that story—filled with anecdotes, interesting trivia, folklore, and of course many tempting recipes with photos and illustrations throughout.
These tasty recipes, stories, and lore will offer many hours of fine dining and entertaining reading. Chef Ulrich Riedner and cookbook author Patricia Rain welcome you to the delicious world of Pea Soup Andersen's!
CELESTIAL ARTS
Library of Congress Catalog Listing
LC Control No.: 88070661
LCCN Permalink: http://lccn.loc.gov/88070661
Type of Material: Book (Print, Microform, Electronic, etc.)
Personal Name: Riedner, Ulrich.
Main Title: Pea Soup Andersen's Scandinavian-American cookbook / Ulrich Riedner; Patricia Rain, coordinating editor.
Published/Created: Berkeley, Calif. : Celestial Arts, c1988.
Related Names: Rain, Patricia, 1943-
Related Titles: Andersen's cookbook. Pea Soup Andersen's cookbook.
Description: ix, 169 p. : ill., ports.; 23 cm.
ISBN: 0890875235 : $7.95
Notes: Title on spine: Pea Soup Andersen's cookbook. Includes index.
Subjects: Pea Soup Andersen's (Restaurant) Cookery, Scandinavian. Cookery, American.
LC Classification: TX722.A1 R54 1988
Dewey Class No.: 641.5948 19
Geographic Area Code: ev----- n-us--- n-us-ca
CALL NUMBER: TX722.A1 R54 1988