The Great Scandinavian Baking Book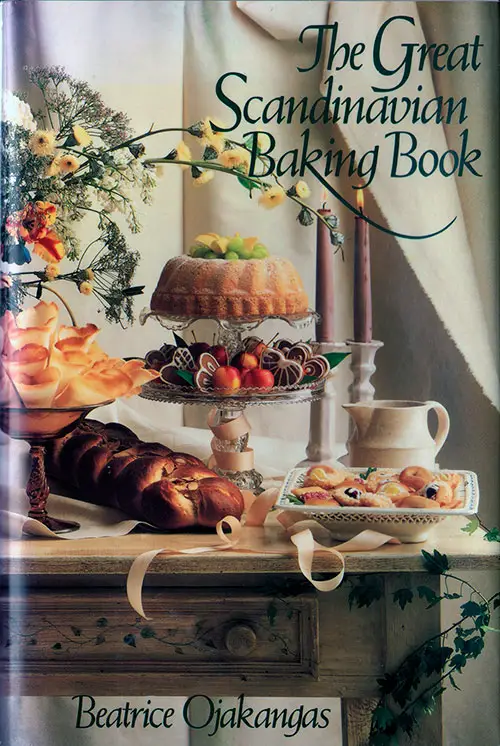 Front Cover, The Great Scandinavian Baking Book, 1988. GGA Image ID # 1d8aba52cf
Beatrice Ojakangas, The Great Scandinavian Baking Book, © 1988, Little, Brown and Company, Boston, Hardbound, 318 Pages, 0-316-63372-0, 641.7'1'0948. 
Food is the heart of a Scandinavian home: scrumptious pies, delicate pastries, millions of cookies, and savory bread. Each country--Denmark, Norway, Sweden, Finland, and Iceland--has its specialty, and no one goes hungry. In this mouthwatering collection, Beatrice Ojakangas calls on her Scandinavian heritage and wide-ranging baking knowledge to produce the definitive cookbook for this rich cultural heritage.
Because Ojakangas stresses ease of preparation, even novice bakers can make filled Danish pastries, Christmas buttermilk rye bread, or a few dozen pepparkakor, better known as gingersnaps.
This handy reference highlights Scandinavian traditions too. There are recipes for sweet bread to be served with morning, afternoon, and evening coffee; for trays upon trays of cookies to serve as a holiday or everyday treat; and for savory meat-and-vegetable pies.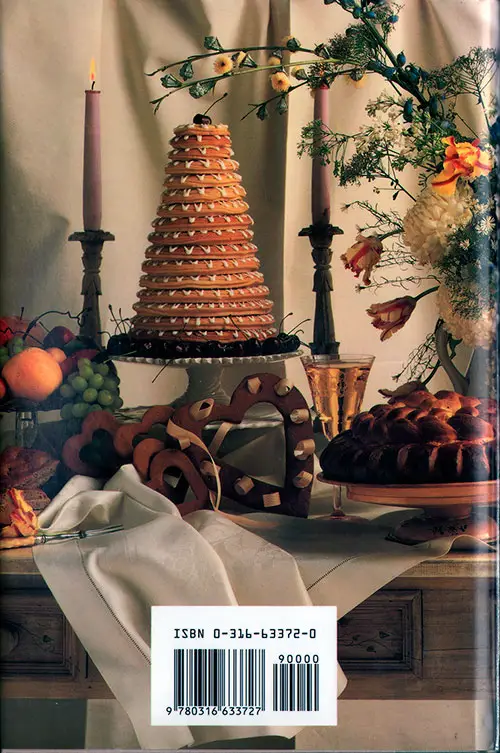 Contents
Introduction
Ingredients
Mail Order Sources
Baking Tips
Breads For Meals
Breads For Coffeetime
Cookies And Little Cakes
Cakes And Tortes
Pastries And Pies
Savory Pies And Filled Breads
Index
Jacket design by Steve Snider Jacket photograph by At Fisher Author photograph by Ken Moran
$22.95 FPT $28.95 in Canada
About the Book
Scandinavians — Danes, Norwegians, Swedes, Finns, and Icelanders — all share one thing: a talent and love for baking. Each country has typical specialties, from hearty bread to delicate pastries to irresistible savory main-course pies, pastries, and stuffed bread.
Beatrice Ojakangas, the author of more than a dozen cookbooks, including Scandinavian Cooking and The Finnish Cookbook, calls upon her Scandinavian heritage and wide-ranging knowledge of Scandinavian baking to produce the definitive book on the subject.
An emphasis on ease of preparation means that even Danish pastry (berry- or cheese-filled and dozens of variations) can be made by an ingenious quick method. Classic breakfast or dessert favorites range from crullers, waffles, and doughnuts to delicate Swedish pancakes.
Bread is central to Scandinavia's cuisine. Here are crusty sour Finnish rye bread, Swedish limpa, Danish pumpernickel, black bread, wheat bread aromatic with orange and spices, crisp bread and crackers, and chewy flatbreads.
Morning, afternoon, and evening coffee are accompanied by coffee- bread, sweet rolls, and sometimes cookies. A formal, three-course coffee table for a birthday, name day, or anniversary features elaborate cakes and tortes, such as Norwegian Caramel-Almond Tosca Cake, succulent Strawberries and Cream Cake, dramatic Danish Othello Cake, and Swedish Chocolate Layer Cake. Special occasions call for a full-blown "coffee table," with coffee bread, plain and frosted cakes, and various cookies.
Cookies, called "little cakes," are ubiquitous in Scandinavia, at coffee and holiday times. In addition to thin, spicy gingersnaps (called pepparkako and butter cookies of all descriptions, Danish Lace Cookies, Lemon Wafers, and assorted little cakes, such as luscious prune-filled Half-Moons, round out the bountiful cookie assortment.
From Karelia in eastern Finland come unusual main-dish pies filled with meat, fish, and vegetables and made with a rustic rye crust. From other countries come a variety of more sophisticated savory pies, some of which can be served as elegant appetizers.
These unusual and tempting recipes will delight cooks familiar with the glories of the Scandinavian baking tradition as much as those new to its rich diversity.
Library of Congress Catalog Listing
LC Control No.: 88007244
LCCN Permalink: http://lccn.loc.gov/88007244
Type of Material: Book (Print, Microform, Electronic, etc.)
Personal Name: Ojakangas, Beatrice A.
Main Title: The great Scandinavian baking book / by Beatrice Ojakangas; illustrated by Rudy Luoma.
Edition Information: 1st ed.
Published/Created: Boston : Little, Brown, c1988.
Description: ix, 318 p. : ill.; 24 cm.
ISBN: 0316633720 : $19.95
Notes: Includes index.
Subjects: Baking --Scandinavia. Cookery, Scandinavian.
LC Classification: TX765 .O38 1988
Dewey Class No.: 641.7/1/0948 19
Geographic Area Code: ev-----