The Works Program - WPA - Summary - 1937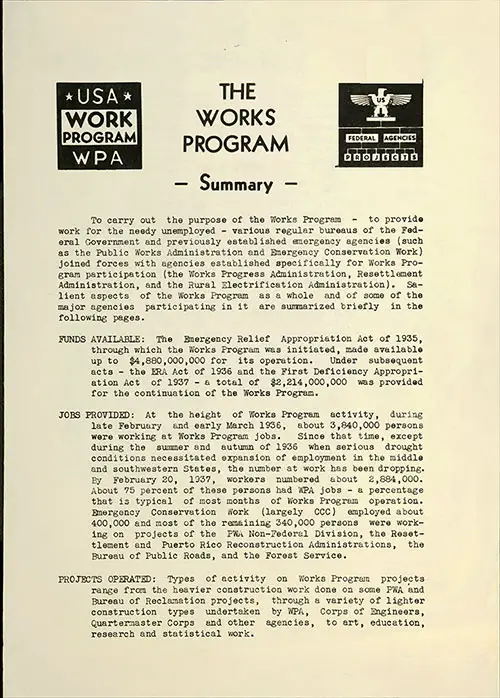 Page 1 of Brochure from The Works Program -- USA Work Program WPA -- Federal Agencies Progects Summary, September 1937. GGA Image ID # 153147ee53
To carry out the purpose of the Works Program - to provide work for the needy unemployed - various regular bureaus of the Federal Government and previously established emergency agencies (such as the Public Works Administration and Emergency Conservation Work) joined forces with agencies established specifically for Works Program participation (the 'Works Progress Administration, Resettlement Administration, and the Rural Electrification Administration). Salient aspects of the Works Program as a whole and of some of the major agencies participating in it are summarized briefly in the following pages.
FUNDS AVAILABLE
The Emergency Relief Appropriation Act of 1935, through which the Works Program was initiated, made available up to $4,880,000,000 for its operation. Under subsequent acts - the ERA Act of 1936 and the First Deficiency Appropriation Act of 1937 - a total of $2,214,000,000 was provided for the continuation of the Works Program.
JOBS PROVIDED
At the height of Works Program activity, during late February and early March 1936, about 3,840,000 persons were working at Works Program jobs. Since that time, except during the summer and autumn of 1936 when serious drought conditions necessitated expansion of employment in the middle and southwestern States, the number at work has been dropping. By February 20, 1937, workers numbered about 2,884,000.
About 75 percent of these persons had WPA jobs - a percentage that is typical of most months of Works Program operation. Emergency Conservation Work (largely CCC) employed about 400,000 and most of the remaining 340,000 persons were working on projects of the PWA Non-Federal Division, the Resettlement and Puerto Rico Reconstruction Administrations, the Bureau of Public Roads, and the Forest Service.
PROJECTS OPERATED
Types of activity on 'Works Program projects range from the heavier construction work done on some PWA and Bureau of Reclamation projects, through a variety of lighter construction types undertaken by WPA, Corps of Engineers, Quartermaster Corps and other agencies, to art, education, research and statistical work.
EMPLOYMENT
About 2,150,000 persons were working on February 20, 1937. At the peak of activities in February and March 1936 almost a million more unemployed persons had jobs on Works Progress Administration projects. Approximately 95 percent of the workers were taken from relief rolls. About 15 out of every 100 were women.
WAGES
Most workers on WPA projects are paid security wages. These security wage workers earn about $50 per month. Hourly wage rates have been set to correspond to the rates paid locally for the same types of work. During the entire period of operation (through the end of 1936), WPA project workers had received $1,830,000,000 in return for 4,000,000,000 hours of work. Hourly earnings averaged approximately 46 cents.
PROJECTS
Since the beginning of WPA activities more than 121,000 projects have been placed in operation throughout the continental United States, and in Hawaii. These were selected from a reservoir of 209,000 projects planned and submitted by local governmental bodies and approved by the President.
Estimated to cost more than three billion dollars in Federal funds, the projects placed in operation range from work on highways, roads, public buildings, sewer and water systems, parks and playgrounds, and flood control facilities to white collar and goods projects.
About three-quarters of the Federal funds are used for construction projects. Sponsors' funds, which amount to more than $460,000,000, are used largely for materials, supplies, and other operating costs and Federal funds go largely for the wages of project workers.
YOUTH PROGRAM
The National Youth Administration, as a part of the WPA, is helping some 405,000 young persons to continue their education. About 265,000 are in high school, 135,000 are undergraduate college students and 5,000 are doing graduate work.
The NYA also operates work projects employing about 175,000 young persons who are not in full-time attendance at school. In addition, it promotes better opportunities for young persons throughout the country by improving the job placement, apprentice training, cultural, and recreational facilities available to than.
ACCOMPLISHMENTS [1]
Workers on WPA projects have completed a wide variety of work which contributes definitely to the national wealth and well-being. Work completed (both new construction and repairs or improvements) by September 15, 1936, included:
Roads and Streets:
29,000 miles of new roads - hard surfaced roads as well as the farm-to-market variety.
94,000 miles of repaired and improved roads.
21,000 bridges - more than a third of them new.
Buildings:
300. schools, of which 1,100 were new buildings.
5,000 administrative and recreational buildings, more than 2,000 of them new.
1,000 hospitals and other institutional buildings.
Recreational Facilities:
3,000 athletic fields and playgrounds, about 1,400 new.
500. parks and fairgrounds constructed or improved.
395 swimming pools and golf courses built or improved.
Airport and Airway Facilities:
112 airports built or modernized and repaired.
165 runways averaging 2,500 feet in length.
26,000 airway markers placed.
Sewer and Water Systems:
500. miles of sewers built or repaired.
130,000 sewer connections, of which 107,000 were new.
1,252 sewage disposal plants, 1,155 of them new.
300. miles of water mains laid or repaired.
102,000 water connections, about 48,000 for new consumers.
Flood Control Facilities:
375 miles of levees built or strengthened,
112 miles of canals and channels constructed,
650 miles of river banks riprapped and improved, 2,300 miles of stream beds improved to facilitate run-off of flood waters.
Other Work Completed:
11,000,000 books repaired and reconditioned.
9,500,000 books cataloged.
72,000,000 school lunches served.
9,000,000 visits of doctors and nurses to homes of needy.
FACTS ABOUT OTHER FEDERAL AGENCIES PARTICIPATING IN THE WORKS PROGRAM
EMERGENCY CONSERVATION WORK
Young men enrolled in the Civilian Conservation Corps (constituting the bulk of ECW employment) have made valuable contributions.to the country through their work in national and State forests and parks. Developing recreational-facilities for the public, conserving wildlife, preventing soil erosion.,...and reducing fire hazards are major activities. Similar work is being done by other ECW workers in the territories and on Indian reservations.
PUBLIC WORKS ADMINISTRATION
PWA activities under the Works Program, carried on in all States, involve chiefly construction work. Its non-Federal projects completed by the end of 1936 included 1,400 public buildings, most of them schools, colleges, and other educational buildings; more than 200 sewers; almost 400 waterworks; and some 40 other public utilities projects. At the same time the PWA Housing Division had under construction 41 large, low-cost housing projects in various cities of the country. PWA. projects employed more than 101,000 persons on February 20, 1937.
BUREAU OF PUBLIC ROADS
On projects operated with 'Works Program funds, this agency has been instrumental in building almost 10,000 miles of highways or roads and in eliminating more than 1,000 dangerous railroad and highway grade crossings.
RESETTLEMENT ADMINISTRATION
Its rural rehabilitation program is reestablishing needy farmers on a self-supporting basis through loans and grants of funds. In addition, this agency employs about 50,000 persons, selected chiefly from the relief rolls or from rehabilitation clients, on land utilization and conservation projects and on rural and suburban resettlement projects.
OTHER FEDERAL AGENCIES
The Bureau of Reclamation with Works Program funds is carrying forward its work on 23 irrigation projects, the largest of which is the Grand Coulee Dam project. The Bureau of Entomology and Plant Quarantine is greatly advancing its activities to eradicate plant diseases and control insect pests.
The Forest Service has extended its regular work of protecting and improving the national forests and developing their recreational potentialities.
The Puerto Rico Reconstruction Administration is conducting a broad program of rehabilitation employing more than 43,000 persons in the island territory.
The Corps of Engineers is improving inland waterways and making further advances in flood control. These activities are examples of the wide variety of work carried on by the various Federal agencies.
Footnote
Note 1: Includes only work actually completed on WPA projects by September 15, 1936; work under way at that time is excluded as is work completed under previous programs (FERA and OTA), and accomplishments on projects of other participating agencies, outlined on the next page.
Flyer: USA Work Program WPA, "The Works Program -- Summary --," US Federal Agencies Projects, September 1937.