Report on Progress of The Works Program - 1936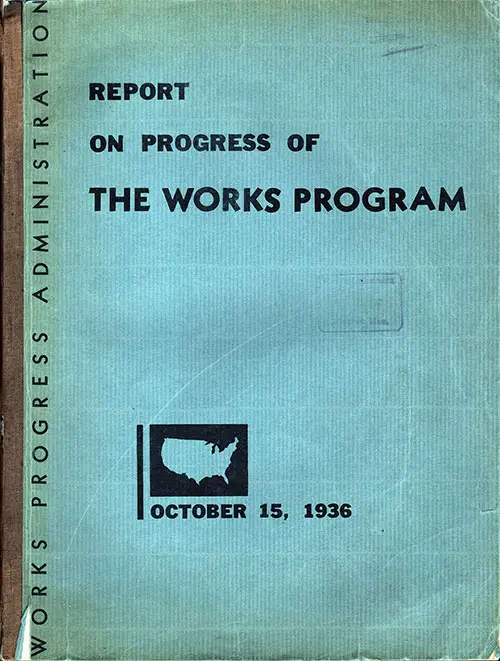 Works Progress Administration
HARRY L. HOPKINS, Administrator
REPORT ON PROGRESS OF THE WORKS PROGRAM
OCTOBER 15, 1936
CORRINGTON GILL, EMERSON ROSS,
Assistant Administrator Director, Division of Research, Statistics, and Records.
TABLE OF CONTENTS
PROJECTS OF THE WORKS PROGRESS ADMINISTRATION
WPA Park and Other Recreational Facility Projects
WPA Airports and Airway Projects
WPA Sanitation and Health Projects
WPA Goods Projects
WPA White Collar Projects
National Youth Administration
PARTICIPATION OF SPONSORS IN THE WORKS PROGRAM
FEDERAL AGENCY PROGRAMS
Emergency Conservation Work
Non-Federal Division of the Public Works Administration
Resettlement Administration
Housing
War and Navy Departments
Bureau of Public Roads
Land-Use Development
Statistical Clerical and Research Projects
Forest, Plant and Game Conservation
Works Program in Territories and Possessions
Other Federal Agency Activities
WORKERS AND THEIR EARNINGS
WORKS PROGRAM FUNDS
RELIEF AND THE WORKS PROGRAM
APPENDIX A Statutory Authority, Organization, and Procedures
The Emergency Relief Appropriation Acts of 1935 and 1936
Executive Orders
Operating Procedures of the Works Progress Administration
APPENDIX B Tables
FOREWORD
Works Program employees, taken largely from relief rolls and numbering approximately 3,800,000 at the end of February and 3,400,000 at the and of August 1936, have found jobs in all parts of the country on the 100,000 and more projects prosecuted under the Works Program.
This report reviews the various kinds of projects operated by the Works Progress Administration and outlines the activities carried on by the other agencies participating in the Works Program.
It discusses the workers and their earnings, and summarizes the disposition of the funds provided for the Program by the Emergency Relief Appropriation Acts of 1935 and 1936. In conclusion, the report devotes a brief section to relief before the inauguration, and during the operation, of the Works Program.
The statutory provisions and the Executive orders pertaining to the Program as well as the operating procedures adopted by the Works Progress Administration are summarized in the first section of the appendix; this is followed by a section covering Works Program employment and finances.
In Executive Order No. 7034, dated May 6, 1935, the President created the Works Progress Administration and made it responsible to him for the honest, efficient, speedy, and coordinated execution of the work relief program as a whole.
Among the responsibilities with which this agency was charged is that of gathering information such as is presented in this report. The order made it the duty of the Works Progress Administration to formulate and require uniform periodic reports of the progress on all projects and to formulate and administer a system of uniform periodic reports of the employment on projects.
This report is indebted to the records of the Commissioner of Accounts and Deposits of the Treasury Department for certain financial data, relating chiefly to obligations incurred and expenditures made under the Works Program.