WPA Historic Shrines Projects - 1938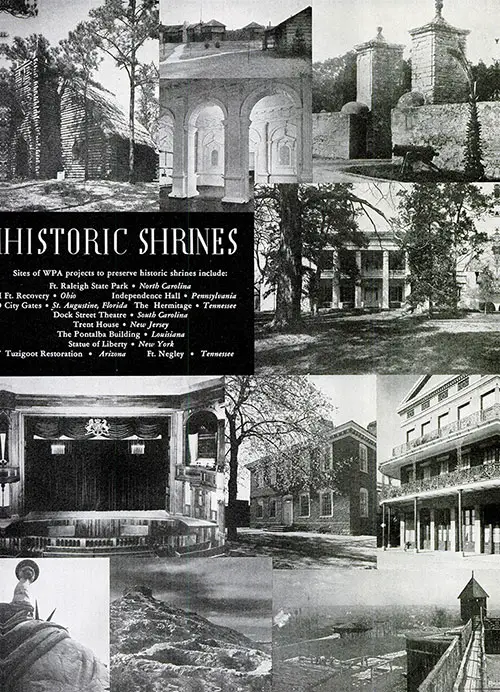 Sites of WPA Projects to Preserve Historic Shrines Include Ft. Raleigh State Park (North Carolina), Ft. Recovery (Ohio), Independence Hall (Pennsylvania), City Gates (St. Augustine, Florida), The Hermitage (Tennessee), Dock Street Theatre (South Carolina), Trent House (New Jersey), The Pontalba Building (Louisiana), Statue of Liberty (New York), Tuzigoot Restoration (Arizona), Ft. Negley (Tennessee). Inventory: An Appraisal of Results of the Works Progress Administration, Washington, DC: US Government Printing Office, 1938. GGA Image ID # 151fbc8d3c
Many an American community, busy with the problems of today and tomorrow, had put off the restoration of a cherished historical shrine. WPA work on hundreds of these shrines has prevented them from becoming ruins.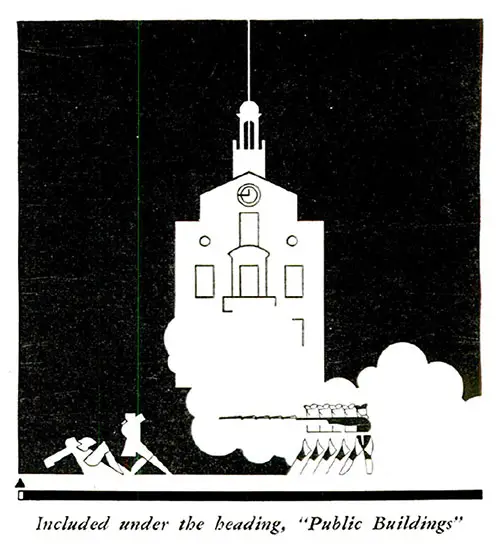 Included under the heading, "Public Buildings" are Historic Shrines. Inventory: An Appraisal of Results of the Works Progress Administration, Washington, DC: US Government Printing Office, 1938. GGA Image ID # 15201d82bc
When local officials found their own jobless workers available, at WPA pay, they hastened to provide materials and start the rehabilitation of old forts, old homes, and other sites at which significant bits of history once were enacted.
Often a historical association or some other agency had begun to restore a shrine and then had been unable to complete the work, until Federal aid was made available. Every period in America's history is represented, from the days of Indian supremacy to yesterday, in the scores of restorations that have been made by the WPA.
The broken walls of Tuzigoot Pueblo in Arizona have been excavated and partially rebuilt as they were when an agricultural race dwelt there two centuries before Columbus discovered San Salvador.
An ancient Mandan Indian settlement has been reconstructed in North Dakota, and a village of the Narragansetts in Rhode Island. For 350 years all that remained of Fort Raleigh, site of "The Lost Colony" on Roanoke Island, North Carolina, was the earthwork outlining its central blockhouse.
Now replicas have been built of the original stockade and dwellings. Fort Raleigh was the first English settlement in the New World and the birth- place of Virginia Dare, first child born of English parents in America.
Four nations have successively held fort Niagara on Lake Ontario—the Iroquois, French, British, and American. Nothing remains of La Salle's early palisade, but several buildings erected in 1725 have been restored in accordance with the original plans found in French War Department files.
Nearly two centuries after its destruction by fire the Dock Street Theatre, first playhouse in America, has been accurately reconstructed at Charleston, S. C. Early Spanish structures in the South and West have not been neglected, among them the San Gabriel Mission in San Bernardino County, Calif., and the much older Mission San Jose, "most beautiful, most prosperous, and best fortified of all Texas missions," at San Antonio.
Dozens of 18th-century shrines have been preserved. Among these is the 200-year-old New Castle Court House in Delaware, oldest continuously used chamber of justice in the country. Included also are two Boston buildings—Faneuil Hall, "Cradle of American Liberty," and Massachusetts' Old State House, before which the Boston Massacre occurred.
Linked even more closely with the American Revolution is famous Independence Hall in Philadelphia, where the Declaration of Independence was adopted, the Constitution agreed upon.
Besides this, many another building of that stirring period has been restored—the Jumel Mansion in New York City, used as headquarters by Washington, later home for a time of Aaron Burr and visited by such distinguished foreigners as Joseph and Jerome Bonaparte, Louis Philippe, and Talleyrand; Trent House in New Jersey, home of the founder of Trenton, where Washington, Lafayette, and Rochambeau were entertained; and "Rockingham," -at Rocky Hill, N. J., where Washington wrote his farewell address to the army.
Associated with the War of 1812 is Fort Sewall in Marblehead, Mass., off which the frigate Constitution, popularly known as "Old Ironsides," was once obliged to take refuge. The Flag House in Baltimore also has been re- paired.
Work has been done on The Cabildo, that handsome Louisiana building in which Jackson was honored after the Battle of New Orleans and in which Lafitte the pirate was imprisoned. One of the most stately shrines which the WPA has helped to preserve is "The Hermitage," last home of Andrew Jackson, near Nashville, Tenn.
Far different in appearance are the crude log houses in the Pioneer Lincoln Village at Rockport, Ind. The Civil War is represented by several forts, of which two are outstanding—Fort Negley at Nashville, built by impressed slaves and strongest Federal fortification in the South, and Fort Jefferson on the Dry Tortugas Key off Florida.
It was at the latter, American Devil's Island of the period, that an obscure Maryland physician named Samuel A. Mudd was incarcerated. He had set the leg of John Wilkes Booth, unaware that his patient was Lincoln's assassin.
Among many battlefields and outposts marking this Nation's expansion are Texas' San Jacinto Battleground, where Houston defeated Santa Anna and his Mexican Army in 1836; Fort Nisqually, early trading-center of Hudson's Bay Colony at Tacoma, Wash.; Forts Holmes and Wayne in Michigan, Forts Casper and Bridger in Wyoming, and Fort Vasquez in Colorado.
All these have been restored or reconstructed. There are shrines also to such men as Audubon, painter of American birds. For him, a museum has been erected at Henderson, KY. In the same State, at Danville, the Ephraim McDowell House has been restored, home of the pioneer surgeon who performed the first ovariotomy.
Work has been done at Westerville, Ohio, on the house in which Benjamin R. Hanby composed the Civil War song, "Darling Nellie Gray." Restored is the clapboard house at Camden, N. J., in which the Good Gray Poet, Walt Whitman, spent the last years of his life. Coming down to our own century, the boy- hood home of aviator Lindbergh has been turned into a museum, its grounds into a State park, near Little Falls, Minn.
Such colossal monuments as the stone shaft at Bunker Hill, Grant's Tomb, and the Statue of Liberty have been repaired, have had their grounds beautified, or have been otherwise improved.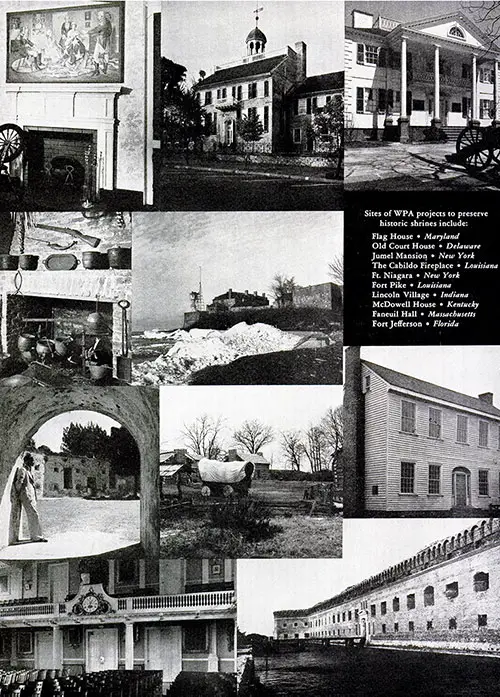 Sites of WPA Projects to Preserve Historic Shrines Include Flag House (Maryland), Old Court House (Delaware), Jumel Mansion (New York), the Cabildo Fireplace (Louisiana), Ft. Niagara (New York) Fort Pike (Louisiana), Lincoln Village (Indiana), Mcdowell House (Kentucky) Faneuil Hall (Massachusetts) Fort Jefferson (Florida). Inventory: An Appraisal of Results of the Works Progress Administration, Washington, DC: US Government Printing Office, 1938. GGA Image ID # 151ff2f28b
"Historic Shrines," in Inventory: An Appraisal of Results of the Works Progress Administration, Washington, DC: US Government Printing Office, 1938, pp. 33-36.