WPA Science and Research Projects - 1938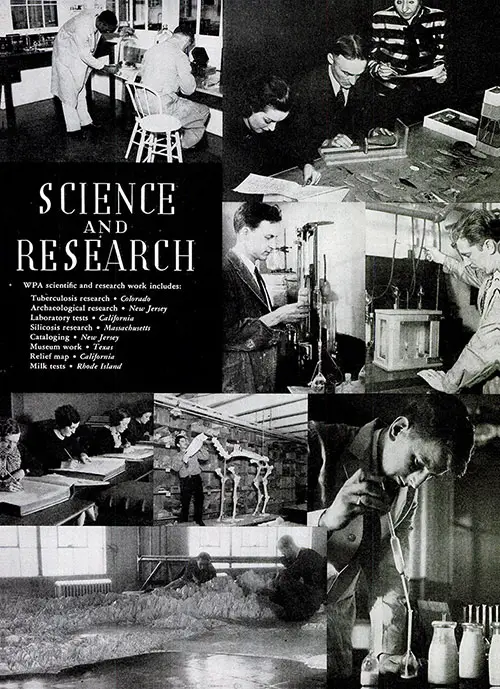 WPA Science and Research Projects Include Tuberculosis Research (Colorado), Archaelogical Research (New Jersey), Laboratory Tests (California), Silicosis Research (Massachusetts), Cataloging (New Jersey), Museum Work (Texas), Relief Maps (California), Milk Tests (Rhode Island). Inventory: An Appraisal of Results of the Works Progress Administration, Washington, DC: US Government Printing Office, 1938. GGA Image ID # 1524e15a13
The key to widespread achievements in research, granting proper supervision, is manpower. Under the WPA science and research program, 1,566 surveys or studies have been completed to expand the Nation's public knowledge.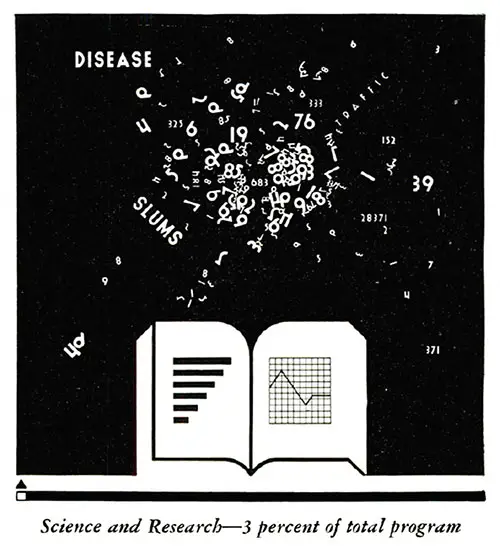 Science and Research—3 Percent of Total Program. Inventory: An Appraisal of Results of the Works Progress Administration, Washington, DC: US Government Printing Office, 1938. GGA Image ID # 152545ec90
Factual surveys form the basis for most constructive planning, whether by Federal agencies, State and local planning boards, educational institutions, or by scientists in the various fields of research.
Many such surveys and studies had been held up by lack of funds to hire the necessary technical and clerical help to assemble and compile essential data. At the same time, the WPA had available a small army of needy workers with many types of technical skill and experience.
So libraries, museums, universities, colleges, hospitals, and all sorts of governmental units sponsored thousands of projects to develop a better understanding of a wide variety of current public problems. Such projects were guided and directed by the sponsors' own experts, with the WPA supplying personnel.
Up to October 1, 1937, a total of 1,566 surveys or studies had been completed. More than 539 of these were planning surveys for designated planning agencies. The bulk of them were local in scope, although about one-fifth were Statewide and several Nationwide.
The remaining 1,027 research and statistical studies, while mainly local in character, likewise included a substantial number of Statewide and several Nationwide analyses.
The range of these surveys is as broad as the variety of local experts who conducted them. The Colorado Society for Crippled Children, for example, wanted to find out the number and the needs of crippled children in that State, while the University of Florida wished to study the location of tropical storms by their static.
A committee of the Connecticut Legislature wanted a survey of the State's jail facilities, while the New York State Department of Education wanted to look up several hundred young men and women who were classified as subnormal school children in 1924 and find out how they were faring as adults.
The Alabama Tax Commission needed a survey of State-owned properties, while the University of Chicago wanted a study of local sweatshops. The California Board of Education sought a check of the adequacy of school buildings, by counties, while Montana State College wanted a study of farm mortgage foreclosures.
Thus the studies ranged . . . syphilis in Chicago, tuberculosis in San Francisco, immunization for whooping cough in Michigan . . . the effect of public improvements on land values, the causes of tax delinquency, the effect on children of broken homes . . . studies of automobile brakes and driving skill . . . termites in California, port cargoes in Boston, slums in Detroit . . . industrial diseases, forestry, city transportation, and habitual criminals . . . carbon-monoxide gas, erosion, wildlife resources, and seasonal labor . . . standards of living, job-opportunities for Negroes . . . weeds, soils, and agricultural planning.
There have been more than 150 traffic studies to reduce accidents and determine improvement needs . . . surveys of land use, natural resources, housing, income, and health.
To make certain that all these studies will be used rather than merely filed away to gather dust, the WPA in Washington has compiled an index of research projects through which any of them may be located by administrators or students interested in further application of the facts they contain.
In addition, broader studies have been made with WPA workers by the U. S. Employment Service (Labor), Bureau of Agricultural Economics (Agriculture), Bureau of Labor Statistics (Labor), Public Health Service (Treasury), Bureau of Standards (Commerce), Bureau of Internal Revenue (Treasury), Office of Education (Interior), and many other Federal agencies.
A considerable number of administrative studies have netted immediate returns. Examples: New York City's survey of water-system outlets boosted the department's revenues $225,000 per year.
A Texas land survey located properties worth $120,000,000 that had not been assessed. And an analysis of Federal income-tax returns recovered revenues aggregating about seven times the cost of the project.
On engineering surveys, WPA workers have mapped over 200,000 square miles of area, made 72,000 miles of line survey, and set over 91,000 permanent markers.
The projects listed above are additional to the hundreds of special studies carried out under the direction of the WPA administrative staff on relief and rehabilitation in its many and complex phases.
It is on these studies that the Federal relief programs have been based. Guidance for the future will be supplied by a national research project which has made elaborate examinations of many industries and workers to gauge the effects of technology upon employment and indicate where the jobs of the future are likely to be found.
Another technical field which has employed thousands of WPA men and women is museum work. Meticulous skill is required for such tasks as modeling cross sections of animal organisms, building educational dioramas, or repairing and mounting taxidermic specimens.
An art in itself is the making of artificial foliage used in the natural settings of habitat groups. Yet WPA workers have been able to do such work in many museums, as well as to reorganize files and perform other clerical tasks.
As a result, curators have been able to carry out many long-deferred plans. On such WPA projects, a total of more than 3,300,000 museum articles have been constructed or renovated, and more than 5,200,000 articles cataloged.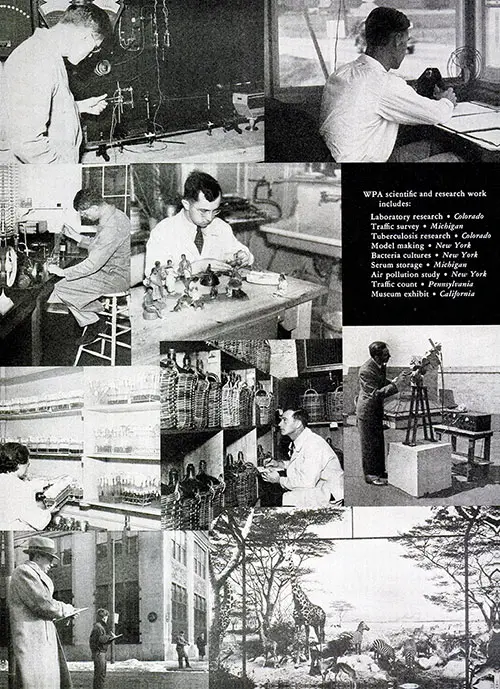 Additional WPA Scientific and Research Projects Include Laboratory Research (Colorado), Traffic Survey (Michigan), Tuberculosis Research (Colorado), Model Making (New York), Bacteria Cultures (New York), Serum Storage (Michigan), Air Pollution Study (New York), Traffic Count (Pennsylvania), Museum Exhibit (California). Inventory: An Appraisal of Results of the Works Progress Administration, Washington, DC: US Government Printing Office, 1938. GGA Image ID # 152534592c
"Science and Research," in Inventory: An Appraisal of Results of the Works Progress Administration, Washington, DC: US Government Printing Office, 1938, pp. 63-66.