WPA Historical Surveys and Records - 1938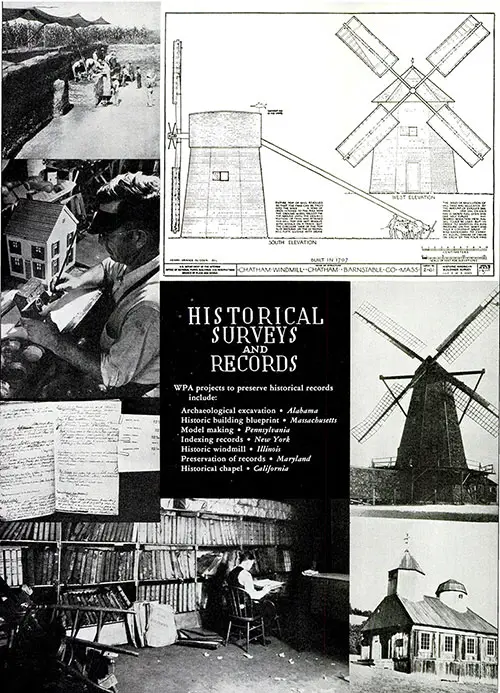 WPA Projects to Preserve Historical Surveys and Records Include Archaeological Excavation (Alabama), Historic Building Blueprints (Massachusetts), Model Making (Pennsylvania), Indexing Records (New York), Historic Windmill (Illinois), Preservation of Records (Maryland), Historical Chapel (California). Inventory: An Appraisal of Results of the Works Progress Administration, Washington, DC: US Government Printing Office, 1938. GGA Image ID # 152315c4bc
Just as many communities have used WPA manual workers to restore historic shrines, they also have used WPA clerical and research workers to restore and preserve dusty old public records which contain not only the answers to many legal puzzles, but also a rich store of historical data.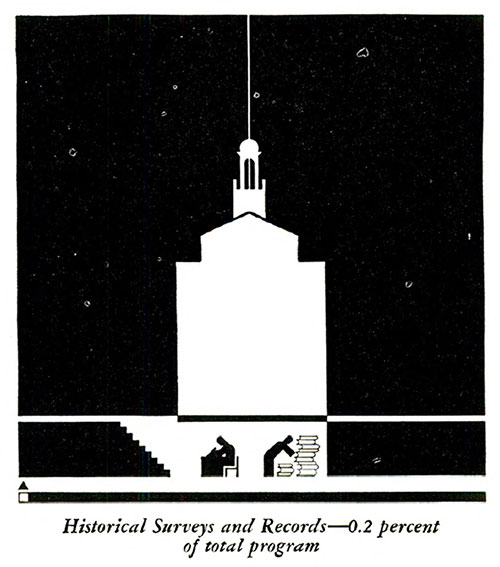 Historical Surveys and Records—0.2 Percent of Total Program. Inventory: An Appraisal of Results of the Works Progress Administration, Washington, DC: US Government Printing Office, 1938. GGA Image ID # 1524ab4b88
A On several Federally conducted projects, priceless historical records have been hunted out and set down for posterity. For example, leading American architects had lamented for decades the fact that many historic buildings were being destroyed year by year, with no record of their design available.
At the same time, there were on the relief rolls hundreds of architects and draftsmen capable of compiling such a record.
To answer this need the Historic American Building Survey was launched, under the sponsorship of the National Park Service, with many local chapters of the American Institute of Architects contributing advisory services. Its technical workers made detailed measurements of 2,302 buildings, took 17,480 photographs of them and made 16,244 drawings illustrating their design.
All these data are now on file in the Fine Arts Division of the Library of Congress—a permanent record—and copies of any plate are available for a nominal sum. The value of the record may be illustrated by the fact that a number of the buildings measured have been destroyed since the work was done.
Another small but colorful project of the same type is the Historic American Merchant Marine Survey, sponsored by the Smithsonian Institution, which has gathered and preserved data on clipper ships and other sailing craft, as well as the early power boats.
About 100 persons did this work, surveying 270 vessels, making 545 photographs and 677 drawings. These records are in the National Museum, available for study by naval architects, students of marine design, writers, and motion picture producers.
The specialized training on this project has enabled one-fifth of the personnel to return to private employment. Other WPA clerical and research workers are carrying out a Nation-wide Historical Records Survey, organizing and listing the significant documents in courthouses, city halls, churches, schools, and other nonfederal centers.
These inventories are being mimeographed, county by county, for public officials and historians. Fifty such county records already have been published, while the records have been listed in a total of 2,021 counties, 1,040 towns, and 40,453 churches.
The Historical Records Survey was initiated by the American Historical Association and the Joint Committee on Materials for Research, acting in conjunction with officials of the Library of Congress and the National Archives.
Many historians have praised the results. Dr. Jean Stephenson, chairman of the genealogical records committee of the D. A. R., calls it "The most important project ... in revitalizing our history that has been planned for many years." She adds that "six years ago it was estimated that a survey of this type would cost at least fifty million dollars."
Conyers Read, executive secretary of the American Historical Association, has said, "I know of no other national survey of records in the world to compare with this one." Francis S. Philbrick of the University of Pennsylvania calls it "a great success."
President Dixon Ryan Fox of the New York State Historical Society finds it "a clean-cut definite project of great public usefulness," while Clarence E. Carter, President of the Mississippi Valley Historical Association, says, "I know of no project in the history of the country that has been welcomed more heartily by historians, lawyers, publicists, and genealogists."
"If you keep up the good work," writes Dr. Charles A. Beard, "we shall someday have the bedrock materials for a real history of civilization in the United States—and hence a deeper understanding of American life."
Another Nation-wide survey is in progress for the Federal Archives which has rescued many valuable historic documents from oblivion.
WPA workers on this project have dug through the records of 28,792 agencies in all parts of the country, surveying 4,876,000 linear feet of files. Sample discoveries: In Maryland, the original bill of sale for ships used in the War of 1812; in Louisiana, a letter giving a vivid eyewitness account of the Battle of New Orleans; in San Francisco, a letter from an engineer proposing the Bay Bridge in 1867; in Virginia, the first fire insurance policy on Mt. Vernon, home of George Washington, dated 1803; and in New York, the deed by which Guttaquoh, Indian chief, conveyed Coney Island to the Dutch settlers in 1654.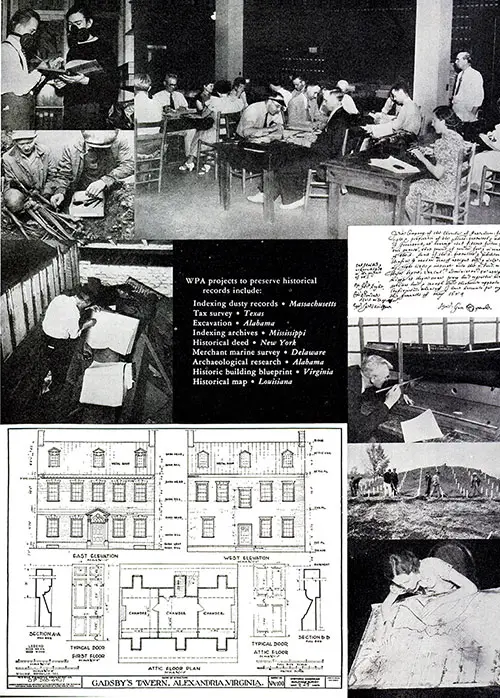 Other WPA Projects to Preserve Historical Surveys and Records Include Indexing Dusty Records (Massachusetts), Tax Survey (Texas), Excavation (Alabama), Indexing Archives (Mississippi), Historical Deeds (New York), Merchant Marine Surveys (Delaware), Archaeological Research (Alabama), Historic Building Blueprints (Virginia), Historical Maps (Louisiana). Inventory: An Appraisal of Results of the Works Progress Administration, Washington, DC: US Government Printing Office, 1938. GGA Image ID # 15239683cd
"Historical Surveys and Records," in Inventory: An Appraisal of Results of the Works Progress Administration, Washington, DC: US Government Printing Office, 1938, pp. 59-62.