Public Buildings Projects of the WPA, 1936 Report
Of all industries in the United States, the building industry was probably most severely hit by the depression. Consequently, over 400,000 skilled and semiskilled workers in the building industry were found on relief rolls at the beginning of the WPA program. These included such persons as bricklayers, carpenters, cement finishers, electricians, painters, plumbers, truck drivers, and sheet metal workers.
To provide employment for this group, an extensive program of repairs and construction of public buildings ms inaugurated by the WPA. In addition to miscellaneous repairs, painting, and renovating, this program includes more extensive activities such as improvements to electrical wiring systems, elimination of fire hazards, modernization of water, heating, and sanitation systems, construction of schoolhouses, and additions to existing structures.
In some communities, administrative buildings such as the city hall, the courthouse, or the firehouse were in urgent need of repair, modernization, or replacement. In one city the number of tubercular patients requiring care necessitated construction of a sanitarium for their proper treatment; in still another the library had grown too small for the demands placed upon it. School facilities were in some instances inadequate for the increased enrollment.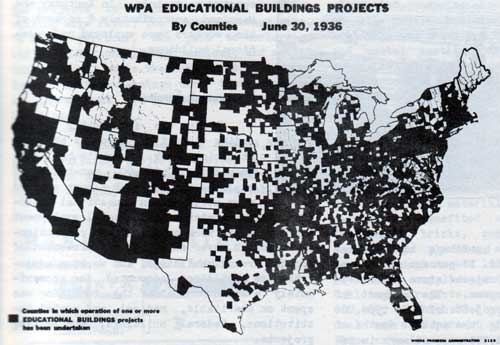 WPA Educational Buildings Projects By Counties, June 30, 1936 - Works Progress Administration 2130. Darkened areas represent Counties in which operation of one or more Educational Buildings projects have been undertaken.
The erection of community centers with social and recreational facilities also was recognized as a means of integrating community life and of providing socially desirable activities for young people. Other projects involve the improvement of grounds on which public buildings are located.
Of the several types of public building work, projects for the repair and construction of schools have been most frequently requested because of the continual increases in enrollment and the deterioration of existing school facilities. It has been estimated that in 1932 about 2,700,000 pupils attended school only part time or were housed in temporary structures and condemned buildings because of inadequate facilities. To provide accommodations for such pupils, as well as to improve existing equipment, extensive school building operations were undertaken by the WPA in every State of the Union, both in urban centers and in rural areas.
Illustrating one kind of work being carried on under this phase of the public buildings program is the construction of a two-story modern "little red schoolhouse" in the eastern part of Maryland to replace a dilapidated wooden structure built in 1876 and long considered unsafe. For 10 years the local county board of education had sought unsuccessfully to obtain the funds needed to remedy this situation.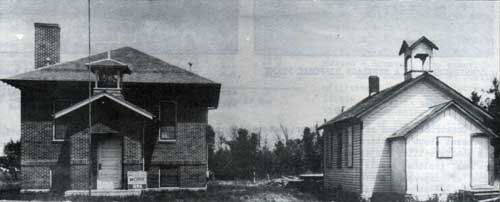 Photo: An New Brick School Replaces The Old
To keep the costs of the school buildings at a minimum the materials used in construction are manufactured, wherever possible, by the WPA workers themselves. In a few cases bricks were made, but more often native stone or logs out from adjacent woodlands are used as the basic construction material. In one instance in eastern Colorado material came from a quarry located nearby from which chalk-white stone could readily be cut with a power saw.
Special types of improvements to schools include the installation of new blackboards, modern electrical fire alarm systems, refinishing desks and furniture, and covering dilapidated walls with fabricated wallboard. As a result of these and other major structural improvements, the life and usefulness of buildings have been prolonged. Modernization of some old buildings and replacement of others, in addition to providing work for the local unemployed, have resulted in raising educational standards.
In addition to grade and secondary schools, the educational buildings program is improving the physical equipment of schools for the blind and deaf, as well as of public colleges, universities, and museums.
Employment
Work on public buildings has provided between 7 percent and 10 percent of the employment on all WPA projects since the inception of the Works Program. The number of persons employed on projects of this type increased rapidly during the autumn months of 1935 until almost 200,000 were at work in December. After reaching a peak of nearly 250,000 workers in March 1936, employment declined gradually. The 219,000 workers employed on public buildings projects during the first half of August represented 10 percent of all WPA workers.
The relative importance of work on public buildings in the various State WPA programs has varied considerably. Although the number of persons employed on building projects during the semi- monthly period ending August 15 represented about 10 percent of all WPA workers, as much as 28 percent of the employment under New York's WPA program was provided on such projects. Nearly a fourth of the workers in New Mexico and 19 percent in Arizona were employed on this type of project, while approximately 15 percent of the workers in Louisiana, Maryland, Florida, South Carolina, and Utah were so occupied. At the other extreme, public buildings projects in Oregon and Maine furnished work for less than 3 percent of all persons employed on the WPA program in those States.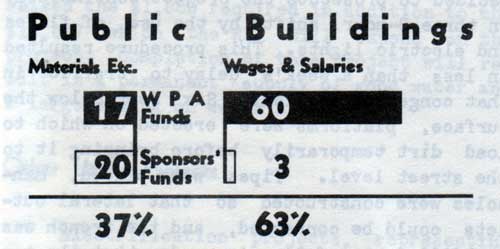 Particular emphasis has been placed on the school buildings program in New Mexico where nearly 15 percent of the total employment is provided on educational buildings as compared with 3 percent for the country as a whole. In Kentucky and Maryland approximately 8 percent of the workers were employed on educational buildings.
Hours and Earnings
During the semimonthly period ending August 15, repairs and construction work on public buildings provided 10,000,000 man-hours of employment, of which almost a third were utilized on educational buildings. About a sixth of the total employment was devoted to work on social and recreational buildings, over an eighth to improvement of grounds around buildings, and work on administrative buildings accounted for approximately a tenth. Most of the remainder was spent on charitable, medical, and mental institutions, Federal buildings, and housing projects.
Earnings of WPA workers on all types of public buildings averaged about 63 cents an hour during the half month, or 12 cents more than the average for all WPA projects. This higher wage rate is due principally to the large proportion of skilled and technical labor used on public buildings projects and the relatively high wages prevailing in the construction industry. Average hourly earnings varied on the different types of buildings according to the proportion of highly trained workers employed, and the concentration of the projects in regions of high or low prevailing wage rates. The highest average wage, 76 cents per hour, was paid to workers on buildings for charitable, medical, and mental institutions, while the workers receiving the lowest average earnings were those employed on improvement of grounds around public buildings.
EMPLOYMENT AND HOURLY EARNINGS ON WPA PUBLIC BUILDINGS PROJECTS, BY TYPES OF BUILDINGS
Excluding Administrative Employees
Semimonthly Period Ending August 15, 1936
(Subject to Revision)
Type of Building
Persons Employed
Average Hourly Earnings (Cents)
Number
Percent
 
 
 
 
TOTAL
219,211
100.0
62.9
 
 
 
 
Administrative
24,076
11.0
71.4
Charitable, medical, and mental institutions
18,240
8.3
76.0
Educational
71,461
32.6
63.7
Social and recreational
34,498
15.7
57.6
Federal Government (including military and naval)
17,700
8.1
63.6
Improvement of grounds
29,208
13.3
48.5
Housing
8,730
4.0
61.8
Other (Note A)
15,298
7.0
69.3
Note A: Includes projects classifiable under more than one of the headings above.
Note from GGA: $0.63 from 1936 is worth $9.41 in 2007, using the Consumer Price Index (MeasuringWorth.com)
The estimated cost of the 13,325 WPA public buildings projects selected for operation as of April 15 amounted to nearly $168,000,000 (roughly 12 percent of the total value of all WPA projects), or an average cost per project of $12,580. Repair work, amounting to approximately $95,000,000, constituted 57 percent of the estimated cost.
More than 6,000 of the projects selected were for educational buildings, estimated to cost approximately $60,000,000, or in excess of one-third of the cost of the entire public buildings program. Sponsors of these projects agreed to supply almost 28 percent of the required costs. A like proportion was provided by sponsors of buildings for social and recreational purposes which, from a cost standpoint, comprise about 15 percent of that of all public buildings. Administrative buildings and those for charitable, medical, and mental institutions were the only other types that represented more than 10 percent of the cost of all public buildings. Sponsors' funds on all these types averaged nearly 23 percent.
The public buildings program not only provides direct employment but also makes a substantial contribution to general industrial recovery because of the large quantities of building materials used. Industries particularly benefited are those manufacturing lumber, bricks, cement, tile, concrete, and heating, plumbing, and electrical equipment. Through August 1936 expenditures for materials, supplies, and equipment used on buildings projects amounted to nearly $41,000,000, of which 58.3 percent came from Federal and 41.7 percent from sponsors' funds. These expenditures represented 19 percent of total WPA purchases of materials, supplies, and equipment.
Public building activities with Works Program funds have been conducted by a number of other Federal agencies during the past year. These include construction and improvement of public buildings (particularly school buildings) and housing projects. Detailed discussions of the Works Program operations of these agencies appear in a subsequent section.