WPA Highway, Road and Street Projects, 1936 Report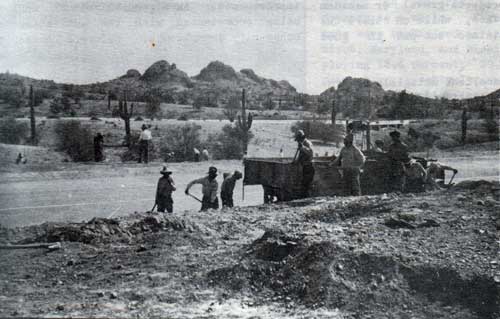 Photo: Highway Improvement Project
The most important among the various activities carried out under the WPA program is the work being done to improve the country's thoroughfares. Projects of this kind, while improving transportation facilities in all parts of the country, also serve particularly well in providing suitable jobs for a large number of persons in need of relief.
Not only because of their universality and their capacity to use available relief labor, but also because of constant demands from the public for improving and extending highways, roads, and streets, these projects have been stressed to the extent that they account for well over a third of the total WPA program.
In giving expression to popular demands, local public administrative bodies entrusted With road and street work have sponsored a wealth of projects that are intended to serve local needs. The projects chosen for operation from this group are for work on both primary and seumidary roads, on streets, alleys, and sidewalks, and on roadside improvements, bridges and viaducts.
The need for the WPA highway, road, and street program is in no small measure due to the fact that during the early years of the depression these facilities had been neglected by many local governmental bodies because of inadequate funds. Roads were often in poor condition, streets had become rutted and worn, and many bridges were in serious need of repair.
Through failure to remove sharp curves and dangerous grade crossings, the public was subjected to inconvenience and danger. Work to alleviate these conditions, begun under the CWA and carried on under the FERA, is being continued under the Works Progress Administration.
Roads and streets are being drained and resurfaced and new macadam or bituminous surfaced streets are being constructed in sections hitherto served only by dirt roads. Markets are being made more accessible to farmers and other rural citizens through improvements to secondary roads.
Brush, fallen rook, and earth are being removed from roadsides. Sidewalks and curbs are being constructed and bridges and viaducts are being reconstructed or replaced by safe modern structures. To a limited extent grade crossings are being eliminated through relocation of roads or construction of underpasses or overpasses.
Kinds of Projects
The farm-to-market road aspect of the program, which comprises about a third of all the road and street work undertaken, involves a variety of improvements to the dirt roads of the country.
Sometimes this road work consists merely in filling in hollows which do not interfere with travel under normal conditions but render roads impassable in rainy weather. In other instances projects call for grading and leveling to remove ruts and low places and insure better drainage.
In this connection, drainage ditches frequently must be dug. Dangerous curves have been removed from many roads by WPA projects involving excavation and hauling of earth and stone to other sections of roads which need filling in.
Often road beds are elevated to improve drainage and raise the level sufficiently to keep the road free from snow in winter. On some projects gravel or macadam is added to the surface, while on others the dirt surface is retained but put in good condition.
Frequently, excellent materials to provide a hard surface are found near at hand. On roads being improved near the seacoast, for example, shells and marl are used.
On inland roads, rocks available from nearby farms are broken up with sledge hammers, hauled away, and run through crushers to provide crushed stone for road surfaces. Workers on some projects are also removing hedges from rights-or-way and building fences along the most dangerous banks.
In some instances the secondary roads lead from mines (rather than farms) to markets, as in certain sections of West Virginia, or from coastal fishing waters to centers of distribution, as in the case of a project in Florida. A minor portion of the secondary road work is being performed on gravel and macadam roads.
In all cases the activity is concerned with conditioning and reconditioning roads for motor travel. Heretofore, automobiles and trucks have been of limited value to farmers in many localities because the modern, low-slung motor vehicle cannot be driven successfully over soft or deeply rutted roads.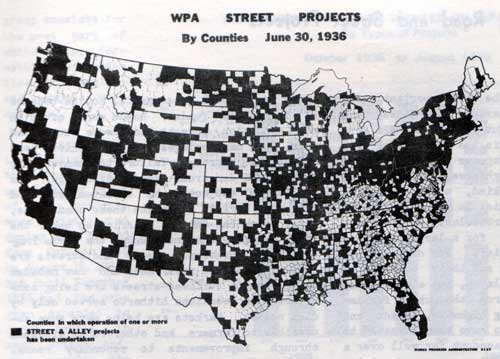 WPA Street Projects by Counties, June 30, 1936 - Works Progress Administration 2120
Darkened areas represent Counties in which operation of one or more Street and Alley Projects has been undertaken.
Street improvement projects account for about a fourth of the funds being spent on the entire highway, road, and street program. Such projects include the widening of streets to relieve traffic congestion and provide added parking space, the removal of abandoned streetcar tracks, and the replacement of rough cobblestone paving with even-surfaced concrete and asphalt.
In extending the benefits of paved streets to new or neglected neighborhoods, the WPA is cooperating with sponsoring municipal departments whose regular function is to plan and carry out these improvements.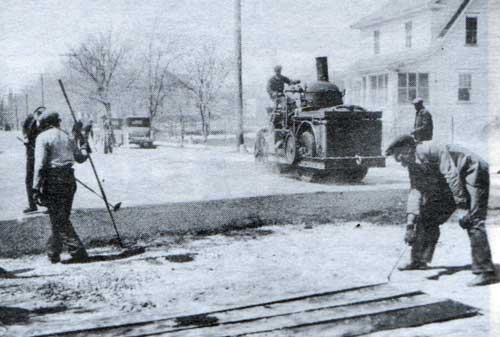 Photo: Asphalt Surfacing
As a general rule the work is being coordinated with the activities of other city departments. Before a street is resurfaced or a new pavement laid, all necessary sanitary and storm sewers are put in so that the new surface will not have to be torn up later.
Wherever possible, materials are salvaged when streets are torn up to make way for new boulevards. Old concrete pavement is frequently broken up and used in foundations for macadam surfaces.
Improvement of alleys in urban residential areas by WPA workers is rendering garages more accessible, facilitating deliveries of merchandise, and insuring more sanitary drainage.
HOURS AND EARNINGS ON WPA HIGHWAY, ROAD AND STREET PROJECTS
Excluding Administrative Employees
October 1935 to July 1936
(Subject to Revision)
Month
 Hours (Thousands) 
 Earnings (Thousands) 
 Average Hourly Earnings (Cents)  
 
 
 
 
Total
976,684
$ 380,146

38.9

 
 
 

 

1935
October
26,862
$ 10,208

38.0

November
61,157
$ 23,037

37.7

December
116,653
$ 43,560

37.3

 
 
 

 

1936
January
130,364
$ 48,313

37.1

February
130,948
$ 49,033

37.4

March
128,617
$ 49,684

38.6

April
109,321
$ 42,806

39.2

May
97,172
$ 39,422

40.6

June
91,242
$ 37,433

41.0

July
84,348
$ 36,650

43.5
Employment and Earnings
For four months last winter more than 1,000,000 men were employed by the WPA on highway, road, and street projects. About a third of these worked on farm-to-market roads and a fifth on streets and alleys.
Subsequently employment fell off, with the result that in July about 776,000 persons were at work on the combined group of projects, and roughly the same proportion applied to the distribution of workers among the different types of projects as existed during the winter.
During the first half of August the number increased to nearly 818,000 persons since a large proportion of the emergency drought cases were furnished employment on road projects.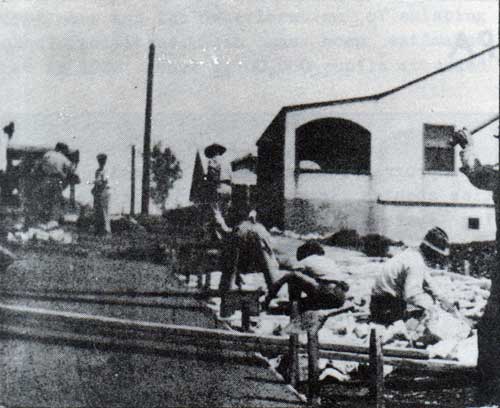 WPA Workers on a road construction project
The State having the largest number of WPA workers on highway, road, and street projects during the first half of August was Pennsylvania, with approximately 143,000. Nearly 67,000 were employed in Ohio, a little over 57,000 in Illinois, almost 33,000 in Michigan, about 31,000 in New York City, and 30,000 in Indiana.
With respect to the various State WPA programs as a whole, North Dakota and West Virginia were employing the largest percentage of their workers on highway, road, and street projects. North Dakota's total represented nearly 70 percent of its aggregate employment, and West Virginia's, approximately two-thirds.
Other States employing more than half of their workers on the road and street program were: Kentucky, Pennsylvania, South Dakota, Maine, and Arkansas. Farm-to-market road projects were being stressed in Arkansas, Maine, North Dakota, South Dakota, Tennessee, and West Virginia, all of which gave employment to more than a third of their workers on this type of project as compared to 12 percent in the country as a whole.
Street and alley projects were emphasized particularly in Connecticut, Maryland, and Michigan, which were employing 13.4 percent, 20.6 percent, and 15.1 percent, respectively, of their workers on street construction and repair work while the number of persons employed on that type of project throughout the country represented 7.6 percent of all WPA employees.
Average hourly earnings on highway, road, and street projects ranged from a law rate of 37 cents during December, January, and February to a high of 45.6 cents in the first half of August (see above table and the table on page 134). The trend has been steadily upward for every month in the present year.
On secondary road projects earnings were lowest, averaging from 30 to 39 cents per hour. while on street and alley work the rate increased from 41 cents in December 1935 to nearly 50 cents in August 1936.
Workers on grade-crossing elimination, who represented a very minor portion of the employees on highway, road, and street projects, received the highest hourly pay, averaging 57.4 cents per hour during the first half of August.
The total estimated cost of highway, road, and street projects selected for operation in the United States through April 15 WAS a little over $528,500,000, or 36 percent of the estimated cost of all WPA projects.
Farm-to-market roads accounted for 32 percent of this total; streets and alleys for 27 percent; roadside improvement for 11 percent; sidewalks, curbs. and paths for 3 Percent;
bridges and viaducts for 3 percent; highways for 2 percent; grade-crossing elimination for less than 1 percent; and projects classifiable under more than one of the above headings for 22 percent.
Sponsors' funds comprised 22 percent of the total estimated cost of the work undertaken. Sixty-three percent of funds from all sources was to be expended for labor and 37 percent for other costs.
About 71 percent of the estimated total cost represented repairs and improvements, and 29 percent represented new construction.
Expenditures for materials, supplies, and equipment for use on highway, road, and street projects amounted to about $71,000,000 through August 1936. This represented approximately one-third of the amount expended for this purpose on all WPA projects from both Federal and sponsors' funds.
In addition to the road and street work being carried on by the WPA, projects of a similar nature are being prosecuted throughout the United States and its Territories by such Federal agencies as the Bureau of Public Roads, the National Park Service, and the Civilian Conservation Corns. These activities are described in an ensuing section of this report.