WPA Projects - Public Buildings - 1938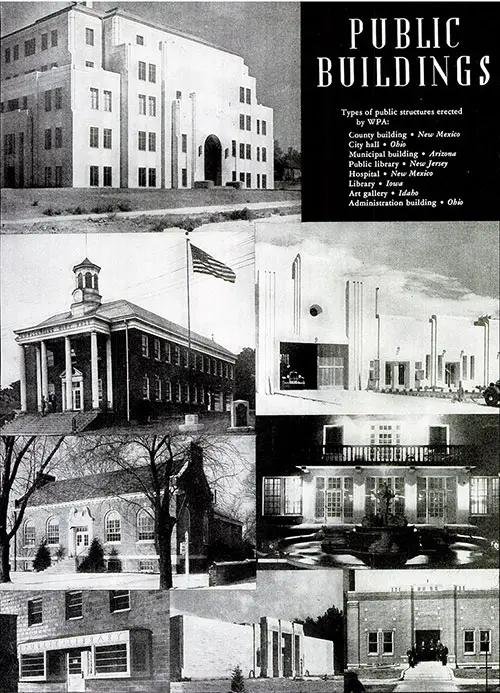 Public Buildings - Types of Public Structures Erected by WPA: County Building (New Mexico), City Hall (Ohio), Municipal Building (Arizona), Public Library (New Jersey), Hospital (New Mexico), Library (Iowa), Art Gallery (Idaho), Administration Building (Ohio). Inventory: An Appraisal of Results of the Works Progress Administration, Washington, DC: US Government Printing Office, 1938. GGA Image ID # 151d66999a
WPA workers have built 12,212 new public buildings, constructed 1,363 additions to existing buildings, and improved 36,510. More than one-tenth of all WPA money has been spent on public buildings, principally for education, recreation, and a wide variety of public administration purposes.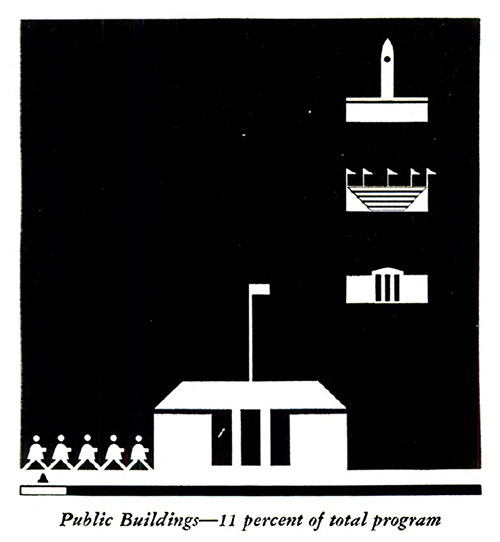 Public Buildings—11 Percent of Total Program. Inventory: An Appraisal of Results of the Works Progress Administration, Washington, DC: US Government Printing Office, 1938. GGA Image ID # 151e1bcbe2
In terms of averages this work amounts to approximately four new buildings constructed and nearly twelve reconditioned for each county in the Nation—though of course more work is carried on in the population centers than in the sparsely settled districts.
New buildings erected by the WPA (on local request and aided by local funds):
For educational purposes, 1,771 schools and 53 libraries.
For recreation—184 auditoriums, 752 stadiums or grandstands, 376 gymnasiums, and 2,465 other buildings such as pavilions, bathhouses, and zoo houses.
Institutional buildings—284, including 86 hospitals and 80 penal institutions.
For public administration—615 courthouses, city halls, office buildings, etc. Seventy-three aircraft hangars and 132 armories.
Miscellany—384 dormitories, 129 fire houses, 793 public garages, 630 warehouses, and 3,571 assorted small structures, such as bus and streetcar shelters.
For every public building which the WPA has built, it has improved or enlarged nearly three existing structures. Here a widespread need was met. Maintenance had been badly neglected in many communities throughout the depression because of falling local revenues.
For example, 19,449 school buildings in varying states of disrepair have been restored to safety and usefulness. Rotten joists and floors were replaced, drainage was corrected, and outer walls sealed with cement and sand if necessary, to prevent seepage of water. Upper stories of school buildings injured by vibrations in earthquake areas were removed and the buildings given, for the first time, proper structural bracing.
In other places, leaky roofs were made storm- tight and windows were weather-stripped. Sanitary toilet systems were widely installed and repaired. Heating systems were modernized. Adequate ventilation was provided. Dark classrooms were given better lighting.
Schools were brightened throughout with what was often the first coat of paint they had received in many years. Structural additions of all kinds were built. These included assembly rooms, laboratories, lunchrooms, dormitories and, in rural areas, "teacherages" to provide housing for teachers.
Drainage and landscaping turned muddy schoolyards into usable and attractive play- grounds. Broken sidewalks and crumbling retaining walls were repaired. Much of this work, needful for the health as well as the comfort of pupils and teachers, was many years overdue.
State-endowed colleges and normal schools have shared in the benefits of these improvements along with public primary schools and high schools. Similar improvements have been made in many other types of public building.
In addition to the new construction previously listed the WPA has improved or enlarged: 539 libraries, 258 auditoriums, 296 stadiums and grandstands, 324 gymnasiums, and 2,024 other recreation buildings, such as pavilions and bathhouses. 101 hospitals, 275 penal institutions, and 1,269 other institutional structures.
2,661 city halls, courthouses, and administrative buildings. 997 dormitories, 1,173 fire stations, 527 garages, 845 warehouses, 76 aircraft hangars, 213 armories, and 5,946 small structures. WPA workers also have demolished 6,938 buildings to make way for playgrounds or modern structures, and a large proportion of the salvaged materials have been used on other projects.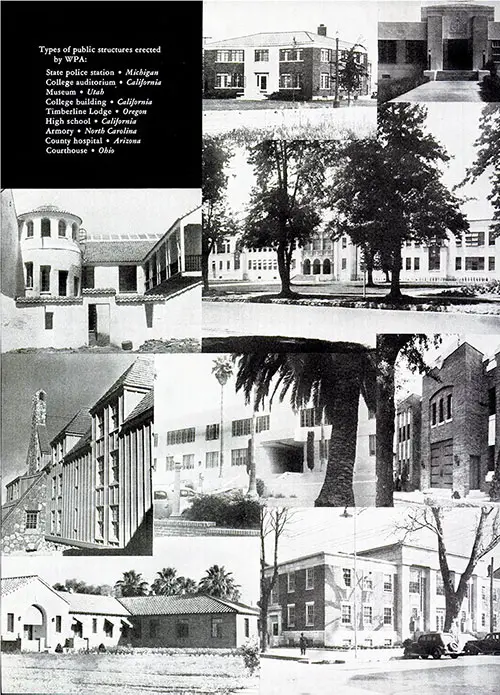 Types of Public Structures Erected by WPA: State Police Station (Michigan), College Auditorium (California), Museum (Utah), College Building (California), Timberline Lodge (Oregon), High School (California), Armory (North Carolina), County Hospital (Arizona), Courthouse (Ohio). Inventory: An Appraisal of Results of the Works Progress Administration, Washington, DC: US Government Printing Office, 1938. GGA Image ID # 151db299b5
ADDENDA
The 50,000 public buildings which the WPA has built, enlarged, or repaired, as detailed above, represent only about one-fourth of the total structures built or im- proved by relief labor during the successive work-relief programs prior to and including WPA.
In all, over 188,000 public buildings have been constructed or repaired under these programs, more than half of which (108,000) were educational buildings. A relatively larger percentage of the earlier programs was devoted to repairs and rehabilitation than to new construction.
"Public Buildings," in Inventory: An Appraisal of Results of the Works Progress Administration, Washington, DC: US Government Printing Office, 1938, pp. 21-24.